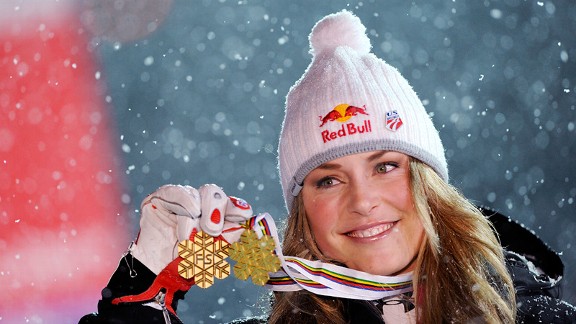 Agence Zoom/Getty Images
Lindsey Vonn conquers the slopes
Did You Know?
A Center for Feminist Research study shows coverage of women's sports declined over the past half decade; the amount of sports-news airtime devoted to them was 1.6 percent.

The double at Val-d'Isere, France, wasn't unprecedented, but it was a long time coming. When Lindsey Vonn, a 24-year-old skier from Minnesota, captured the downhill and Super-G over the span of a week in February, she became the first American since 1952 to take two world titles in one year. That one-two punch was only half (a third?) of the story, as the wins propelled Vonn (left) to the second of three straight overall Cup titles as well. She snagged her fourth championship this past season to extend her run of dominance

.
Women's Professional Soccer debuts with seven teams
The latest attempt to establish the game in the U.S. would last three seasons.
UNC soccer wins another one
One of sports' most enduring dynasties won yet another title in December. UNC's 1-0 win over Stanford was its 20th in 28 years. The Tar Heels' leader for all of them was the hard-driving and controversial Anson Dorrance, the only coach the program has had.
Penn State volleyball streaks to another title
In the latter part of the decade, women's volleyball belonged to Penn State. On Dec. 20, the Nittany Lions won a third straight NCAA championship, the only volleyball team, men's or women's, to accomplish that feat. The title match was also PSU's 102nd consecutive win. That record streak would last seven more matches, until Stanford snapped it at the beginning of the 2010 season. The loss was just a bump in the road, though. By December the three-peat was a four-peat.