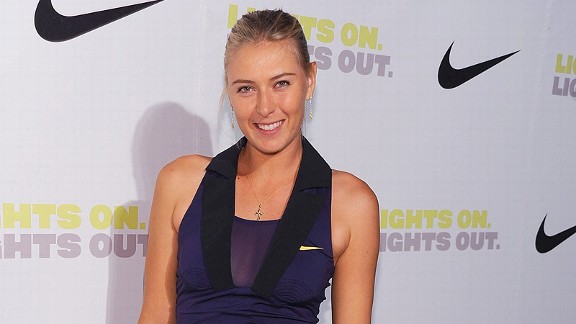 Dimitrios Kambouris/Getty Images
Maria Sharapova is
highest-paid female athlete
After an injury pushed her down the WTA rankings in 2009, Maria Sharapova was on the rise again. And the resurgence of tennis' glamorous star woke up the sponsors. One deal, an eight-year, $70 million gig with Nike, was the largest ever inked by a woman. That chunk of change plus contracts with Sony, Ericsson and Tiffany made Sharapova the highest-paid female athlete ever. Of the $24.5 million Forbes calculated she pocketed in 2010, only $1 million came from actually playing tennis.
Kristine Lilly plays 352nd international game
Call her the Old Lady of Soccer (just not to her face). No woman or man has ever earned as many caps as Kristine Lilly, who competed in her 352nd game on Nov. 5 against Mexico. She retired the next year, at 39, the only woman to play in five Women's World Cups and three Olympics. She's also the only player to represent the U.S. in four decades, and both the youngest and oldest to score a goal for Team USA.
Hockey Hall of Fame ushers in the ladies
The initial integrators: Cammi Granato, a founding member of the U.S. women's national team, its captain during the 1998 gold medal run and the all-time leading scorer in women's international hockey; and Angela James, a holder of four World Championship golds for Canada who has been called "the face of the game."
Court rules competitive cheerleading isn't a sport ... yet
Quinnipiac tried to cut women's volleyball and replace it with a 40-member competitive cheer squad. When the volleyball team sued in Biediger v. Quinnipiac University, the court found that the sport of cheerleading didn't have standard competitive rules, did not have other Division I teams, was not recognized by the NCAA and could not recruit, all contrary to men's sports at Quinnipiac. The decision kept Quinnipiac from using cheerleading to hit Title IX's proportionality prong, saved the school's women's volleyball program and served as a warning signal for other colleges.
UConn basketball wins 90 in a row
Led by All-American Maya Moore, the Huskies won 90 straight games in 2008-10, the last one an 85-42 thrashing of Pacific on Dec. 27. The epic streak overtook by two UCLA's men as the longest in NCAA hoops history. And the Huskies were unfazed by talking heads who said the Bruins' run was superior: Two consecutive undefeated seasons and back-to-back national championships spoke for themselves. Besides, no less an authority than President Obama deemed the Huskies "the best team in all of sports, any sport, any gender, by far." The Huskies were finally beaten on Dec. 30 by Stanford, 71-59.