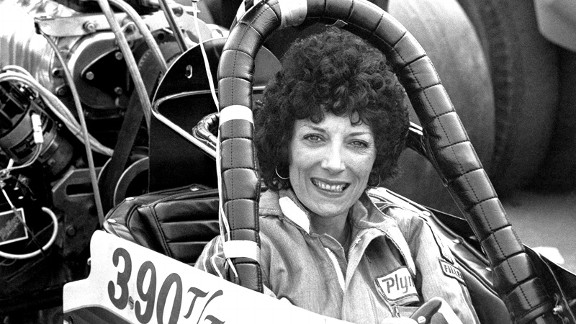 AP Photo
Shirley Muldowney goes
to head of NHRA's pro class
When the National Hot Rod Association granted Shirley Muldowney (left) a racing license in 1965, it wasn't without resistance. But it was without precedent; no other woman had ever passed muster. You have to wonder what all the fuss was about. On June 13, Muldowney -- or "Cha-Cha" as she was known -- became the first woman to win a pro class at an NHRA national event, the Spring Nationals in Columbus, Ohio. The next year, she was the first woman to win the Winston world points championship. Then she won twice more, in 1980 and 1982, making her the first drag racer -- male or female -- to win the title three times. In all, Muldowney sped to 31 national victories in 30 years. The "First Lady of Drag Racing" was inducted into the Motorsports Hall of Fame of America in 1990.
Ann Meyers gets full ride to UCLA
She played seven sports in high school, but Ann Meyers chose to focus on basketball in college, and UCLA was eager to let her. So much so that in the spring of 1976, the school gave her a full scholarship, the first it ever offered a woman. The money was well spent. Meyers was the first woman to record a quadruple-double and the first four-time female All-American. In 1993, she became the second female player inducted into the Basketball Hall of Fame. Recently, the Basketball Writers' Association announced its national player of the year award would forevermore be called the Ann Meyers Award. What took so long?
Dorothy Hamill takes figure skating gold
Torch Tracker
Women's basketball, handball and rowing are added to the Olympics.

When a 12-year-old Dorothy Hamill couldn't wake her mom to get an early-morning ride to practice, she walked. In the winter chill. To a rink 10 miles away. That dedication paid off seven years later, when Hamill, then 19, won the Olympic figure skating competition on Dec. 13 in Montreal. Her impressive free skate -- eight 5.8s and one 5.9 for artistic impression; nine 5.9s for technical merit -- clinched her iconic victory. Though the scores were eye-popping, Hamill had to squint to see them, having removed her glasses as always before her routine.