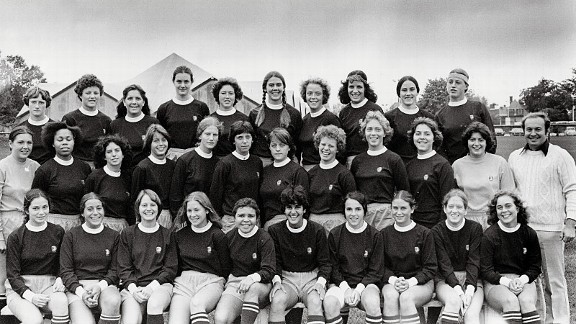 Courtesy of Brown University
Brown hits the soccer pitch
When the nation's first women's college varsity soccer team (left) debuted in 1977, the coach was Phil Pincince. And 35 years later, he still holds that position. Over that time, Pincince, the 13th-winningest soccer coach in Division I history, has led Brown's Bears to 22 winning seasons, 12 Ivy League titles (including nine straight from 1982-90) and six NCAA appearances. During an eight-year stretch, the team lost just one match to an Ivy opponent. By the way, what started with one team in Providence is today a sport with more than 100 D-I programs.
Janet Guthrie takes wheel at Indy
Not many trailblazing athletes get their start at Miss Harris' Florida School for Girls. Then again, Janet Guthrie doesn't seem like a school-for-girls type. Guthrie was a pilot, flight instructor and aerospace engineer, but her turn as race car driver is what landed her in the Smithsonian. She was the first woman to enter the Indianapolis 500. That would have been an even bigger deal if, earlier in the year, she hadn't already been the first woman to start the Daytona 500. Guthrie had engine trouble and finished 29th at the Brickyard. The next year, though, she hit the line ninth.
Mary Shane does play-by-play
Longtime baseball announcer Harry Caray is best remembered for his old-timey vocal stylings, but he also helped overturn a few traditions along the way. In 1976, at a White Sox game in Milwaukee, Caray handed his microphone to 29-year-old beat reporter Mary Shane and let her take over the call. Shane parlayed her impromptu performance into a full-time gig with the White Sox the following season, becoming Major League Baseball's first everyday female play-by-play announcer. Her contract was not renewed the following season; some said her inexperience was a factor, while others blamed chauvinism. But Shane didn't stop going where no woman had gone before. Returning to her press box typewriter, she was the first woman reporter allowed in the Boston Celtics' locker room, in 1981.
Women gain entry to men's locker rooms
Second-year Sports Illustrated reporter Melissa Ludtke had been inside a men's clubhouse before, but only because Yankees manager Billy Martin had ushered her in the back door. So, not surprisingly, when the Bronx Bombers visited Los Angeles for the '77 World Series, she was turned away from the Dodgers' clubhouse. Actually, the players were willing to welcome her; it was the commissioner's office that kept her out. So in December, she and her employer filed suit, and her court victory changed the sports media landscape -- because prior to the case, the major sports leagues had left it up to individual teams to determine their own policies. Says Ludtke, "Like Title IX opened the playing field to women athletes, this case opened the sports media profession to women."