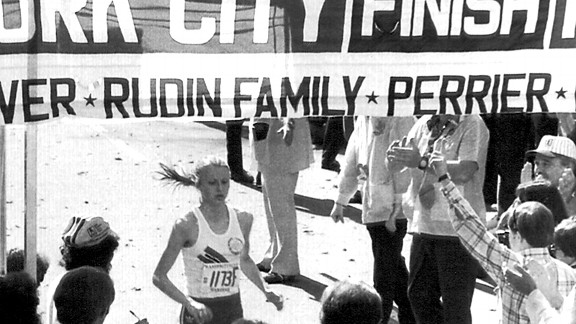 AP Photo
Grete Waitz wins NYC Marathon
Upon crossing the finish line of her first New York City Marathon, Grete Waitz hurled her shoes at her husband (and coach), the man who'd persuaded her to run, and spat out two words: "Never again." If she'd kept her promise, it would have made for a great story. Waitz (left, at the finish line) had in fact won the race, setting a world record -- by two minutes -- in the process. Of course, she didn't keep her word, and that made for an even better story: Waitz took eight more NYC Marathons and set world records at 3,000 meters, 10 miles and 8, 10 and 15 kilometers as well. She was one of 938 women in that 1978 race. The 2011 edition featured 17,563. It was dedicated to Waitz, who passed away earlier that year.
Amateur Sports Act is authorized
Growing the Game
There are 2.1 million girls participating in U.S. high school sports and 5.6 women's varsity teams per U.S. college.

Before the AAU became synonymous with summer hoops and recruiting scandals, it was the organization that controlled most of America's amateur sports. That responsibility was wrested from it on Nov. 8, with the implementation of the Amateur Sports Act, which tabbed the U.S. Olympic Committee as the country's primary "coordinating body for amateur sports." To most minds, the change came not a moment too soon: For years, the AAU had arbitrarily implemented rules that negatively affected women, like barring them from marathons.
Carol Blazejowski conquers MSG
The World's Most Famous Arena has hosted legends among legends, but it's Carol Blazejowski who holds the record for most points scored -- by a member of either sex -- in a college basketball game on the iconic court. On March 6, she lit up Queens College for 52 in a 102-91 win. At Montclair State, Blaze got 3,199 points in all, for a career average of 31.7 ppg. That's still the highest ever in the women's game, and it came before the introduction of the 3-point shot.
Nancy Lopez wins five in a row
You think Tiger was the only rookie to make tsunamis in country club ponds? When Nancy Lopez hit the LPGA scene in 1978, it wasn't long before she had everyone chasing her. Lopez took five straight tournaments -- still a record run -- including the LPGA Championship, and nine events overall. She is still the only player, man or woman, to win Rookie of the Year, Player of the Year and the Vare Trophy (for lowest scoring average) in the same season.
Krystyna Chojnowska-Liskiewicz is first female to sail around the world
The Pole, who took 401 days, beat two other competitors to become the "First Lady of the Oceans."
The Women's Professional Basketball League tips off
The eight-team league expanded to 14 teams the following season but was defunct by the summer of 1981.