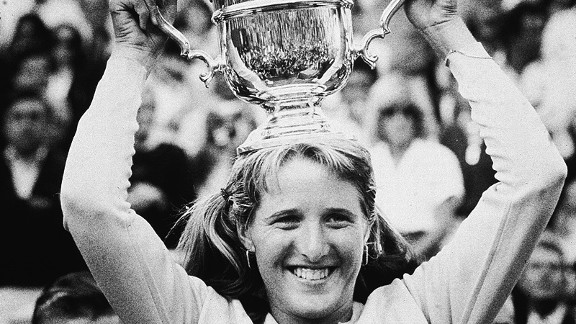 Fred R. Conrad/New York Times/Getty Images
Tracy Austin wins U.S. Open
Chris Evert was riding a 31-match U.S. Open win streak when Tracy Austin met her in the 1979 final on Sept. 9. It seemed like a mismatch: Austin (left) wasn't even old enough to vote, while Evert was already a legend. Before long, Evert was also a straight-sets loser. At 16 years, eight months and 28 days, Austin became the youngest singles champ in Open history. Austin, who won 30 WTA singles titles in her career, stayed in New York to make an appearance on "Good Morning America" before returning to California -- to begin her junior year of high school.
The 'three-prong test' is established
Schools were struggling to figure how, exactly, they were supposed to comply with Title IX. This final policy interpretation cleared things up. Schools would have to meet one of three criteria: the athlete and student body proportions must be equal; continuous progress for the underrepresented sex must be demonstrated; or there must be proof of no unmet demand. The second prong remains a source of contention, though, as the definition of progress is debatable.
Lyn Lemaire finishes Hawaii Ironman Triathlon
Some sports were quicker than others to give women their due. The second running of what is now the world's most famous triathlon welcomed Lyn Lemaire, a 27-year-old Bostonian, as the event's first women entrant. And Lemaire, a champion cyclist, acquitted herself nicely, finishing fifth out of 15 competitors. Multitasking was nothing new to Lemaire; she graduated from UCLA with a degree in biochemistry while playing basketball for the Bruins.
Billie Jean King wins 20th Wimbledon title
In her last-ever final, King (six singles, 10 doubles, four mixed doubles crowns) joined Martina Navratilova to grab the doubles title. Nearly a quarter-century later, Navratilova would earn her 20th Wimbledon championship too.
Ann Meyers gets an NBA tryout
Lots of UCLA Bruins had gotten a call from the NBA. This time, though, the Indiana Pacers invited someone from the school's women's program to try to make their roster. Ann Meyers' workout, though unsuccessful, was legitimate and is still the closest a woman has gotten to the NBA. In 1969, high schooler Denise Long was drafted by the San Francisco Warriors, a move the league nixed as a publicity stunt. And in 1977, the New Orleans Jazz drafted local Delta State legend Lusia Harris just for fun, as well.