The inspiring songs that swimmer Lilly King listens to before every race
Two-time Rio Olympic gold medalist Lilly King is passionate when it comes to her music. Four years ago she watched a London Olympic highlight reel featuring the song "Hall of Fame" by The Script -- and she's been listening to the song ever since. "I remember the first time I saw the video," she says. "I cried uncontrollably for about 20 minutes. That's how badly I wanted to be an Olympian."
And then there's Christina Aguilera's "Fighter," which King listened to on the way to the 100-meter breaststroke finals in Rio. "That alone gives it a special place in my heart," she says. "I can't not get excited after listening to -- and attempting to sing -- this song." In fact, the University of Indiana Hoosier is such a fan of Aguilera that she dressed up as her Lady Marmalade character for Halloween.
Here's the rest of the playlist that King, who just last month set a new American record in the 100-yard breaststroke, will be listening to as she heads to the NCAA swimming and diving championships in Indianapolis later this week.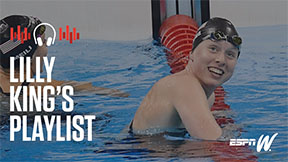 Get more athlete playlists.