Chicago Red Stars player Michele Dalton's pregame song and eclectic playlist
Chicago Red Stars goalkeeper Michele Dalton is serious about her music. When it comes to game prep, she uses trance music to zone out and clear her mind.
"I listen to 'Let the Feelings Go' by AnnaGrace on repeat, a ritual I've had since 2009 when my best friend got it stuck in my head while we were living and playing in San Diego," she says. "Should thoughts creep, they tend to be positive experiences of San Diego."
The 28-year-old Wisconsin native credits her parents and her siblings (who are 10 and 12 years older) with helping to mold her music preferences, which range from the Bee Gees and the Doobie Brothers to an appreciation of hits from the '80s and '90s.
"What I love about music is that it can take you to different places or express emotions when it's difficult to find my own words," Dalton says. As an adolescent, she gravitated toward Limp Bizkit and Creed. As she got older, Michael Jackson's and Janet Jackson's music resonated with her. She has also seen Cher in concert more than 10 times, in a variety of cities.
"In short, I can do it all but country music," she says. "I've always said that my soul mate will be a man who shares my wild affinity for a variety of music. Looks like I've got my work cut out for me!"
Here, Dalton gives a peek at her latest music obsessions: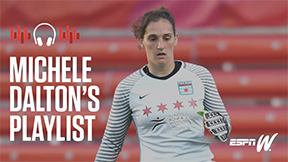 Get more athlete playlists.