The inspiring song that helps track star Colleen Quigley bust out of a mental rut
For 2016 Olympic steeplechaser Colleen Quigley, a good song can mean the difference between a terrible run and a great one.
"In distance running, athletes tend to spend a lot of time in their own heads," Quigley says. "Countless hours on the roads, trails and track, just grinding out miles. It's so common for negative voices to start creeping in our thoughts, creating doubt about our strength and ability to achieve our goals."
Even with the adrenaline and energy of a race, it can happen. And when it does, Quigley reaches for a positive mantra, such as Sia's "Unstoppable" lyric: "I'm so powerful, I'm so confident, I'm unstoppable today."
"Sia is one of my favorite artists of all time, and this song is the perfect uplifting, confidence-building jam I want to listen to before a tough workout or race," Quigley says. "If I can get these lyrics stuck in my head, I know I'm in good shape!"
Quigley shared the rest of the playlist that makes her want to work work work: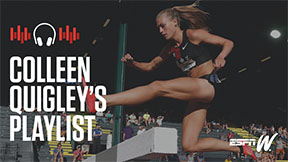 Get more athlete playlists.