Hurdler Dalilah Muhammad's playlist for tough practices
For Dalilah Muhammad, nothing beats the sweet sound of silence before a competition. Muhammad, who became the first American to win an Olympic gold medal in the 400-meter hurdles last year, will be searching for a quiet corner at the IAAF World Track and Field Championships 2017 when her heats begin Monday in London.
Stillness helps her get in the zone -- and she has fast times on her mind. In June, at the U.S. Championships, she set a new PR with a meet-winning 52.64, a time that was half a second faster than the 53.13 she ran last year in Rio.
"Last year, I had a breakout season. I ran really fast," the 27-year-old New York native said before her historic win in June. "To repeat that is hard, and to improve upon that is a whole other journey. My strategy this year has been to work just as hard or harder."
Although Muhammad doesn't turn to music to get pumped up before a race, she uses it for extra motivation before a tough training session. During her drive to the track, she often blasts "Blem" by Drake for its "really catchy chorus" or "Love Drought" by Beyoncé. Anything from Queen Bey's album "Lemonade" "helps wake me up and puts me in a good mood," she says. "I really love every song and truly just love and respect Beyoncé as an artist."
Muhammad shared her pre-workout playlist (Muhammad's chosen Beyoncé songs are not available on Spotify):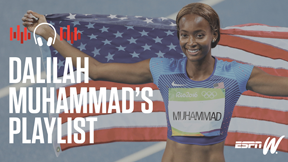 Get more athlete playlists