Why soccer player Ashlyn Harris can't stop listening to Lady Gaga
Orlando Pride goalkeeper Ashlyn Harris has spent the summer battling her way back from a quad injury suffered during a matchup with the Seattle Reign FC in late May. Finally the 2016 NWSL Goalkeeper of the Year is back leading the Pride's defense and is excited about her new partnership as the first female athlete brand ambassador for Umbro.
During her downtime, Harris also has a solid playlist to keep her motivated. "I can't stop listening to the new Lady Gaga song called 'The Cure,'" she says. "I love the beat and the lyrics, and the good vibes make me want to sing along."
When it's not Lady Gaga, Harris says she loves house, techno and upbeat music from artists like Future, Drake and The Chainsmokers. "I don't usually control the music in the locker room, but I do love when 'Doses and Mimosas' by Cherub comes on," she says. Here's the rest of Harris' summer playlist: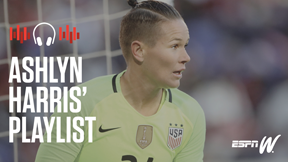 Get more athlete playlists