Tennis player Daria Gavrilova's 'crazy beat' playlist
It has been a roller coaster of a season for Australian tennis player Daria Gavrilova. August brought the high of her first WTA Tour title at the Connecticut Open and ended with heartbreak when she lost the longest women's US Open match in history. After a grueling three-and-a-half hours of play, American Shelby Rogers bested Gavrilova in the second round of the Open.
Gavrilova reached a career-best singles rank of world No. 20 in August, and in September, she reached a doubles career-best No. 45. The Russian-born Gavrilova, now competing for Australia since she emigrated in 2015, gave us a glimpse at her prematch playlist.
"I love songs with a good beat, but all different types of beats," she says. "Sometimes I love crazy songs when I'm packing my bags to get me pumped up, or I sit and listen to girly songs for the lyrics."
Here's what she's listening to this season: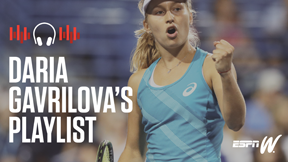 Get more athlete playlists