The playlist that gets Paralympian Amanda McGrory through tough gym workouts
Wheelchair racer Amanda McGrory has competed in three Paralympic Games and holds the American record in the marathon. But her hardest challenge, she admits, might just have been putting together this playlist. She went through about 100 songs to come up with this list.
McGrory, who trains at the University of Illinois, finished her 2017 racing season with a third-place podium finish at the New York City Marathon this month. "Because we do most of our training out on open roads, the university has a strict 'no headphones' policy (understandably) for safety reasons," she explains. "That means the only times we listen to music are for weight room sessions in the off season, and for roller room sessions -- usually in the winter or during bad weather."
With plenty of indoor training weather ahead, McGrory shared the 14 songs she's playing during her workouts this fall. "I love sad songs, but most of my teammates disagree on the basis that sad songs make for an awful workout soundtrack," she admits. "So I put a lot of effort into making my sad playlist into a mishmash of medium-sad but also up-tempo songs."
She shared her final 14: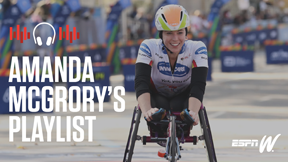 Get more athlete playlists