Baylor basketball player Kalani Brown loves both Lil Wayne -- and Beyoncé
Kalani Brown's music choices aren't always about the beat. Lyrics resonate more than rhythm with the Baylor junior center.
And the message in a song -- take, for example, Nicki Minaj's 2010 hit, "Moment 4 Life" -- is never overlooked.
"It's not really about the tempo, it's all about her words," Brown says. "It's a very motivational song. Before a game, particularly in the [NCAA] tournament, you're going to have this one moment for life. It's win or go home. So you might as well leave it all on the court."
This season, Brown and the No. 6-ranked Lady Bears are off to a 9-1 start, losing only to then-No. 8 UCLA on the road. Baylor, which has its sights set on its first Final Four since 2012 -- has notched victories over No. 16 Stanford and No. 20 Kentucky this season.
Brown seems to lean toward the classics for her go-to pregame listening material. "I listen to a lot of old Lil Wayne," says the 2017 WBCA All-American. But there's also plenty of variety, ranging from songs from rock band Imagine Dragons to Beyoncé. Yes, you might hear "Believer" back-to-back with "If I were a Boy."
Brown, who's averaging 22.4 points (which ranks seventh in the country) and leads the nation with a 73.2 field goal percentage, says the music played in the Baylor locker room and during pregame shootarounds varies, but that her teammates know the way to her heart.
"They like playing Beyoncé for me," she says. "I love Beyoncé so much, any Beyoncé."
But, of course, Brown has a favorite -- all because of one quick lyric that hits home for the Slidell, Lousiana native.
"It's got to be 'Formation,'" she says, "because she mentions Louisiana in it."
Brown shared her top five songs at the moment: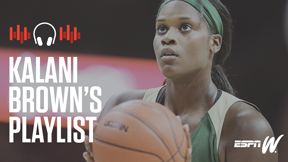 1. "The Sky is the Limit," Lil Wayne
2. "Fly," Nicki Minaj (feat. Rihanna)
3. "Moment 4 Life," Nicki Minaj
4. "Radioactive," Imagine Dragons
5. "Formation," Beyoncé
Get more athlete playlists