The Billy Joel song that will help Ashley Wagner relax at the U.S. figure skating championships
For three-time U.S. figure skating champion Ashley Wagner, the right music can make all the difference. The 26-year-old, whose 2016 world championships silver medal made her the first American woman to medal on the world stage in a decade, recently made a late change to her program, trading the "Moulin Rouge" music she's been skating to since the 2014 Olympic Games for a fresh number from "La La Land." It could be considered a risky move, since the U.S. championships start this week and the Olympic team will be named when the competition concludes, but for Wagner, it was time to "make it or break it."
When it comes to her off-ice listening, Wagner prefers a mellower vibe to the ones that make for good drama in a skating program. "'Vienna,' by Billy Joel, is my go-to song," she says. "It's a song that I feel has always applied to whatever is going on in my life in a totally new way every time. Billy Joel is my absolute favorite!"
Her entire playlist:
Warning: Some songs contain explicit lyrics.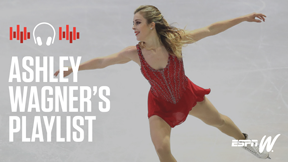 Get more athlete playlists