UConn basketball player Gabby Williams' pregame playlist
Some things never change. Such as UConn's dominance (the Huskies are unbeaten and ranked No. 1). And Gabby Williams' go-to song.
The UConn stat stuffer -- the 5-foot-11 senior forward and two-time NCAA champion is averaging 11.4 points, 7.9 rebounds and 4.5 assists while shooting 60.4 percent from the field -- said that at some point, after years of playing the same song during her pregame prep, it became automatic.
"I always, always have to listen to 'Feeling Myself' by Mac Dre," Williams said. "It started in middle school, and it just didn't stop. It's a routine now, not even a superstition."
As for what songs are most commonly playing in the UConn locker room, "it's usually a song we can dance to, like 'Rolex,'" Williams said. "Something that gets us dancing because it lightens the mood and it's fun."
Williams, who has started all 13 games for the Huskies this season, shared a few from the list she has been listening to: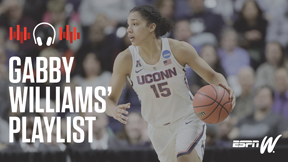 Get more athlete playlists