The playlist that Oregon basketball player Sabrina Ionescu listens to right before tipoff
Sabrina Ionescu's music is as diverse as her game.
The Oregon sophomore guard holds the NCAA record for most career triple-doubles, breaking the mark on Dec. 31 with the eighth triple-double of her short collegiate career. Then on Sunday she did it yet again, totaling 19 points, 13 assists and 10 rebounds in Oregon's victory over Utah.
Ask Ionescu (pronounced "Yo-NESS-coo") to narrow down which songs might make her playlist, and it's as tough as finding a weak spot in her game.
"I hit different moods," she said. "Right before the game, I'll have rap, some pump-me-up music. But for the bus ride, there will be country music and there's some church music in there. It's a wide range of music."
Ionescu said she listens to Migos, 21 Savage and Wiz Khalifa before games, but she hand-picked these six songs for pregame listening after referring to some of the most-played songs on her iPhone.
A native Californian who said the last concert she went to was Luke Bryan back in the Bay Area this past summer, Ionescu said one song -- Future's "I'm so Groovy" -- gets her ready for tipoff almost all by itself.
"I think the beat just gets me wanting to play," she said. "My palms start sweating on the bus. I'm ready to play right then."
Her top six songs right now: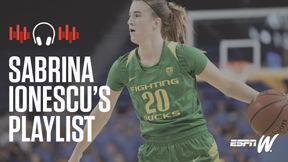 Get more athlete playlists