UConn basketball player Napheesa Collier's postseason playlist
UConn junior forward Napheesa Collier is the kind of person who sings everywhere. "I sing poorly, but I sing a lot," she said.
When she's not busy being the Huskies' second-leading scorer and leading rebounder, Collier is often bopping around to whatever tunes she loves at the moment, even if she describes some of her tastes as "basic."
"I binge on songs when I like them," Collier said. "I play it until I hate it."
Heading into the postseason, Collier shared what she is jamming out to -- right now she loves throwbacks and has a soft spot for whatever is popular: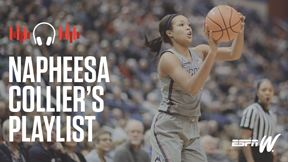 Get more athlete playlists