Tennis player Naomi Osaka's pump-up song right now
Naomi Osaka has been on the rise in the WTA since 2016, when she broke into the top-50 rankings and was voted "newcomer of the year." But this spring she catapulted higher yet with her first WTA title at Indian Wells. Then she grabbed headlines again by defeating Serena Williams in the first round of the Miami Open.
The Japanese-born, Florida-raised 20-year-old hasn't been shy about admitting that Williams has been her idol since she first got into the sport, saying in her postmatch interview, "I kind of wanted to impress her, and I just wanted to make her say, 'Come on!' one time, and I think she did, so I'm really happy about that."
We caught up with Osaka for details on the playlist that's helped fuel her impressive year. "My songs change every few weeks," she says. "Right now my pump-up song would be 'Crisis' by Rich Brian and 21 Savage, mainly because the beat is nice and I can follow the chorus."
She shared her full list: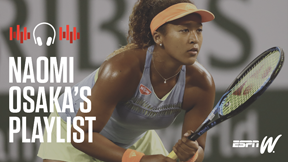 Get more athlete playlists