Brazilian Olympic volleyball star Barbara Seixas' eclectic mix of songs
Four-time world champion and 2016 Olympic silver medalist Barbara Seixas made her country proud last month as she kicked off the Beach Volleyball Major Series in Fort Lauderdale, Florida, with a podium-topping win for Brazil.
We caught up with Seixas to find out the current soundtrack of her success. "I have a very eclectic taste for music," the 30-year-old told us. "I used to say that songs are more like a state of mind. You don't just listen -- you actually feel them."
While she doesn't listen to music during workouts because she prefers to focus on her body and the exercises, Seixas loves a good energizing beat on her way to practice to get her motivated for the day ahead. Also important: "I like to keep my songs random," she says. "Love the surprise of a good beat!"
Here's Seixas' full playlist: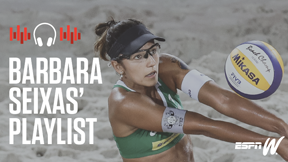 Get more athlete playlists