No. 1-ranked gymnast Maggie Nichols' playlist for NCAA championships
Oklahoma University sophomore Maggie Nichols goes into the NCAA championships ranked first in the all-around -- and with an astounding 13 perfect-10 scores in her two years in collegiate gymnastics. This weekend, Nichols hopes to lead the No. 1-ranked Sooners to a third consecutive national title and capture the all-around title as well.
When we asked Nichols what she listens to when the pressure is on, she struggled to narrow it down. "It's hard for me to pick a favorite song before a meet," she said. "I honestly like everything. Slow music, fast music, rap, country, gospel -- you name it, I listen to it. The upbeat music gets my blood moving, and the slow jams put me in the groove. But the funny thing is it'll go from a hard-core rap song, to a country song, to a slow jam, to a gospel song. My teammates always laugh at me because my music choices are so random!"
Here's the "random" list she'll be playing at the NCAA championships: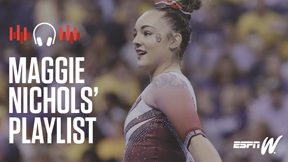 Get more athlete playlists