The playlist that gets Sylvia Fowles game-ready -- and keeps her out of foul trouble too
After two WNBA championships with the Minnesota Lynx, 2017 league MVP Sylvia Fowles has clearly found a rhythm that works for her.
It turns out the right playlist has at least a little bit to do with that. Right now it's rapper Rick Ross that Fowles has on repeat. "I love him because he puts me in a good mood before a game," she said after a recent practice. "I love to get hype before games, but not too hype because if I'm too hype then I'd probably go out and get into foul trouble."
"Also, he's a fellow Floridian, so he gets me hype, but like a calm hype," added the Miami native.
As the Lynx prepare to officially open their season on Sunday against the Los Angeles Sparks (5 p.m. ET/ESPN2), Fowles shared the rest of her current playlist, with plenty of jazz and R&B to add to the calm quotient: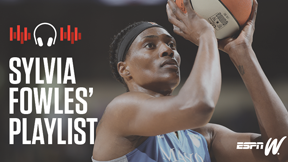 Get more athlete playlists