What WNBA champion (and hip-hop artist) Essence Carson listens to on the way to the game
Essence Carson played in three NCAA tournaments for Rutgers, finishing runner-up her junior year. While she was there, she picked up a Big East title, three Big East Defensive Player of the Year awards, a major in psychology and a minor in music.
Carson, who's now spent 11 years in the WNBA since being drafted in 2008, hasn't forgotten that training in music. Off the court she's a hip-hop artist and producer under the name Pr3pE and has released an album, a self-produced and self-written mix tape and several music videos.
Now in her third year with the Los Angeles Sparks, she's got her eyes on a second WNBA championship. But she's also continuing to explore her musical talents -- and learn about the business -- in part through an internship with Artium Records, supported by the WNBA and Women's National Basketball Players Association.
The WNBA All-Star and budding producer shared her own mix of the moment, including one of her favorite tracks. "I normally listen to a mix of different music while driving to the arena, but 'Hypnotize' by Notorious B.I.G always gets a good head nod from me. Having studied music, I have an appreciation for all music, but hip-hop is the genre that is a reflection of my environment and generation."
Warning: Some songs contain explicit lyrics.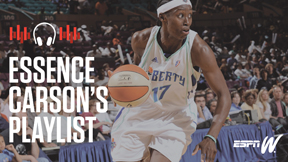 Get more athlete playlists