Five on Five
What's wrong with the Knicks, Nets?
The Knicks -- losers of nine straight -- and Nets have a combined record of 8-26 this season. What's wrong with NBA basketball in New York? Our writers give their thoughts on both struggling teams.
1. Why are the Knicks so bad?
Jeremy Gordon, Brooklyn's Finest: Call it a limited formula reaching its nadir. There was always a ceiling to the Knicks as built around Carmelo Anthony and the wheels have fallen off: Their shooters aren't shooting and their defense sans Tyson Chandler has looked like what you'd expect an Andrea Bargnani-patrolled paint to look like.
Mike Kurylo, KnickerBlogger: Shooting. With Chandler out, the defense was supposed to suffer, but not the offense, right? J.R. Smith (42.4 percent TS%) and Raymond Felton (45.5 percent TS%) are dragging the team down. Anthony's true shooting percentage of 51.4 percent is his lowest since his rookie year, and 31 points below his career average. New York shot 37.6 percent last year from 3, but is only making 32.2 percent this year.
Mike Mazzeo, ESPN New York: Their roster is flawed. Chandler has been hurt. They lack a second star to complement impending free agent Anthony. They are too reliant on the 3-pointer. Those computer projections are looking pretty good so far.
Brian Windhorst, ESPN.com: They have no identity, especially offensively. This is a major difference from last season when they played small, spread the court and were a great shooting team. They have leadership and injury issues, too, but things would be a lot better if they had a trusted style to hang their hat on.
Ohm Youngmisuk, ESPN New York: Losing Chandler has been crippling for the team's defense, rebounding, size and energy. But the Knicks' roster is flawed and it lacks leadership and chemistry. They don't pass enough, take bad shots, the Knicks' best players aren't shooting well and they aren't defending.
---
2. Why are the Nets so bad?
Gordon: Everything had to go right and everything has gone wrong: The planned starting lineup has played about a game and a half with each other, Jason Kidd needed longer to transition into his role and none of the rotations have played together long enough to develop any cohesion. Just a collision of worst-case scenarios happening at once.
Kurylo: Defense. Bringing in Paul Pierce and Kevin Garnett was supposed to strengthen this team's defense, which was ranked 17th last year. But at 110.2 points allowed per 100 possessions, the Nets are by far the worst defensive team in the league. That's 5.7 points off the average, so the Nets have a lot of ground to make up to get back to respectability.
Mazzeo: They've been decimated by injury. They're old. They're still searching for their identity. Offensively, they've been awful. Defensively, they've been even more awful. Third quarters have been a nightmare. Need I say more?
Windhorst: They are woefully beaten up, they have little to no on-court chemistry and they are a team filled with leaders where no one seems to be actually leading. Their injury list has been so prolific it is hard to even know what they have together. To be honest, Phil Jackson would have a challenge dealing with making all this work. Kidd is really in the deep end here.
Youngmisuk: The Nets have been ravaged by injuries, which in turn has impacted their chemistry and affected morale. The team is limited on talent and looks slow and unathletic with Deron Williams injured. When they miss shots, they stop defending. Even more disturbing though is the team looks like it lacks fight when adversity hits. And on top of all that, Kidd is learning how to coach on the fly.
---
3. Kidd or Woodson: Which coach has a hotter seat?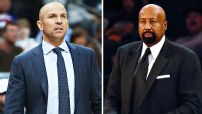 Gordon: Has to be Woodson, only because Kidd just had his number retired and now owns part of the franchise. I can't envision a bad enough scenario to change the pecking order; maybe if the Nets lose by 40 and Kidd spills a 2-liter of Coke on the floor?
Kurylo: Kidd. Mikhail Prokhorov already has applied the "George Steinbrenner of the 1980s" style of ownership to the Nets. Not only has he mortgaged the future for over-the-hill All-Stars, but he has made a carousel of the head-coaching spot. They fired Avery Johnson last year when he was a moderate 14-14, and then canned P.J. Carlesimo after a 35-19 record and a hard-fought seven-game series against the Bulls. My guess is Billy Martin will be the next Brooklyn coach.
Mazzeo: Woodson. Nets ownership and his players are clearly in Kidd's corner. Why else would they let him "reassign" an assistant coach (Lawrence Frank) who was signed to a guaranteed six-year, $6 million contract?
Windhorst: Woodson, though I'm sure Prokhorov has developed some exit strategies for Kidd. One wonders if paranoia with Frank as a ready replacement didn't contribute to Kidd giving him the boot. There isn't such an answer on the Knicks staff and, frankly, no reputable available coach would want to come in and take either mess. Both deserve the chance to play with a full deck but the NBA isn't always fair.
Youngmisuk: Woodson's seat has been heating up. He needs a big-time win against the Nets to end a nine-game losing streak. While Jim Dolan says he's more patient than Prokhorov, Dolan is the more unpredictable owner of the two. The Nets hired Kidd knowing he will need time to grow and so far ownership has been understanding of the challenges Kidd has faced with the injuries and other mitigating factors.
---
4. Knicks or Nets: Which team will be worse in April?
Gordon: Have to think it'll be the Knicks. The Nets at least have the excuse of having poor health and inexperienced coaching, which suggests the possibility of getting healthier and more experienced coaching. But the Knicks are who they are, which was just so-so even before Chandler got hurt.
Kurylo: Nets. The Knicks are pretty much the same team they were last year from a roster perspective, so they are the safer money provided Chandler returns. It's hard to tell if Brooklyn's roster can be a successful unit from a chemistry standpoint and whether they are too old to turn the ship around.
Mazzeo: Still think the Knicks. The Nets are missing several key pieces: Williams, Pierce, Andrei Kirilenko, Jason Terry. Assuming they all come back -- and that's a big assumption -- I think they can still salvage their season. Of course, both teams play in the Atlantic and the East, so anything is possible.
Windhorst: Knicks. They were worse in September too and I don't see a trade they could make that could legitimately change their position for the better. I still think the Nets could be a dangerous playoff team because of their versatility and experience.
Youngmisuk: Barring a trade, the Knicks might be the worse of the two New York teams in April. The Nets will eventually get their injured players back and they have to hope whenever that happens, it won't be too late for them to mesh. The sorry state of the Atlantic Division should keep both teams alive for much of the season. But with the Knicks, Chandler means a ton to them but he doesn't solve all their problems. The Nets' roster at full strength should have the experience and leadership the Knicks lack for a postseason run.
---
5. Knicks or Nets: Which team has the worse future?
Gordon: The Nets, because they're so far capped out and without a ton of draft picks because of the Garnett/Pierce trade. In the short term, their future might be better because you could say things have to get better from this. But long term? Not so pleasant.
Kurylo: Nets. Both teams have mortgaged their future for a combined eight wins. However, as it stands today, the Knicks have their own pick in three of the next five drafts, whereas the Nets have none. Brooklyn will have a first-rounder in 2015 (the worse of theirs or Atlanta's) and 2017 (the worse of theirs or Boston's). So for the next half-decade, the ability to rebuild through the draft is at least on the table for New York.
Mazzeo: They're both in trouble. Both mortgaged the future to win now. Can't say I really blame the Nets. They were moving to Brooklyn and needed to make a splash. So far, it hasn't worked out. As far as New York is concerned, wonder what's going to happen with Melo? Would the Knicks ever consider a rebuild if he left? Ha. Good joke.
Windhorst: Let me see, which NBA team is older, has fewer draft picks and a worse salary-cap position than the Knicks ... thinking ... oh, the Nets! At least the Knicks can dream for free agents in 2015. Though the Nets' ceiling is higher until then.
Youngmisuk: The Nets are saddled with aging vets with big contracts and a payroll that rivals none. And this roster is currently built to contend likely for this year and maybe next season max. The Knicks' future is hazier, though, with Anthony's impending free agency. But even if the Knicks re-sign Anthony, will they be able to lure another star to play alongside him to ensure they can contend? Their roster is flawed and they've had difficulties luring stars for years now. Both Dolan and Prokhorov are willing to spend to win. But Prokhorov seems more likely to spend whatever it takes to keep the Nets as a contender and find ways to improve the roster in the future.