Five on Five
East All-Star starters: Let's decide
With only two teams in the East above .500, it could be argued that "East All-Stars" is a contradiction in terms. But as the first voting results are released Thursday, the fans are being heard. Now our experts are, too. Here's the East stars they think deserve to shine on Feb. 16 in New Orleans.
1. East backcourt All-Star starter: Kyrie Irving, John Wall or who?
Michael Pina, Red94: John Wall. Wall is second in the league in assists, is shooting it better than Irving this season from almost everywhere on the court and remains an absolute blur with the ball. He has been one of the three best point guards in the league this season, even if that designation comes with an injury-related asterisk.
Robert Silverman, Knickerblogger: Wall. He's an absolute hellion on the fast break, and when his jumper's on, he's as devastatingly explosive a player as you'll find. Jeff Teague certainly deserves a spot on the roster as well; given the huge leap forward he has taken as a decision-maker and floor general in Mike Budenholzer's system.
Ethan Sherwood Strauss, TrueHoop Network: Wall. Wall has been the more impressive player and he has played with more consistency than Irving. Washington has also, more or less, met expectations so far. Kyrie's monster 37-point game against New York was notable in how great he looked but also notable in how rarely Kyrie's looked like himself this season. I can't blame Irving for struggling, what with a Cleveland roster that looks like intentional sabotage, but his production has taken a dive this season.
Tom Sunnergren, Hoop76: Wall. Michael Carter-Williams received close consideration -- and, yes, that a rookie with a sub-40 field-goal percentage got a long look for an All-Star spot tells you all you need to know about the sorry state of point guard play in the East -- but Wall, by virtue of his improving 3-point shot and perfect attendance on game day, gets the nod.
Michael Wallace, Heat Index: Wall. Not only does he hold the statistical edge over conference counterparts at the de facto point guard position, he also has improved his defense and has led the Wizards to one of their best starts in years. Irving, an All-Star last season, is flashier. Wall is more consistent and complete. His All-Star level of play started late last season, too.
---
Pina: Jordan Crawford. Apart from sheer entertainment value, why not? He's efficient, makes his teammates better on a nightly basis, and has per 36 minute/advanced numbers that are right on par with Wade. The only difference being that Crawford has played 24 games, while Wade's only competed in 16. He's arguably the most valuable player Boston has right now, and their offense spontaneously combusts when he's on the bench.
Silverman: Wade. At 31, all of those devil-may-care forays into the teeth of the defense have robbed him of a step or two, and he's no longer the unstoppable force of nature that carried Miami to the 2006 title. That said, though his raw totals are down across the board, Wade is once again quietly putting forth an über-efficient season.
Strauss: Wade. He has been awesome when he plays -- he's just taking more games off this season. I don't think we should deny All-Star appearances to guys just because they're taking care of their bodies. Also, I'm more into rewarding per-minute production than most. Afflalo has had a great start but much of it seems fueled by an unsustainable shooting streak. Afflalo probably deserves an All-Star spot at this juncture, just not over Wade.
Sunnergren: Wade. LeBron's No. 2 isn't quite the player he was a few years back, but he's still a joy to watch, not to mention a fine player. Wade is shooting a career-high 52.3 percent, exceeding positional averages in rebounds, assists, blocks, steals and true shooting percentage and, at 31, leads all East shooting guards in PER (21).
Wallace: Wade. At a time when Wade is essentially reduced to part-time playing status, no one else in the slumping East has made a compelling argument that Wade shouldn't be in this spot. Afflalo and DeMar DeRozan have higher scoring averages but marginal impacts on their respective teams. Wade's star appeal gets him over the hump.
---
This question assumes that four-time MVP LeBron James will be elected to start.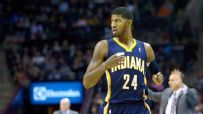 Pina: George. He's one of the five best players in basketball right now. There are legitimate public discussions on whether he's better than Kevin Durant. He's everything you'd want from a wing on both ends of the court, so yes, he's the easy choice here.
Silverman: George, and it isn't even close. The improvements that he has made to his midrange game combined with an uptick in his all-around shooting percentages means George isn't only an All-Star starter but a legitimate MVP candidate. Oh, and like last season, he's leading the league in Defensive Win Shares. He's really good.
Strauss: I'd go George over Anthony, and Hibbert over Anthony if given the option. Indiana has been the best regular-season team so far, and so much of that success comes from its starting lineup. It isn't crazy for them to provide two All-Star starters. Both George and Hibbert are arguably the best defensive players at their positions. Though the All-Star game shouldn't feature too much defense, the All-Star distinction should reward players who play D. Speaking of which, Carmelo still largely doesn't.
Sunnergren: George. The Pacers are the best team in basketball, a lofty perch they owe largely to the wild improvement of their small forward. George, a top-25 player to begin with, has made a quantum leap this season. His true shooting percentage has skyrocketed (jumping from .531 to .603), his usage is up, and his turnover rate has plummeted. He's been a revelation.
Wallace: George. By powering the Pacers to the best record in the East, George has also elevated his profile as a legitimate candidate for MVP. George is no longer a player on the rise; he's a bonafide superstar and top-10 player in the league. George should get the respect -- and the subsequent votes -- he deserves to land in the All-Star game's starting lineup.
---
Pina: Hibbert. He has been the most dominant defensive player in basketball this season; second in blocks with opponent's shooting just 39.7 percent at the rim on nearly 10 attempts per game, according to SportVU. He doesn't crush the opposition on offense, but his numbers indicate more reliability than ever before, especially his free-throw rate.
Silverman: Hibbert. Drummond's an athletic marvel and a double-double machine and, in the not-so-distant future, a question such as this might evince chortles. For now, he finishes second to the brutish centerpiece of Indiana's stifling, ruthless defensive machine. With Hibbert manning the middle, opponents are shooting a mere 39.7 percent when daring to venture to the rim.
Strauss: Again, Hibbert's the choice. He has a fair claim as the best center in basketball, if you happen to believe defense is a real thing. Fans have long ignored defensive prowess, but we're getting collectively smarter with more video analysis and better stats. It's time for some defense-based selections.
Sunnergren: Drummond is the best center in basketball if you go by the advanced metrics. He's grabbing 12.7 rebounds a game, shooting 62.7 percent, and leading the position in wins produced and win shares by comfortable margins. Drummond is the best center in basketball if you don't go by the advanced metrics. He's a 6-10, 270-pound mesomorph who attacks the rim with unusual ferocity. So he's the best. Glad that's settled.
Wallace: Carmelo Anthony. Assuming LeBron James has the remaining "frontcourt" starting spot locked up and will likely jump center in New Orleans, it's hard to fathom Carmelo Anthony not sharing the court with this group. Despite the Knicks' struggles, Anthony is the East's leading scorer and is on pace to average a career high in rebounds and a career low in turnovers. That's good for something.
---
5. Nominate a dark-horse candidate for the East All-Star roster.
Pina: Spencer Hawes. There's a few "deserving" candidates, such as DeMar DeRozan, Evan Turner and Jeff Green. But Hawes has been lights-out shooting the ball. In fact, no 7-footer in league history has ever been so accurate at such a high volume. And grabbing 9.7 rebounds per game doesn't hurt his case.
Silverman: Brook Lopez. In the midst of the darkly comic circus that has been the Nets' early-season struggles, Lopez has emerged as possibly the best low-post scoring big in the NBA, using a bevy of clever up-fakes and a silky-smooth touch to amass a PER of 28.5 and a true shooting percentage of .641.
Strauss: Paul Millsap has been a great fit in Atlanta. His team is third in the conference (it's an indictment of that conference, but still), and he certainly has outperformed the errant-shooting lefty power forward he replaced. Millsap would be a near shoe-in if people cared about the Hawks.
Sunnergren: Hawes. Stifle your laughter for a moment. Hawes, 25, is a hairsbreadth shy of averaging a double-double on the season (15.1 points/9.7 rebounds), has become a bonafide marksman from 3-point range (42.7 percent on 4.1 triples a game), and passes the basketball as if he were a long-lost Gasol brother. He's playing at a very high level.
Wallace: Jeff Green. Is there anyone in the league Green hasn't dunked on this season? The All-Star game is about highlights and crowd-pleasing moments. Green has provided plenty of those jaw-dropping moments amid Boston's plucky start. He's having a career-season, and seems to have regained his full form after battling back from a heart procedure that once derailed his career.