Bracket of Discontent: Final Four!
The Final Four is set!
After a highly contested Elite Eight round, "Twitter trolls," the No. 1 seed in the Truly Awful Region, will battle No. 6 seed "Sagging pants" for a spot in the title game. Over in the Super Brutal Region, top seed "Bieber" destroyed everything in his wake en route to a Final Four date against No. 3 seed "Bad Public Transportation Etiquette."
Let's break down the match-ups.
Truly Awful Regional
"Twitter trolls" will be tough to beat, as it is, um, scientific fact that they are just the absolute worst. These are folks who choose to spend hours a day harassing others on social media, oftentimes through racist, sexist, homophobic and otherwise offensive means. Driven by bitterness and self-loathing, they try to spoil the happiness of successful people, take joy in the misery of others, and go so far as to wish death, disease and dismemberment upon strangers for things like which college basketball powerhouse they decided to attend or a missed field goal in a crucial game.
If something out there can give "Twitter trolls" a run for their money, it's "Sagging pants." This terrible fashion trend should have died years ago, yet men, young and old alike, continue to walk around in public with their cotton brief-clothed butts (or behinds) visible for all to see. It's impractical (quit pulling them up every two steps), it's unattractive (your legs look to be about two feet long) and it's offensive (if I wanted to see your butt, I'd ask).
Which is more truly awful -- the verbal or visual attack? Vote now!
Twitter trolls vs. Sagging pants
---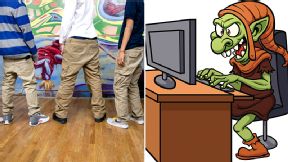 Inappropriate commentators who hide behind a computer screen, or those crazy kids who need a session on "Fashion Police"?
Super-Brutal Regional
The way the Biebs has been tearing through this tourney, it doesn't seem anyone will beat him. The "Swaggy Bro" has a résumé of insulting offenses you'd expect from a much older jackwagon/wanker, but he's made good use of his 20 years. Among his offenses: Hoping Anne Frank would have been a "Belieber," wearing the hat and jersey of whichever team he's currently on the bandwagon of, mistreating his pet monkey, urinating in a mop bucket, spitting on fans and, of course, that super-brutal deposition.
As super brutal as the Biebs is, it's tough to vote against "Bad public transportation etiquette." Toenail-clipping on the train or exposing oneself on the bus; listening to loud music on an iPhone without headphones or denying older passengers a seat; getting on the train before letting people off first or pushing people to leave the train when the doors aren't even open yet. These are all super brutal things that people actually do, ruining our day before the morning commute is even done.
So, what'll it be? The world's worst pop star, or the folks who steal your joy with their inconsiderate ways?
Justin Bieber vs. Bad public transportation etiquette
---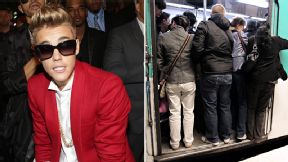 The Biebs and his pet monkey, or too many people pushing and shoving?