Bracket of Discontent: Title game!
Like the 2008 Kansas-Memphis NCAA title game, The Bracket of Our Discontent has ended with two No. 1 seeds meeting for all the marbles.
In the Super Brutal Region, the Biebs benefited from a bye in the opening round, then cruised past "Line-cutters," "People Who Litter" and "Bad Public Transportation Etiquette," never allowing more than 22 percent of the vote to an opponent.
In the Truly Awful Region, "Twitter Trolls" had a tougher road to the championship game. After also receiving a first-round bye, the trolls beat out "Internet Hoaxes," "People Who Are 'Literally' 'Dying' Right Now" and "Sagging Pants," which put up a good fight, earning 44 percent of the vote.
And so it comes to this: Justin Bieber versus Twitter Trolls. Only one can be crowned champion in The Bracket of our Discontent. Your votes will decide, so weigh in now!
Twitter trolls vs. Justin Bieber
---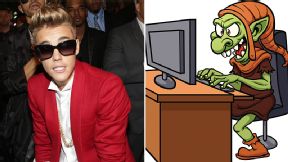 Inappropriate commentators who hide behind a computer screen, or the Biebs and his pet monkey?