Powering Toward History
This story appears in ESPN The Magazine's August 31 NFL Preview Issue. Subscribe today!
SERENA WILLIAMS STANDS alone in many ways, including statistically. In fact, as she aims to become the first woman since 1988 to complete a calendar-year grand slam, my calculations show that Serena is the most dominant player in the history of women's tennis.
But she's not the greatest of all time. Not yet anyway.
We can measure dominance in any sport by comparing the distance between its No. 1- and No. 2-ranked athletes to the disparity between No. 2 and the rest of the field. For example, last year Nelson Cruz led the American League with 40 homers. The difference between Cruz and runner-up Chris Carter, who hit 37, equaled the difference between Carter and Edwin Encarnacion, who ranked seventh. In the ranks of raw power in 2014, there was Cruz, then a drop-off, then half a dozen men bunched behind him.
When it comes to winning tennis matches in 2015, the gulf in WTA ranking points between Williams at No. 1 and Maria Sharapova at No. 2 equals the distance between Sharapova and the No. 138 player on the tour, Ons Jabeur of Tunisia. A few weeks ahead of the U.S. Open, beginning Aug. 31, Williams had 12,371 ranking points (which the WTA awards on a rolling 52-week basis, giving extra weight to major events), nearly double Sharapova's total (6,386). Now, that's a drop-off.
Like a fine wine ...
One sign that Serena Williams might tie and, perhaps, eventually eclipse Steffi Graf's Slams record? Her winning percentage has risen as she as aged, whereas Graf's declined.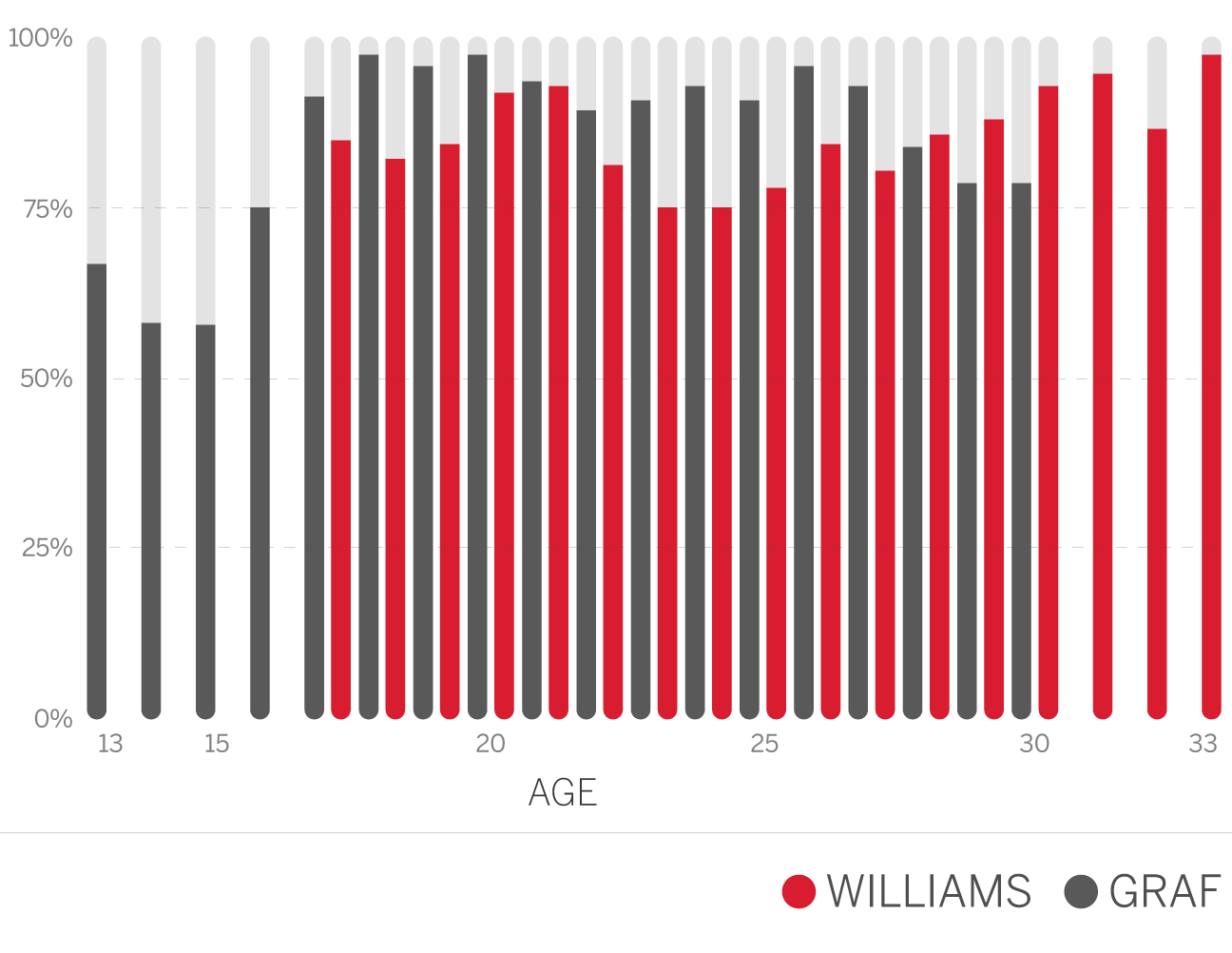 Williams is 40-1 in matches this year and is the only player to rank in the WTA top 10 in wins on clay, grass and hard courts. Just one previous player ever reached comparable dominance: Steffi Graf in 1993 -- and that was after a demented, knife-wielding fan disabled the previous No. 1, Monica Seles.
And it doesn't look like anyone will bridge the chasm between Williams and her closest competitors any time soon. Rivals who gave Williams serious trouble, such as Martina Hingis (against whom Williams went 7-6) and Justine Henin (8-6), have retired, and she has a career record of 46-6 against the five players currently ranked next highest in the world.
Even more impressive, Williams' current run is the third time she has worked her way to the top for an extended stretch, something critics of her commitment and her body thought impossible. Williams first hit No. 1 in 2002, but she missed a lot of action from 2004 to 2006 because of injuries and emotional turmoil following the murder of her sister Yetunde, and she plunged all the way to No. 95 in the world rankings before mounting a comeback. She suffered a lacerated tendon in 2010 and a pulmonary embolism in 2011, dropping to No. 12 before launching her latest (and best) run. Compared with most players' simple trajectory, Williams' jagged path is a testimony to her persistence.
In good company
Steffi Graf, Chris Evert, Martina Navratilova and Margaret Court all had Grand Slam wins early in their careers. But none claimed more than one major after age 30. Williams after 30? Six, so far. (* -- Thirteen of Court's majors came before the Open era.)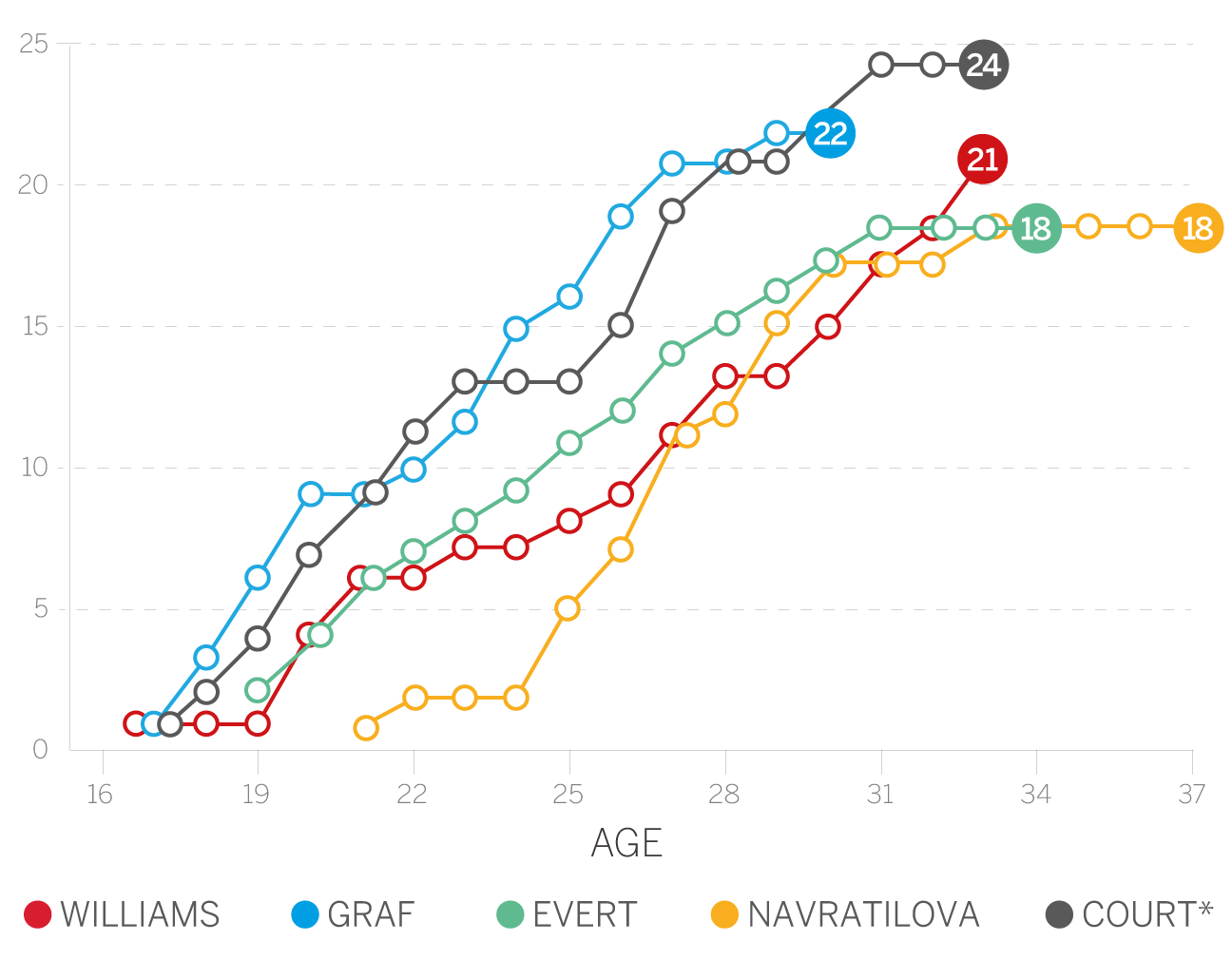 When we compare the greatest players of all time, however, I believe those lost months matter -- we need to value an athlete's sustained excellence, not just her peak. Here's a way to do just that: For each season, we can credit top players for the portion of the gap they fill between No. 20 and No. 1. For example, in 2014, Romanian Simona Halep had 6,292 WTA ranking points (No. 3 overall), meaning she was 66 percent of the way from Spain's Garbine Muguruza at No. 20 (2,043) to Williams at No. 1 (8,485). This gives Halep 0.66 "gap shares." Add up Halep's results from each season since she turned pro in 2008 and she has a career total of 1.0 gap shares, the equivalent of ranking No. 1 for one year. This method rewards the best players for both dominance and longevity and adjusts for changes in WTA scales over time.
Among all players since computerized rankings began in 1975, Williams ranks fourth, with 9.8 career gap shares. She is one more great season away from catching Graf (10.8), who spent more weeks ranked No. 1 (377) than any player in history. But Chris Evert (12.0) and Martina Navratilova (15.0) are a bit further off. I think that's fair: Navratilova had an incredible 19 consecutive seasons during which she was one of the five best players on the planet; Evert had 14.
Williams has been swinging a racket for 30 years, so whenever she chooses to move on, nobody should begrudge her decision. But with her on-court style of pinpoint aggression more effective than ever, here's hoping she keeps playing long enough to become the unambiguous all-time No. 1.