Bracket of Awesome: Championship!
After saying some tough goodbyes to super-awesome stuff like Bacon, Ryan Reynolds' Abs and Live Music, it all comes down to this: No. 1-seeded New Puppy versus No. 5-seeded Lazy Sunday.
New Puppy was the lead dog all tournament long in the Totes Awesome Region, cruising past Summer BBQ, Long Hike and 8 Hours of Sleep. The road to the final was a little rockier for Lazy Sunday. After an easy first-round win against Photo Booth, Lazy Sunday stumbled and nearly got knocked out by Beach Bonfire. A convincing win over Camping got Lazy Sunday back on track, giving it the strength to push past Road Trips for a spot in the championship.
So what's more awesome, a cuddly ball of fur that wants nothing more than to snuggle and play and lick your face, or a free day to lay around and watch TV, fade in and out of sleep and eat some good food?
The choice is yours, America. Vote with your hearts.
New Puppy versus Lazy Sunday
---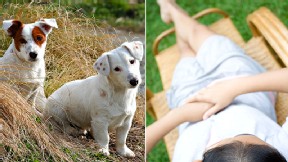 Want to snuggle up with a new puppy, or kick your feet up on the couch?