Coaching tree, legacy of Bill Walsh
ESPN celebrates the 100th anniversary of Vince Lombardi's birth with the "Greatest Coaches in NFL History" series, saluting the finest innovators, motivators, tacticians, teachers and champions ever to stalk the sidelines. Follow along as we reveal our list of the top 20 coaches of all time and document the lineage of the league's most influential coaching trees.
The Bill Walsh coaching tree is documented in the chart below, followed by features on Walsh and his disciples. This package also includes a feature on the Mike Holmgren branch of Walsh's tree.


BORN: 11/30/1931
DIED: 7/30/2007
REC: 92-59-1
PLAYOFF REC: 10-4
TITLES: 3
It was part of a weekly ritual. Four San Francisco 49ers assistants -- quarterbacks coach Mike Holmgren, offensive line coach Bobb McKittrick, running backs coach Sherman Lewis and wide receivers coach Dennis Green -- would doodle plays on templates, paste them into a book and make dozens of copies for the players. Creating the 49ers' offensive game plan in the late 1980s was a long, painstaking process, and it took the assistants well into the early morning each Monday and Tuesday during the season.
On Wednesdays, head coach Bill Walsh, who was also the offensive coordinator, would emerge for the first time from his office, examine his assistants' work and present them with 15 pages of his own ideas, starting the process anew.
"I'd go, 'Aw man, here we have to start all over again,'" Holmgren said. "But it was always good stuff. He'd seen something on the film he thought would work, and most of the time it did."
That was Walsh, San Francisco's coach from 1979-88. He was a visionary, an innovator, an astute talent evaluator, a teacher and a stickler for detail. During his decade as coach of the 49ers, Walsh turned a downtrodden franchise into a three-time Super Bowl champion and built the foundation for two other world championships. In an era when having a punishing running game was thought to be essential, Walsh implemented an offensive style predicated on short, crisp passes that moved the chains.
Walsh devised the style during his tenure as an assistant with the Cincinnati Bengals under legendary coach Paul Brown. He also pioneered the concept of scripting the first 15 to 25 plays of every game, a practice that is commonplace now.
After taking over a team that went 2-14 in 1978, Walsh's first two San Francisco teams finished a combined 8-24. In 1981, the 49ers lost two of their first three games, then won 15 of their next 16 and beat Cincinnati in Super Bowl XVI to complete what was arguably the greatest turnaround in professional sports history at the time.
In a decade with the 49ers, Walsh won six division titles and three Super Bowls. He finished with a 92-59-1 regular-season record and compiled a 10-4 postseason record.
In 1993, Walsh was inducted into the Pro Football Hall of Fame. He died July 30, 2007, at the age of 75 after battling leukemia.
Walsh ultimately changed pro football with his creative offenses and developed a number of assistants who went on to become NFL head coaches, including Holmgren, Green, George Seifert, Ray Rhodes and Sam Wyche.
"The way he looked at the game, he was like an artist painting a picture, and the rest of us were kind of blacksmiths pounding out the horseshoe," Holmgren said.
The foundation of Walsh's offensive philosophy began to take shape when, as an Oakland Raiders assistant in 1966, he was exposed to Sid Gillman's aerial strategies by Gillman disciple Al Davis. Walsh's career took a pivotal turn in 1968, when he joined Brown's staff with the expansion Bengals after considering quitting football in favor of Stanford business school. In Cincinnati, Walsh modified Gillman's system and incorporated a heavy dose of short passes, creating what ultimately would become known as the West Coast offense in San Francisco.
The relationship between Walsh and Brown, however, was icy and punctuated by friction. Walsh felt constricted by Brown and believed his boss was holding him back from becoming a head coach. After eight seasons in Cincinnati, Walsh left the Bengals after being passed over to succeed Brown as head coach. Offensive line coach Bill Johnson got the job instead, and Walsh believed Brown subsequently tried to blackball him in NFL circles.
After serving as an assistant for one season with the San Diego Chargers, where he helped develop future Hall of Fame quarterback Dan Fouts, Walsh became head coach at Stanford, where he remained for two seasons.
He was named head coach and general manager of the 49ers in 1979, and that same year he began to mold another future Hall of Famer when he drafted Notre Dame quarterback Joe Montana in the third round. Walsh's practices often would last nearly three hours, with a heavy emphasis on fundamentals and timing. Walsh instructed his quarterbacks to "catch the ball for the receiver," Montana said, meaning Walsh wanted the ball delivered precisely so the receiver wouldn't have to break stride.
"That's how you practiced every day," Montana said. "He wanted perfection from you. He always said, 'If you strive for perfect and miss, you're still pretty good.'"
Walsh was demanding of his players and staff, particularly his quarterbacks coach.
"He was really hard on me," Holmgren said. "I mean, hard. I remember saying, 'If I ever get to be a head coach, I am not going to do that.' And you know what, if you talk to Andy [Reid] or Steve Mariucci or Jon Gruden or Marty Mornhinweg, I was exactly the same way."
Roger Craig played for San Francisco from 1983-90 and said he "would run through a brick wall for Bill Walsh, that's the kind of respect I have for him."
Malcolm Emmons/USA TODAY Sports Bill Walsh drove Joe Montana to strive for perfection.
Craig said Walsh treated players professionally, and handled everyone the same, whether it was Montana or a third-string player.
But it was Walsh's innovative offense that set him apart, Craig said.
"What he brought to the game, what he brought to us was a 21st century platform in the 1980s, the West Coast offense," said Craig. "It was a 21st-century platform that today players are still using. Tom Brady, Drew Brees, Peyton Manning, it's our system, the system that Bill developed.
"Bill was the kind of guy who got a lot of information from a lot of great coaches. Paul Brown, he took a lit bit of his flair and his system. Then he talked to Sid Gillman. And then of course he worked with Al Davis as well, and got an understanding of how to organize your franchise. He learned that from Al. He took all of that and created a dynasty with the 49ers, and I can't say enough about him and what he means to football today. We're just on a tipping point. People like Tom Brady have taken it to another level. It's amazing."
Craig said Walsh had a wonderful sense of humor and often used boxing analogies when trying to motivate players.
"He always left us positive messages that motivated us," Craig said. "Boxing was a big deal to him. He used a boxing analogy about going against a rookie. He said, 'A rookie goes to fight the champ. The rookie goes out and throws a lot of punches and tires himself out. The champ goes in and connects once and knocks the rookie out.'
"His point was about being patient and delivering when you have to deliver. That was our system, being patient, being methodical, and keeping the chains moving. Dump off a pass. I catch a little swing. Keep getting the first downs until we score a touchdown. It wasn't sexy but it was very effective."
Walsh had a playful side, too. En route to the Silverdome in Pontiac, Mich., for Super Bowl XVI, the 49ers' buses got delayed because a motorcade for Vice President George Bush snarled traffic. Twenty minutes before the players were supposed to be on the field for pregame warm-ups, the buses weren't moving. The players weren't taped or in uniform, and they were tense, particularly Montana.
Walsh stood up. At the time, the 49ers had two equipment managers, named Chico and Bronco.
"Don't worry," Walsh told his players. "I just called the locker room, and we're winning 7-0. Chico scored the touchdown, and Bronco kicked the extra point."
"That was the last time I took the bus," Montana said.
Even now, Montana said he still hears Walsh in his sleep, telling him "bend your knees."
"He was fun," Montana said. "He had a great sense of humor. But he also was very demanding."
-- Ashley Fox

BORN: 1/5/1945
REC: 84-107
PLAYOFF REC: 3-2
TITLES: 0
Wyche took the 1988 Cincinnati Bengals to the Super Bowl and is credited with being the first coach to use the no-huddle as a base offense.
Wyche, a quarterback out of Furman, played for Cincinnati, the Washington Redskins, Detroit Lions and St. Louis Cardinals. After his playing career ended, Wyche was quarterbacks coach of the 49ers for four seasons under Bill Walsh, who was a Bengals offensive assistant when Wyche played in Cincinnati.
In 1983, Wyche was named head coach at Indiana University. One year later, the Bengals named him head coach. Wyche led the Bengals to the playoffs twice in eight seasons, losing Super Bowl XXIII when 49ers quarterback Joe Montana engineered a late comeback.
The Bengals fired Wyche in 1991, and he was hired by the Tampa Bay Buccaneers the following season. The Bucs fired Wyche after four seasons without a winning record. Wyche spent time working at the high school level in South Carolina before returning to the NFL as quarterbacks coach for the Bills (2004-05).
-- Shawna Seed

BORN: 8/5/1946
REC: 44-77
PLAYOFF REC: 0-1
TITLES: 0
Coslet guided the 1991 New York Jets to a playoff berth and later coached the Bengals, but his teams never finished with a record above .500.
He had an eight-year NFL career as a tight end with the Bengals (1969-76), playing under offensive assistant Bill Walsh for seven of those seasons. One of Coslet's teammates in Cincinnati, backup quarterback Sam Wyche, would later become his boss on the Bengals staff. When Coslet's playing career ended, he operated a construction business in California for several years.
Coslet started coaching with Walsh's 49ers in 1980 and joined the Bengals' staff under Forrest Gregg the next year. Wyche became Cincinnati's head coach in 1984 and retained Coslet as receivers coach, later promoting him to offensive coordinator in 1986.
In 1990, Coslet was named head coach of the Jets, with which Pete Carroll, his eventual successor, worked as his defensive coordinator. Coslet was fired after four seasons and returned to Cincinnati as offensive coordinator under David Shula.
Coslet succeeded Shula as head coach midway through the 1996 season and held the job until 2000. That season, the Bengals started 0-3, and Coslet was supplanted by Dick LeBeau. Coslet also served one season as offensive coordinator for the Dallas Cowboys.
-- Shawna Seed

BORN: 1/22/1940
REC: 114-62
PLAYOFF REC: 10-5
TITLES: 2
In eight seasons as the San Francisco 49ers' head coach, Seifert took his team to the playoffs seven times, won two Super Bowls and never won fewer than 10 games.
A native San Franciscan, Seifert worked as an usher at 49ers games in Kezar Stadium as a youth. He played linebacker and guard at the University of Utah under head coach Ray Nagel and became a graduate assistant to Nagel for the 1964 season. Seifert then became the head coach at Westminster College in Salt Lake City for one season. When Nagel became the coach at Iowa, Seifert joined the Hawkeyes staff for the 1966 season.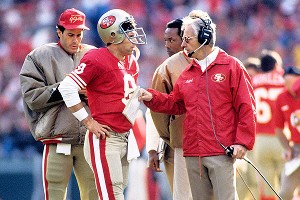 USA TODAY Sports The 49ers' second Super Bowl championship under George Seifert came with Steve Young at quarterback.
Seifert coached the freshman team at Oregon for the following two seasons, then served as defensive backs coach for the Ducks' varsity team under Jerry Frei from 1969 to 1971. At Oregon, Seifert coached on the same staff as future USC and Los Angeles Rams head coach John Robinson and future Cal and Arizona State head coach Bruce Snyder. Seifert then returned to the Bay Area for three seasons, 1972-74, as defensive backs coach at Stanford under Jack Christiansen.
After a disastrous two-year stint in the Ivy League as head coach at Cornell, at which Seifert went 3-15, he went back to Stanford as defensive backs coach in 1977, this time under Bill Walsh. Seifert remained in that role for three seasons and joined Walsh on the 49ers staff in 1980.
As the 49ers grew into a dynasty in the 1980s, Seifert played a key role. He coached defensive backs from 1980-82 and served as defensive coordinator from 1983-88, and San Francisco won the Super Bowl in the 1981, 1984 and 1988 seasons.
Seifert took the reins of the 49ers in 1989 after Walsh's retirement. As head coach, Seifert directed San Francisco to blowout victories in Super Bowls XXIV and XXIX and managed the quarterback transition from Joe Montana to Steve Young. Seifert resigned as coach of the 49ers after the 1996 season but returned to the NFL in 1999 to coach the Carolina Panthers for three seasons, compiling a 16-32 record.
Judged solely on his 98-30 record with the 49ers, his .766 winning percentage would rank No. 1 in NFL history among coaches with at least 100 games.
-- Shawna Seed

BORN: 2/17/1949
REC: 113-94
PLAYOFF REC: 4-8
TITLES: 0
In his 10 seasons as head coach in Minnesota, Green led the Vikings to the playoffs eight times. The high point was 1998, when the Vikings went 15-1 but lost to the Atlanta Falcons in overtime in the NFC Championship Game.
Green began his coaching career as an assistant on the collegiate level at Dayton and his alma mater, Iowa. In 1977, he joined Bill Walsh's staff at Stanford as running backs coach. Two seasons later, he followed Walsh to the 49ers to coach special teams and wide receivers. Green then returned to Stanford as offensive coordinator in 1980, at which time his quarterback was John Elway.
Northwestern hired Green in 1981, making him the second African-American head coach in Division I-A history. After five unsuccessful seasons guiding the perennially bad Wildcats, he returned to San Francisco for three more seasons as wide receivers coach under Walsh.
In 1989, Green returned to the collegiate level as head coach of Stanford, succeeding Jack Elway.
After three seasons at the helm of the Cardinal program, Green was hired as head coach in Minnesota, becoming the third African-American head coach in NFL history and the second in the modern era. When the 2001 Vikings were 5-10, ownership bought out Green's contract and had assistant Mike Tice coach the final game.
In 2004, Green took over the Arizona Cardinals but couldn't lead the team to more than six wins during his three seasons there.
Brian Billick and Tony Dungy spent time on Green's staff in Minnesota before becoming Super Bowl champion head coaches.
-- Shawna Seed


BORN: 2/28/1954
REC: 80-64
PLAYOFF REC: 5-3
TITLES: 1
Billick led the 2000 Baltimore Ravens to a Super Bowl title in only his second season as a head coach.
In his nine seasons at the helm in Baltimore, he led the team to the playoffs four times.
Billick, who played at Air Force and BYU, began his coaching career as a graduate assistant at BYU. Hall of Fame coach Bill Walsh hired Billick to work as a 49ers public relations assistant in 1979, a job he held for two seasons. In San Francisco, he sat in on coaching meetings and soaked up Walsh's offensive wizardry.
That was followed by stints at San Diego State and Utah State, after which he joined the staff of another Walsh protégé, Dennis Green, at Stanford in 1989. When Green became head coach of the Minnesota Vikings in 1992, Billick came along as tight ends coach.
Two seasons later, Billick was named offensive coordinator. In 1998, with Billick leading the offense, Minnesota set what was then an NFL record for most points scored in a season.
Baltimore hired him as head coach in 1999. The 2000 Ravens entered the playoffs as a wild card and advanced to the Super Bowl, defeating the Giants 34-7 for their first title. The Ravens fired Billick after going 5-11 in 2007.
During Billick's tenure in Baltimore he employed future NFL head coaches Mike Smith, Marvin Lewis, Jack Del Rio, Mike Singletary, Rex Ryan and Mike Nolan.
Billick helped Walsh write the 1997 book, "Finding the Winning Edge," treated by many in the football coaching world as a bible for the profession. Since leaving coaching, Billick has worked as an NFL television analyst.
-- Shawna Seed

BORN: 6/13/1959
REC: 56-24
PLAYOFF REC: 1-4
TITLES: 0
In Smith's first five seasons as Atlanta's head coach, the Falcons had a regular-season winning percentage of .700, went to the playoffs four times and reached the NFC Championship Game in the 2012 season.
John Rieger/USA TODAY Sports Mike Smith led the Falcons to the playoffs in four of his first five seasons as their head coach.
Smith, who played his college football at East Tennessee, coached at the collegiate level for 17 seasons at San Diego State, Morehead State and Tennessee Tech before landing his first NFL job.
At San Diego State, Smith coached alongside future Ravens head coach Brian Billick, who introduced Smith to his future wife, Julie, who happens to be the sister of Billick's wife, Kim.
In 1999, he joined the Ravens, coaching the defensive line and linebackers under his brother-in-law, Billick. After four seasons with the Ravens, he was hired as defensive coordinator for the Jacksonville Jaguars. The Falcons hired Smith in 2008 as head coach. He was the first Atlanta coach to produce back-to-back winning seasons and also the first whose teams advanced to the playoffs in consecutive seasons.
In 2012, Smith became the third-fastest head coach since the AFL-NFL merger to reach 50 victories, accomplishing the feat in 71 games. Only George Seifert (62) and Chuck Knox (65) got there quicker.
Smith is also the winningest coach in the history of the Falcons franchise.
-- Shawna Seed

BORN: 2/2/1959
REC: 32-33
PLAYOFF REC: 1-1
TITLES: 0
Tice took over as head coach of the Minnesota Vikings with one game left in the 2001 season and stayed on the job for four full seasons. He took the 2004 Vikings to the playoffs.
Tice preceded Boomer Esiason as starting quarterback at Maryland, and he played 14 seasons at tight end in the NFL for Seattle, Washington and Minnesota. When his playing career ended with the Vikings in 1995, he joined the Minnesota coaching staff under Dennis Green. He coached tight ends and the offensive line before assuming the head-coaching duties.
The Vikings fired Tice after going 9-7 and missing the playoffs in 2005. He then worked as an assistant in Jacksonville under former Vikings teammate Jack Del Rio and Chicago under Lovie Smith.
-- Shawna Seed


BORN: 9/17/1963
REC: 11-25
PLAYOFF REC: 0-0
TITLES: 0
Linehan coached the St. Louis Rams for parts of three seasons, during which time the Rams emphasized the ground game and featured back Steven Jackson.
Linehan played quarterback at Idaho under Dennis Erickson, who would go on to win two national championships at Miami and serve as head coach of the Seattle Seahawks and San Francisco 49ers. Linehan worked for 13 seasons at the college level, coaching offenses at Idaho, UNLV, Washington and Louisville.
In 2002, the Minnesota Vikings hired Linehan as offensive coordinator and quarterbacks coach. In each of Linehan's three seasons in Minnesota, the Vikings ranked in the NFL's top five in total offense.
After one season as offensive coordinator for the Miami Dolphins under Nick Saban, he was hired as head coach of the Rams in 2006. The team went 8-8 his first season, then fell to 3-13 the next. Linehan was fired after an 0-4 start in 2008.
In 2009, Linehan became offensive coordinator for the Detroit Lions under Jim Schwartz.
-- Shawna Seed

BORN: 6/15/1948
REC: 161-111
PLAYOFF REC: 13-11
TITLES: 1
Holmgren had 14 winning seasons in his 17 seasons as an NFL head coach, earning 12 playoff berths, eight division championships and three Super Bowl appearances with two franchises. His 1996 Green Bay Packers team won Super Bowl XXXI.
His coaching career began at the high school level in his native San Francisco; he later moved to the college ranks. He was the quarterbacks coach at BYU when Bill Walsh hired him in San Francisco. During his tenure as a 49ers assistant, Holmgren worked with Hall of Fame quarterbacks Joe Montana and Steve Young. He became the offensive coordinator under George Seifert after Walsh's retirement.
In 1992, the Packers hired Holmgren for his first head-coaching job at any level. Led by quarterback Brett Favre, the Packers advanced to two consecutive Super Bowls under Holmgren, winning the first and losing the second.
In 1999, Holmgren became head coach in Seattle. The 2005 Seahawks advanced to the Super Bowl, losing to the Pittsburgh Steelers.
Jon Gruden, Andy Reid, Ray Rhodes and Mike Sherman are among the members of Holmgren's staff who went on to have success as head coaches.
-- Shawna Seed

BORN: 10/20/1950
REC: 37-42-1
PLAYOFF REC: 1-2
TITLES: 0
Rhodes was hired as head coach of the Philadelphia Eagles in 1995 on the strength of his work as a defensive assistant with the San Francisco 49ers and Green Bay Packers. He was the fourth African-American head coach in the NFL.
The Eagles went 10-6 and made the playoffs in each of his first two seasons. But after the Eagles went 3-13 in 1998, Rhodes was fired. The Packers then hired Rhodes as head coach the following year, but he lasted only one 8-8 season.
Rhodes spent the final season of his playing career under Bill Walsh with the 49ers in 1980. The following season, he became San Francisco's assistant defensive backs coach. When defensive backs coach George Seifert was promoted to defensive coordinator in 1983, Rhodes became defensive backs coach, a job he would hold through the 1991 season.
When 49ers offensive coordinator Mike Holmgren became head coach of the Packers in 1992, he hired Rhodes as defensive coordinator. He held that title for two seasons, and his defense ranked No. 2 in the league in 1993. Then, it was back to San Francisco as Seifert's defensive coordinator for one season and a Super Bowl victory with the 49ers.
After his five seasons as a head coach, Rhodes returned to the assistant ranks, working in Washington, Denver, Seattle, Houston and Cleveland.
Rhodes played college football at TCU and Tulsa and was drafted by the New York Giants in 1974. He played six seasons for the Giants at wide receiver and then defensive back before being traded to San Francisco for another future NFL head coach, Tony Dungy.
Super Bowl winners Jon Gruden, John Harbaugh, Mike McCarthy and Sean Payton all coached under Rhodes, as did Super Bowl loser Bill Callahan.
-- Shawna Seed
Special thanks to the Elias Sports Bureau for research assistance in compiling this project.