Uni Watch Power Rankings: NFL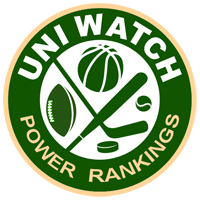 Welcome to Day Three of the Uni Watch Power Rankings, as we continue our assessments of all 122 uniform sets from the major pro sports leagues. Today, we turn our attention to the NFL, in which so many folks expected Nike to have turned the entire league into a video game by this point. Hasn't quite worked out that way, right? In fact, one of the Swooshkateers' most visible branding elements from last season's uniforms, the neck roll collar, will have a much lower on-field profile this season, as six teams have stopped wearing it.
Still, Nike's influence can be seen in the new uni sets being worn this season by the Jaguars, Vikings and Dolphins. How did those uniforms do in our rankings? Take a look -- you can click on each team's name to see photos of its current uniform set. And then be sure to come back tomorrow for our NHL rankings.
---
Uni Watch Power Rankings 2013:
MLB | NBA | NFL | NHL | Overall: 1-122 | Introduction and ground rules
Create your own rankings: MLB | NBA | NFL | NHL | Overall
ESPN experts respond to the rankings:
MLB: Jim Caple | NBA: Justin Verrier | NFL: Ashley Fox | NHL: Craig Custance
Chat with Paul Lukas: Friday, 2 p.m. ET
UNI WATCH POWER RANKINGS: NFL

(Click team names to view uniform sets)
| Rank | Team | Logo | Trending | Comments |
| --- | --- | --- | --- | --- |
| 1 | Chicago Bears | | — | Moving the TV numbers from the sleeves to the shoulders last season did no great harm to what is still the cream of the NFL crop. No other team looks as consistently sharp week after week, no matter if they're playing at home or on the road. Key element: the striped socks, which tie the whole look together. Other NFL teams could learn from that. |
| 2 | Green Bay Packers | | — | Still the perfect autumnal color pattern for an autumn sport. Poised to snag the top spot on the NFL chart if only they'd address those distractingly large TV numbers. |
| 3 | Oakland Raiders | | +1 | Just suit up, baby. Simple, elemental, and timeless, the Raiders' uniforms look as good today as they did back when Daryle Lamonica was tossing bombs downfield. Imagine a faceoff between this uni set and one of the newfangled designs with all the extraneous bells and whistles. It isn't even a fair fight. |
| 4 | Pittsburgh Steelers | | -1 | Love the way those gold pants work equally well with the black jersey and the white jersey. The Steelers are also the only NFL team with a logo on just one side of the helmet, a quirk that scores a few points in the intangibles column. Sure, it'd be nice if they went back to the block numbers (you'd be surprised by how many fans still gripe about this), but that's about the only thing to complain about here. |
| 5 | Buffalo Bills | | +2 | Stevens Wright, who designed the Bills' "charging buffalo" helmet logo, died earlier this year. This will mark the team's 40th season wearing his design, and it has never been part of a better uni set than it is right now. The blue pants, the striped socks, the white helmet -- it all looks great. And it will look even better this season, because that annoying neck roll collar (also known as the toilet seat collar) has been scrapped. Such a sharp look, it's hard to believe this was arguably the worst-dressed team in pro sports just a few short years ago. |
| 6 | San Francisco 49ers | | +2 | Defending NFC champs still need to do something about those oddly truncated sleeve stripes. Look, guys, here's how it works: You can either have real wraparound stripes or you can have no stripes at all, but you can't have it both ways. Aside from that, though, the Niners are a very good-looking team these days. |
| 7 | Dallas Cowboys | | -1 | Dallas' home whites rank among the most iconic uniforms in all of pro sports. But the blue jersey never feels right, and the Cowboys also lose points for having too many inconsistent shades of blue and silver scattered throughout their uni package. It's time to fix that already! |
| 8 | San Diego Chargers | | +4 | The neck roll collar, which looked so awful last year, has been scrapped, which is addition by subtraction. The socks now have a yellow stripe, a small but positive detail that qualifies as addition by addition. Add it up, and you have a team that's moved up in the rankings. |
| 9 | Kansas City Chiefs | | +2 | The Chiefs, like the Bears, moved their TV numbers from the sleeves to the shoulders last season. That practically qualifies as a major change for this franchise, which has had essentially the same uniform design since its inception. Some fans seem to think KC is overdue for a design change, but you know what they say about something that ain't broke, and that definitely applies here. Just one mystery to solve: The Chiefs' red pants are arguably the single most gorgeous uni element in the league, so why would they ever wear white pants with the white jerseys? |
| 10 | Philadelphia Eagles | | -5 | Still a fairly good-looking team, but the midnight green and black trim are starting to wear out their welcomes. Remember when they wore kelly green throwbacks a few years ago? Might be time to move back in that direction, color-wise. |
| 11 | Tampa Bay Buccaneers | | -1 | Remember when the very notion of a team wearing pewter made people snicker? The Bucs have successfully made that color their own and made us like it. Great example of a team creating a unique look and owning it. But they'd own it even more if they'd stop wearing white pants with the white jerseys (the pewter pants look way better). Bonus points for ditching the neck roll collar this season. |
| 12 | New York Jets | | +1 | Rumors that the Jets will put a little "Butt Fumble Bull's-Eye" on the seat of each player's pants this season are almost completely untrue. Seriously, their uniforms aren't bad, although the shoulder/sleeve arrangement gets trickier to execute as NFL sleeves continue to do their disappearing act. They'd rank higher if they'd stay away from the green-over-green format. |
| 13 | Indianapolis Colts | | +1 | The Colts' jersey stripes have dwindled over the years, to the point at which they're barely vestigial. If they can't be restored to their proper length, then it's time to retire them for good, because, at this point, they've become a distraction. |
| 14 | New England Patriots | | +1 | Good-looking team with one major flaw: those miserable side panels on the jersey. Get rid of those and the Pats would jump several spots in the rankings. |
| 15 | New York Giants | | +3 | Last season, we wrote that the Giants' use of gray pants for all games was making their uni set "feel drab and blah," so it's good to see them introducing a set of alternate white pants this season (here's a Photoshop rendering of how they might look on the field). One big problem still remains, though: It makes no sense for a team whose main color is blue to have such a red-centric road uniform. (A more detailed argument on this point can be found here.) |
| 16 | Cleveland Browns | | — | The Browns' plain Jane uniform set -- loved by some, loathed by others, but, in reality, a middle-of-the-pack design -- is like The Thing That Wouldn't Die. There had been talk about the team getting new uniforms for 2014, but now that plan has been bumped back to 2015. Anyone want to take bets on the plan being postponed yet again and then being shelved indefinitely? |
| 17 | Minnesota Vikings | | +14 | The Vikes' return to aesthetic respectability carries the whiff of Nikefied gimmickry: the odd sleeve stripes and asymmetrical pants stripes, the weird numbering system, the matte helmet that doesn't appear to match the jersey -- all of this is unnecessary. Still, it's all so much better than what they were wearing before that it qualifies as a major leap forward. |
| 18 | Miami Dolphins | | -9 | The new helmet logo is passable but still a downgrade, and the same can be said about virtually every other aspect of Miami's new uni set. The boring helmet stripe, the de-emphasis of the orange trim, the tramp stamp on the back of the pants, and on and on. And can someone please explain why the aqua pants are being paired with navy-topped socks? |
| 19 | Washington Redskins | | -2 | In strictly aesthetic terms, Washington's white jersey, gold pants and striped socks add up to one of the best looks in the league, and that uni will look even better this season, because they've scrapped the neck roll on the collar. But the ugly reality is that the 'Skins name and brand embody an ethnic slur that taints everything it touches, including the team's uniforms. It's time for Daniel Snyder to heed the growing chorus of voices calling for a new direction. |
| 20 | New Orleans Saints | | +2 | Once upon a time, the Saints would have ranked much higher on this chart, but they've been docked for wearing solid black way too often. A pity, because their other uni combos are quite solid. |
| 21 | St. Louis Rams | | — | A good-looking team when they go white-over-blue. An OK-looking team when they go white-over-white. A terrible-looking team when they go blue-over-blue, which they did for more than half of last season's games. They were once a good-looking team in blue over white, but they've stopped wearing that combo. And the gold pants, now mothballed, are sorely missed. A franchise on the aesthetic decline despite the enduringly classic helmet. |
| 22 | Seattle Seahawks | | +5 | All right, so it's not anyone's idea of a good uniform set, but it's not as bad as it initially appeared. Truth to tell, the Seabirds would look A-OK if they'd just get rid of, or at least tone down, all the neon green trim. Until that happens, though, they're still saddled with a lower-echelon look. |
| 23 | Houston Texans | | -3 | For some reason, this team never looks better than so-so. It's not that they look bad -- it's more that they feel generic. And, man, the extra-thick collar that Nike gave them last season sure doesn't help. |
| 24 | Baltimore Ravens | | — | Worst-looking Super Bowl champs since, um, the last time this team won the Super Bowl a dozen years earlier (although it's nice that they've dropped the neck roll). |
| 25 | Denver Broncos | | -1 | Peyton Manning has now had the odd dual distinction of wearing one of the league's most classic old-school uniforms (Colts) and one of its most definitive contemporary uniforms (Broncos). Which one do you think he prefers? If you answered, "Whichever one offered him the most endorsement deals," you're probably right! But for the rest of us, it's an easy choice, as Denver's uniform set -- never a gem to begin with -- is starting to look dated. They've dropped the neck roll collar this year, which is a plus, but this franchise is due for a redesign. |
| 26 | Tennessee Titans | | -7 | Imagine how much better they'd look if they updated the flaming thumbtack logo. Or if they wore white pants with the light-blue jersey. Or if they did something about those tapered helmet stripes. |
| 27 | Detroit Lions | | -1 | Matt Millen's ghost lives on in the form of all the black trim on the Lions' uniforms. Every stripe, every numeral, every letter, the color break in the socks, the helmet logo, the facemask -- all accented in black. Look, gang, here's how it works: You've got that Honolulu blue thing going. You should own that color. Don't tart it up with black. |
| 28 | Atlanta Falcons | | -3 | Matt Ryan's new contract extension ties him to the Falcons through 2017. For his sake, let's hope they trade in their clown suits for a decent uniform by then. |
| 29 | Arizona Cardinals | | — | Well, at least they didn't wear the blood clot uni last season, so that's a small morsel of progress. |
| 30 | Carolina Panthers | | — | Hahahahahahahaha. |
| 31 | Cincinnati Bengals | | +1 | There's a fine line between uniform and costume, and the Bengals have been on the wrong side of it for years now. The fact that they wear Halloween colors just reinforces the point. |
| 32 | Jacksonville Jaguars | | -4 | Worthy of the bottom spot simply by virtue of having what's bound to go down as the worst helmet in NFL history. Like, did they run out of spray paint or what? As for the rest of the design, it's risky to come up with a superhero outfit for a bad team, because superheroes don't look very superheroic when they're on the wrong end of a 37-10 score every week. Or, to put it another way, the Jags are about to learn the same hard lesson that Maryland has learned: If you dress like a clown and win, you look like a winner. But if you dress like a clown and lose, you just look like a clown. |
Paul Lukas will be stunned if the Jags stick with that helmet for the entire season. If you liked this column, you'll probably like his daily Uni Watch web site, plus you can follow him on Twitter and Facebook. Want to learn about his Uni Watch Membership Program, be added to his mailing list so you'll always know when a new column has been posted or just ask him a question? Contact him here.
Sports journalism's foremost uniform reporter
ESPN.com columnist since 2004
Also blogs at uni-watch.com