Five on Five
2013-14 outlook: Philadelphia 76ers
What's in store for the Philadelphia 76ers? Our panel of five looks back at the offseason moves (and nonmoves) and forward to what lies ahead in the 2013-14 NBA season.
1. What grade would you give the 76ers' offseason?
Henry Abbott, ESPN TrueHoop: The 76ers get an A for racing through the NBA's silly rebuilding obstacle course. (The course itself, rich with rewards for losing, gets an F.) Tanking tends to fail; really bad almost never becomes really good. GM Sam Hinkie has some high-grade strategy, though: By giving up Jrue Holiday, they nabbed lottery prospects at the two toughest positions (big man Nerlens Noel and point guard Michael Carter-Williams) and now it'll take only one season of losing to get, likely, two lottery picks in the best draft in ages. Losing for a season to get one pick is beyond a long shot. Losing for a season to get four great picks, though ... that could work.
D.J. Foster, ClipperBlog: A-. The price to pay for a first-round exit was no longer worth it. Holiday is a nice player, but the 76ers potentially gained three lottery picks (Nerlens Noel, New Orleans' pick in 2014, and their own lottery-protected 2014 pick owed to Miami) in one big move. The road to rock bottom won't be fun, but kudos to new GM Sam Hinkie for giving the 76ers a defined direction.
Eric Goldwein, Hoop76: A. We'll all remember the draft-night trade of Holiday for Noel and a first-round pick. But it's the mini-transactions -- such as trading future considerations for Furkan Aldemir and Royce White -- that will give the Sixers an edge in the long run. Hinkie is trying to build a team that's more than mediocre. Knocking it down was the first step.
Aaron McGuire, Gothic Ginobili: B. Although the Sixers look like an awful team this season, that's their overarching plan. The Holiday-for-Noel swap looked bonkers at first, but the virtually unprotected first to sweeten the pot made it a slam dunk. I didn't mind their draft or any of their other moves given the broad goal – that is, to lose a lot of games.
Tom Sunnergren, Hoop76: A+. It was unimprovable. Philly replaced analytic flat-earther Doug Collins with Hinkie (whom smart guys have called the smartest guy in basketball) and Brett Brown, both enormous upgrades. Then, in the coup of the offseason, flipped an overrated point guard for Noel, a lightly protected first round pick, and -- by virtue of its step back in 2013-14 -- pole position in the Andrew Wiggins derby. Now that's how you rebuild.
---
2. What's the biggest question facing the 76ers in 2013-14?
Abbott: David Stern just said there was no discussion at all with the Board of Governors about addressing tanking. My question is: How many tickets would the billionaires on that board purchase to watch this team?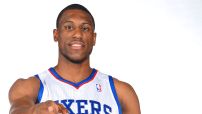 Foster: Will they be worse than the record-setting 1972-73 Philadelphia team that won only nine games? Thaddeus Young may be the only player above replacement level on the roster, and we know the objective from management is to earn lottery balls, not wins. This could legitimately be the worst team ever.
Goldwein: Where will Thaddeus Young land? He's their most productive player, but on-court productivity doesn't do much for a team competing for Wiggins. Young is on a cap-friendly, three-year deal worth $28 million. He'll have plenty of suitors before the trade deadline.
McGuire: There are scant few legitimately interesting questions about this team. Mostly just morbid undertones – that is, questions such as "will their games be possible for human beings to enjoy?" The one question with future impact, though, comes as a coaching question: Will Philadelphia's front office stick by their young head coach after the inevitable rough season? Most teams don't.
Sunnergren: How shameless will the franchise be in its pursuit of Wiggins? If its handling of Noel is any indication -- who, if he sits the season, will have missed more time with his ACL tear than Shaun Livingston did after his knee actually exploded on live television in 2007 -- the Sixers will be pretty audacious. But it's an audacity of hope.
---
3. Who is the 76ers' most intriguing player?
Abbott: Michael Carter-Williams. Length, vision, handle, defensive commitment ... he's a good prospect now, and that's most likely the career arc he's on. However, his Achilles' heel is shooting, which is the best Achilles' heel to have, because NBA history shows this is on the short list of skills players sometimes really do add after joining the league. If he can perfect that trick, he could be special.
Foster: Carter-Williams. Can a young point guard be nurtured properly in a losing environment with minimal talent around him? Maybe the lack of pressure will help, or maybe Carter-Williams will develop bad habits that will be hard to kick. His development is interesting in a "rose that grew from concrete" sort of way.
Goldwein: Evan Turner. Expectations are at an all-time low for the former second overall pick, but he'll get major minutes and play a greater role in the offense. On the final year of his rookie deal, he'll have every incentive to take advantage of the opportunity.
McGuire: Hip Hop, their excommunicated mascot. Will he storm the court in an attempt to get his job back? Will he go full Rambo on the arena and start shooting T-shirts from a souped-up T-shirt cannon at every fan in attendance, injuring dozens? Will Hip Hop's subsequent arrest, prosecution and tearful redemption draw eyes from Philadelphia's abhorrent roster? A man can dream. (Also: It's Turner.)
Sunnergren: Young is a bad man. The Sixers' spark plug plays with lunatic energy on both ends of the floor, has improved his win shares in each of the past three seasons, and, at 25, is firmly in his prime. He deserves better than a 20-win season. When Hinkie finds a willing trade partner, he'll get it.
---
4. What's one bold prediction about the 76ers?
Abbott: Brett Brown will emerge, through the years, as a great coaching hire. The way players talk about him is inspiring, and that's half the battle.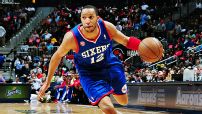 Foster: Evan Turner gets dealt. It seems highly unlikely that the 76ers will give Turner his massive $8.7 million qualifying offer next offseason to make him a restricted free agent, so flipping him for virtually anything before the deadline would make sense.
Goldwein: The Sixers will beat the Heat … in the April 16 regular-season finale. With nothing to play for, Miami will rest its Big Three, along with Shane Battier, Ray Allen and Greg Oden. That'll leave the door open for Philly to pull off the victory and throw away some pingpong balls.
McGuire: For at least one stretch of the season, Philadelphia will have good defensive numbers. Teams will stop trying particularly hard against them given their crummy overall quality, and their glut of weirdo big men will jell for a fleeting moment. They'll still lose, but for one stretch, they'll resemble a quality defensive team. It'll be fool's gold, but it'll happen.
Sunnergren: Turner will arrive, sort of. The veteran will shoot often (because there's no one else to shoot the ball), shoot better (because he can't shoot worse), and rack up tons of rebounds and assists (because he always does that.) Evan Turner, former No. 2 overall pick, is finally putting it together, the headlines will scream ... and then Hinkie will trade him.
---
5. Prediction time: How far will the 76ers go this season?
Abbott: Hard to predict the wins of a team that isn't playing for any. Instead, the measure is: How many players will they get under contract in the next 18 months who'll still be on the roster the next time the team is excellent? If that number is as high as three or four, they're executing the "Thunder model" of rebuilding nicely.
Foster: There will be no limit to the tanking. Philadelphia will do everything it can to guarantee the best shot at the first pick in the draft, and that's exactly what they should do. Don't hate the players, hate the game.
Goldwein: They'll win 18 games and finish with the league's second-worst record. The Sixers are bad, but not historically bad. With Young, Turner and Spencer Hawes on the roster -- even for just half a season -- the Sixers will beat (some) subpar NBA teams.
McGuire: The NBA Finals, where they'll lose a tense seven-game series to the St. Louis Cardinals. ... look, where the heck do you think they'll go? They're going to the lottery. They'll have good odds at snagging one of this draft's top talents, and they'll add Noel to a sparkling, young, souped-up 2015 roster. They won't be historically bad, but they'll be rather grotesque.
Sunnergren: Down to bedrock. The roster, as it stands, isn't quite as bad as people think, but Hinkie will change that. The Sixers will take season-throwing to its logical extreme -- tanking ad absurdum -- trading anyone and anything of value, and wrap the season with a 19-63 record and more lottery-ball combinations than the other guys.