Five on Five
2013-14 outlook: Orlando Magic
What's in store for the Orlando Magic? Our panel of five looks back at the offseason moves (and nonmoves) and forward to what lies ahead in the 2013-14 NBA season.
1. What grade would you give the Magic's offseason?
Nate Drexler, Magic Basketball: B+ for doing almost nothing. The Magic drafted Victor Oladipo, offloaded some veterans (Beno Udrih and Al Harrington), and refrained from dropping big money on a free agent. It's still rebuild time in Orlando, and they stayed the course.
Curtis Harris, Hardwood Paroxysm: B-. All things considered it was an average summer for a rebuilding Magic team. Selecting Oladipo was a solid choice, and Orlando did well to not sign any veterans to long-term deals. However, there was also no big move to propel the Magic forward.
Eddy Rivera, Magic Basketball: A-. The early reviews are in: Oladipo is a hit. He's drawn praise from Kyrie Irving ("His potential is out of the roof") and Rick Carlisle ("a can't-miss type of guy") for his play in preseason, and he's the runaway favorite to win rookie of the year according to the annual preseason GM survey.
David Thorpe, ESPN Insider: Anytime you add a player like Oladipo, you get an A from me (unless you moved a star for it, which the Magic did not). He's got some, maybe a lot, of Russell Westbrook in him, and Russ is a top-10 player in the world.
Michael Wallace, ESPN.com: C. The Magic are in complete makeover mode as they move into Year 2 of the post-Dwight Howard era. Oladipo is now the new face of the franchise, and he brings a level of excitement and athleticism that will at least make the Magic entertaining to watch amid another lottery-bound season.
---
2. What's the biggest question facing the Magic in 2013-14?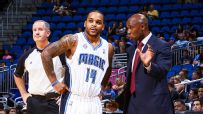 Drexler: Is Jacque Vaughn a long-term piece to this puzzle? The front office did its part in keeping this squad young and inexpensive, and Vaughn impressed in his debut season by showing that he cares about defense and development. This next act seems pretty important, and his job didn't get any easier.
Harris: Can they unload the veterans? Guys like Glen Davis, Jameer Nelson and especially Hedo Turkoglu have no place in Orlando. Turning them into future draft picks, or even just cap space, will be hugely beneficial for the Magic going into the future.
Rivera: Who will be traded next? First it was Dwight Howard, then it was J.J. Redick. As general manager Rob Hennigan continues to build up the Magic's war chest during a rebuilding phase, trade rumors will continue to hover over players -- Arron Afflalo, Glen Davis, Jameer Nelson -- who are not part of the long-term puzzle.
Thorpe: Can Vaughn coach? Nothing against him, as I met him when he was a star in college and his intellect and maturity impressed the heck out of me. But this young roster is filled with talent and upside, so all that is left is to see how far Vaughn can take the Magic this season and how he fits into their future.
Wallace: What will they do with Jameer Nelson? For nearly a decade, Nelson has been the leader and soul of the team; Dwight was the dominant presence, but Nelson was the pulse. But the veteran point guard seems completely out of place amid the Magic's youth movement. He could be a very valuable trade chip by the February deadline as Orlando looks to stockpile draft picks.
---
3. Who's the Magic's most intriguing player?
Drexler: Oladipo. It's hard to gauge whether or not he has rookie of the year stuff, but even in Magic losses Dipo has impressed. He's their best offensive player, and his defense hasn't suffered for it. In a bleak time in Orlando, this guy is going to be a source of excitement.
Harris: Andrew Nicholson. The Canadian forward has been quite intriguing this preseason. Adding and sustaining his corner 3-point shot will be a huge bonus to Orlando going forward.
Rivera: Oladipo. The hope in Orlando is that Oladipo will successfully make the transition to point guard, just like Russell Westbrook -- another explosive shooting guard in college -- did with the Oklahoma City Thunder. There will be growing pains, but if preseason is any indication, Oladipo should be able to make the switch.
Thorpe: Nicholson. He's got a chance to be a very difficult cover for defenders, with a great feel for post-up scoring and a strong perimeter shot that should include some 3-pointers. There are very, very few big men who can shoot with range and score efficiently inside, so if Nicholson makes a big step forward Orlando has a legit group of five talented players at five different spots.
Wallace: Nikola Vucevic. While the Lakers and Sixers both struck out in last year's blockbuster trade, the Magic landed a building block at center for years to come in Vucevic. He was a double-double machine when healthy last season and is a perfect fit for the style Orlando prefers. The question is whether Vucevic, just 22, has any idea how good he can be.
---
4. What's one bold prediction about the Magic?
Drexler: They will not finish last in the East. The Magic had the worst record in the NBA last season, and while they did not get a ton better on paper, this young team just might have enough of a chip on its shoulder to let someone else finish in the dumpster.
Harris: They won't really start tanking until March. The team as currently constructed is bad. But being bad isn't tanking. The tanking will come when "flu bugs," "nagging ankles," "sore backs" and other riffraff injuries keep players out for games at a time in the spring.
Rivera: Oladipo will replace Jameer Nelson as the starting point guard. Midway through his rookie season, the Magic handed over the reins at the 1 to Penny Hardaway after he spent the first half of the 1993-94 season learning from Scott Skiles. The stage is set for lightning to strike twice -- this time with Nelson passing the torch to Oladipo.
Thorpe: They might play Oladipo until his legs fall off. He can play any of the guard/wing positions and will match up next to any one of Nelson, Tobias Harris, Aaron Afflalo and Maurice Harkless because of his and their versatility. Oladipo will take his lumps, but the knowledge he will gain from those mistakes will help him reach his star potential.
Wallace: Oladipo will win rookie of the year. Considering the preseason he's had, that's not exactly going out on a limb. But there are factors that could legitimately stunt his growth as a rookie. The Magic must figure out how to maximize Oladipo's impact in a perimeter rotation that, for now, also includes vets like Nelson and Afflalo.
---
5. Prediction time: How far will the Magic go this season?
Drexler: Twenty-three wins and looking like a kid on Christmas eve before the 2014 draft. And frankly, the fewer the wins the better. Wouldn't it be preferable to have to choose between Andrew Wiggins and Julius Randle?
Harris: The Magic have 82 fleas on a shovel. They must take this shovel across a long field and dump the fleas into a wins barrel. After crossing the field, just 18 jump-happy fleas are left. The Magic aren't that upset, though, since fleas, like wins, are irritating to them this season. Long story short: Orlando's not going far.
Rivera: Straight to the NBA draft lottery for a second consecutive year. Magic fans are hoping that the team strikes it rich and wins the Andrew Wiggins sweepstakes. How fitting would it be for Orlando to get the second coming of T-Mac? Let the countdown to draft day begin.
Thorpe: They'll stay in the playoff hunt for a while before suffering a long losing streak and falling out of contention. But this should be the last season this franchise misses the playoffs for a long time to come.
Wallace: This is a textbook 30-win team -- not consistent or deep enough to snag a playoff spot, but also too talented to land in the bottom of the standings. Basically, the Magic are one more key free agent and a year of development away from getting back into postseason contention. They'll finish 11th in the East.