Five on Five
Fact or fiction: ESPN doubleheader
The NBA on ESPN tips off with a star-studded doubleheader, as the Heat take on the Nets (ESPN, 8 ET) and the Lakers host the Spurs (ESPN, 10:30 ET). Our 5-on-5 crew breaks down the biggest questions surrounding each matchup.
1. Fact or Fiction: The Heat should be concerned about their loss in Philly.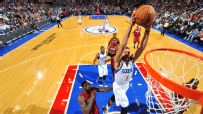 Jeremy Gordon, Brooklyn's Finest: Fiction. It's the second game of a long season, following three straight years in which the Heat played into June and rarely had a moment off. Philadelphia, despite its would-be tanking ways, is a group of grown professionals, not a Division II team. If anything, the Heat will be more aware that everyone's still gunning for them.
Andrew McNeill, 48 Minutes of Hell: Fiction. It was just the second game of the season and Miami played a team eager to avoid being as bad as everyone expects. I'd be more concerned about Dwyane Wade sitting out in an effort to prevent knee problems down the road.
Darius Soriano, Forum Blue and Gold: Fiction. The Heat played without Wade, were on the second night of a back-to-back and played on the road in the Sixers' home opener. Beyond issues with Wade's health, these were single-game issues, not ones likely to affect the Heat in the long term.
Ethan Sherwood Strauss, ESPN.com: Fiction. Sometimes good teams lose to bad teams, especially on the road. It happens. The greater concern is that Dwyane Wade needs to rest so early in the season. It's the pragmatic approach, but also an admission that he's a fading star whose minutes need serious managing.
Brian Windhorst, ESPN.com: Fiction. It was a reminder they will face most teams' best shot, especially on the road. Still sluggish from the night before and pitted against a bad Sixers team, the Heat's interest in the game was virtually nil from the start. That will not be the case most nights.
---
2. Fact or Fiction: The Nets are the biggest threat to the Heat in the East.
Gordon: Fiction. It's a nice thought, but the Nets have played exactly one real game together, in which they showed they've still got to smooth out the wrinkles. The East still has Chicago and Indiana, both of whom have given Miami their share of conniptions in recent years. Until proved otherwise, they're still the main threats.
McNeill: Fiction. The Pacers took the Heat to a Game 7 in last season's Eastern Conference finals and, on paper, bring back a stronger team. The Bulls lost to Miami in the second round of the playoffs without one of the five best players in basketball. Those two teams are far bigger threats than Brooklyn.
Soriano: Fiction. Even with the additions of Pierce and Garnett, the Pacers are a better team than the Nets and, considering how hard they pushed the Heat in last season's playoffs, should be considered the bigger threat. Indiana has the better defense, an improved offense and a younger team that can better compete athletically with the Heat.
Strauss: Fiction. I'd rank it Pacers, Nets, Bulls. The best-case Brooklyn scenario is fairly fearsome for Miami, but the Nets have so many risk factors. Can Jason Kidd coach? Are Kevin Garnett and Paul Pierce finally going to succumb to middle age? There's a good chance Kidd's coaching players who'll suffer the same dramatic drop-off that forced him into coaching.
Windhorst: Fiction. I think it's still the Pacers. Indy has five playoff victories against the Heat the past two seasons, more than the old Celtics had in two playoff series versus Miami. The Nets' size, depth and talent may end up developing into a serious challenge, but it hasn't happened yet.
---
3. Fact or Fiction: With Kawhi Leonard, the Spurs have a Big Four.
Gordon: Fact-ish. Kawhi is very good, but it seems a bit silly to ascribe to the whole "Big ____" cliché unfortunately popularized by some clever salesman on the advertising team. Why not call the Nets the Big Five, in that case? Is Manu Ginobili playing well enough to be part of a Big anything? And so forth.
McNeill: Fiction. Leonard, Tim Duncan and Tony Parker only make a Big Three. Ginobili isn't consistent enough anymore to warrant being included in such a group. He'll have nights when his star shines brightly and he's still an important player off the bench, but his days of being game-planned for are few and far between.
Soriano: Fiction, but not because of Leonard, who is definitely a player on the rise and someone who I believe can make a leap in status similar to the one Paul George made this past season. The Spurs don't have a Big Four because Manu Ginobili can no longer be considered a top-tier player who deserves to be mentioned on that level.
Strauss: Fiction. Leonard is a member of San Antonio's Big Three. We all saw Manu's terrible turnovers in the NBA Finals. It's sad to acknowledge this, but Ginobili, one of the greatest guards of the past two decades, is out and Kawhi's in. The younger wing isn't much of a ball handler or passer, but he compensates with elite defense and rebounding. Kawhi can be a star in his own way.
Windhorst: Fiction. Leonard has yet to prove it, and his recent rise occurred while Ginobili fell off because of injuries and age. On certain nights, I'm sure all four will play well and the Spurs will look fantastic. Big Three, Big Four, Big Two -- whatever. The Spurs are still serious title contenders.
---
4. Fact or Fiction: The Lakers would be better off if Kobe sat out '13-14.
Gordon: Fiction. Is anyone better off with Kobe not returning? Yes, you could make some argument that the Lakers should hold out for a good draft pick, even if they're unlikely to be bad enough to drop into the most coveted spots. But a season without Kobe is a bummer of an experience, whether you love or hate his insistent ways.
McNeill: Fact. I realize Kobe is not of this planet/universe/dimension and all, but an Achilles injury at his age is nothing to take lightly. The Lakers are not title contenders, even if he was healthy, so take the season off, get a decent draft pick, add some depth and come back in 2014-15 with a stronger team.
Soriano: Fiction. Forget for a moment the question of whether tanking for a better draft pick should be the Lakers' strategy and instead focus on Kobe's pending free agency. The Lakers need to know what they have in Kobe moving forward and the only way to learn that is to have him on the floor.
Strauss: Fiction. Really, I'd like to punt on this. The Lakers don't matter this season. Or, they matter only insofar as this currently bereft team maintains a giant fan base. If Kobe comes back, that's fine. If he doesn't, that's also OK. Either way, the Lakers aren't good enough to win anything important. I'd like to see Kobe back, just to boost the entertainment value of an otherwise boring, irrelevant team.
Windhorst:
Fiction. The Lakers have a talent issue and Kobe, no matter his state, is a major talent. And that doesn't even account for his leadership.
---
5. Which teams win Friday night?
Gordon: Miami will win because it feels insulting to bet against it based on what we think the Nets might do when we already know how good the Heat are capable of being. San Antonio will win because, yeesh, the Lakers start Shawne Williams and the Spurs always have their act together at the start of a season.
McNeill: The Nets and Spurs. Brooklyn is hosting Miami for its home opener, so it'll be eager to prove it's a threat this season. Also, Garnett is insane. The Spurs will probably be without Duncan (chest), but the Spurs are built to plug-and-play during the regular season. They'll cruise against a weak Lakers squad.
Soriano: The Nets and the Lakers. While the Spurs and the Heat will be the better teams over the course of the season, with Duncan and Wade banged up and these being road games (with the Nets playing their home opener) I think there will be too much energy in Brooklyn and L.A. for the home teams to lose.
Strauss: The Heat win because they have to respond to that awful Sixers loss. The Spurs win because, well, did you see that Lakers-Warriors game? Los Angeles looks like a D-League team whenever Pau Gasol sits. Yes, the Lakers beat the Clippers, but San Antonio will clamp down on 3-point attempts in a way the Clips couldn't. Against any great team, Lakers odds are long.
Windhorst: Heat and Spurs. The home teams are 17-2 three days into the NBA season; that's a stat that won't hold. The Heat also haven't lost back-to-back games since January, and the Spurs are better than the Lakers at this point, even without Duncan.