Five on Five
Early surprises of the 2013-14 season
The tankers are taking the league by storm in the first two weeks of the 2013-14 season. But that's just one of the early storylines catching our eye. Our panel weighs in on the most pleasant surprises thus far.
1. Which team in the East has been the most pleasant surprise?
Jim Cavan, KnickerBlogger: Philadelphia. The Sixers' front office will eventually resort to nailing the 2014 draft memo to Brett Brown's front door. In the meantime, the coach has this band of precocious upstarts, led by rookie sensation Michael Carter-Williams, playing with a passion and intensity certain to pay big dividends down the road. All aboard the Bandwagon of Brotherly Love.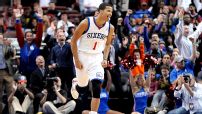 Tom Haberstroh, ESPN Insider: Easy: the Philadelphia 76ers. And it's pleasant in just about every way. They employ fast-paced basketball that not only appeals to fans, but also plays to their strengths as a young and athletic squad. Despite expectations that they'd tank, the Sixers lead the Atlantic Division after two weeks, which may count as an unpleasant surprise to their general manager, Sam Hinkie.
James Herbert, Harwood Paroxysm: Philadelphia 76ers. It's not just that they're 4-3 and atop the Atlantic Division. That won't last. It's that this team was supposed to be a dreadful watch and it has been the exact opposite. Brown's young Sixers have played hard, fast and unselfishly, and that has made them an unexpected League Pass favorite.
Ethan Sherwood Strauss, TrueHoop: Orlando. The Magic have been an average team without heavy contributions from Victor Oladipo and even Tobias Harris (back injury). Arron Afflalo is having the most obscure, great start of the season, and Nikola Vucevic is threatening to become a star. As no one would have guessed at the time, Orlando clearly won the Dwight Howard trade.
Brian Windhorst, ESPN.com: Philadelphia is the only choice. Outside of Indiana, no team is totally happy with its position right now, and most expected the Pacers to finish near the top. So really, the surprise is that there are virtually no pleasant surprises to this point. We expected the East to have a sharp divide between have and have-nots, but the 76ers have turned that on its head. So far, at least.
---
2. Which team in the West has been the most pleasant surprise?
Cavan: San Antonio. I know, I know -- how can a team coming off a fifth Finals appearance in 15 seasons possibly be surprising? It's important to emphasize the "pleasant" in the qualifier: Given how last season ended, a slow start would've been understandable -- justifiable, even. But after thrashing the Knicks by 31 at MSG, the Spurs are serving serious notice.
Haberstroh: Phoenix Suns. Like the Sixers, it doesn't matter that the Suns haven't gotten anything out of their top pick in last year's draft, Alex Len. Eric Bledsoe has been electric so far in his first look at full-time point guard duty. We knew he could fill up the box score, but lead a winning team this early? That's impressive, even if it doesn't last long.
Herbert: Minnesota Timberwolves. The 5-2 record isn't a shock -- everyone knew the Timberwolves had talent. What's surprising is that Kevin Love has found a way to take his game to an even higher level than we saw two years ago and that this offensively gifted group has been getting it done defensively, too.
Strauss: Speaking of lotto teams that unexpectedly won high-profile trades, the Suns sure exceeded expectations. They got picks for Steve Nash, who's now half-retired, and they snatched up Bledsoe a season later. Bledsoe's looking like the next great point guard -- on both ends, no less--and Markieff Morris has been on fire. Meanwhile, nobody misses Marcin Gortat.
Windhorst: Phoenix. I'd like to be original here but, to my disappointment, there aren't other choices. Some viewed the Suns as the worst team in the league heading into the season – worse even than the 76ers. And that was before they sold off Marcin Gortat. Phoenix's schedule has been favorable, but even their coach, Jeff Hornacek, is admitting his surprise. Their front office, especially after watching Andrew Wiggins, Jabari Parker and Julius Randle at Tuesday's Tip-off Classic in Chicago with every other GM, may not view it so pleasantly.
---
3. Which player in the East has been the most pleasant surprise?
Cavan: Michael Carter-Williams. Syracuse point guards have traditionally had a rough go of it in the Association (just ask Pearl Washington or Jonny Flynn), so some pre-draft trepidation was to be expected. But who saw this coming? There's still next summer to ponder, but Philly fans might have already found their savior in MCW -- a terrifying hybrid of old-school smarts and sci-fi specs.
Haberstroh: I got lambasted when I mentioned Paul Millsap for a similar honor in Friday's TrueHoop TV Live, so I'll go with Carter-Williams in this space. I expected him to bother opposing point guards with his length, but I've been blown away by his poise so far. You just don't see rookie point guards step in and play this fearlessly and be so productive right away.
Herbert: Carter-Williams. No one saw this coming. Carter-Williams struggled with shooting and taking care of the ball in college. He was a summer-league turnover machine. In preseason, he shot 33 percent from the field, 27 percent on 3-pointers. Then he starts his career hitting 3s and posting numbers not seen since Oscar Robertson. Incredible.
Strauss: Paul George seems like such an obvious choice, but I can't help it. He was already a spectacular defensive player, but he often struggled to dribble through traffic. This season, he's had total command of the rock to go along with Stephen Curry-esque 3-point shooting (42.9 percent). Maybe it's not sustainable, but if it is? Well, then Roy Hibbert was quite prescient to pick his teammate for MVP.
Windhorst: Evan Turner. The former No. 2 overall pick has been a tease for most of his career and was already written off by most. As the featured guy for the 76ers now, he's off to just a tremendous start, looking like the scorer/distributor he was while at Ohio State. Good timing, considering it's a contract year and the 76ers previously didn't show much, if any, interest in keeping him around.
---
4. Which player in the West has been the most pleasant surprise?
Cavan: Bledsoe. Who would've thought spending a couple years backing up Chris Paul could teach you a thing or two? As with its Philly brethren, Phoenix's scorching start might turn out to be a mirage. But with Bledsoe, the Suns have a bona fide cornerstone -- a lightning-quick bowling ball with skills to match -- to build around.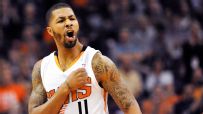 Haberstroh: Morris. This might be your early leader for Most Improved Player of the Year. No, he won't shoot 62.7 percent all season, but he's been punishing opponents with his size in the post and beating them down the floor in transition. Of all the youngsters taking advantage of their increased playing time, no one's doing it better than Morris.
Herbert: Anthony Davis. Inasmuch as you can say that a No. 1 overall pick being phenomenal is a surprise. The potential was always obvious, but it's astounding how quickly he was able to bulk up and how dominant he's been as a sophomore. Besides Love, no power forward has been better than Davis.
Strauss: Few expected much from Steven Adams, but the Thunder rookie looks like everything Cole Aldrich was supposed to be. Actually, that could be selling Adams short. In addition to awesome per-minute production, the burly kid absorbed a Vince Carter elbow as though it was a dollop of shaving cream.
Windhorst: DeMarcus Cousins. The Kings are struggling, but not only is DMC putting up strong and efficient numbers -- he started the week at No. 5 in PER (27.98) -- but he's been playing generally with a positive attitude and not letting the game situation affect his execution and interest. At least so far as I can tell.
---
5. Which storyline in the NBA has been the most pleasant surprise?
Cavan: Youth in revolt. With a potentially game-changing draft class in the wings, it's no surprise that certain front offices would just batten down the hatches. Which is what makes the Phillys and Phoenixes of the world so enthralling. These kids aren't interested in rolling out the red carpet for the next in line. They want to win, and not necessarily on your timetable.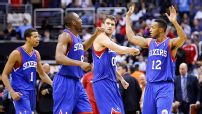 Haberstroh: A bunch of teams supposedly in tank mode are doing just fine. Philadelphia, Phoenix, Charlotte, Boston and Orlando as a group have won more games this season than Miami, New York, Brooklyn, Chicago and Houston combined. Enjoy this moment, tankers. It won't last long.
Herbert: The "tanking" teams are actually fun to watch. In addition to the surprising Sixers, the Phoenix Suns are 5-2, with Bledsoe and Gerald Green supplying nightly highlights. The Celtics suffered some close losses but now have a winning streak and a victory over the Heat. The Magic appear to be able to hang with anyone. Who knew?
Strauss: Fine, 76ers, you win. I tried to resist your charms in the two East surprises sections, but I just can't do it anymore. Carter-Williams is a fascinating League Pass watch. It's difficult to discern whether he has staying power, and trying to figure that out is half the fun. I also enjoy how the team has opened up its offense, allowing for more 3-point attempts and more risk-taking. Unlike last season, this team is fun night in and night out.
Windhorst: A month ago, I asked commissioner David Stern if there was any concern about perceived tanking by various teams before the season even started. His answer was this: "I've learned over the last 36 years is you better let the season play out and see what really happens. Because sometimes given the competitive nature of our players and given the high level at which the game is played, particularly after the top six or eight teams, we have teams that can surprise." As usual, Mr. Stern was right.