Inside the ramp-up to the WWC final
Don't we all wish we were in Germany, among the face-painted fanatics, waving, cheering and experiencing the 2011 Women's World Cup fanfare firsthand? For those not in Deutschland, espnW will provide the full fan experience. Every Monday and Friday (and a special edition for Wednesday) throughout the three-week tournament, The Kick will give you a multimedia overview of the tournament so you can feel like you're a part of history in the making.
France came out to play, but USA put it away
Americans make their first World Cup final appearance since 1999 with goals from Lauren Cheney, Abby Wambach and Alex Morgan to top the French side. Substitutes step onto the field and make an instant difference in the American morale.
@KristineLilly: Great win for US! Great sparks from Rapinoe and Morgan!
After the drought comes the flood
Despite suffering from a goal-scoring curse earlier in the year, Wambach broke that streak against Sweden in group play, and, since then, has scored vital goals in every match. In the France game, Wambach tied Michelle Akers for top American goal scorer, with 12 goals in Women's World Cup play.
Before …
Leading up to kickoff, Twitter went nuts with anticipation.
@Heather_SBFC: Game day my friends. USA v France. Old fans, thanks for believing. New fans, welcome to the team. Let's do it.
@Vmoss08: Glad so many of us are at work watching the women's world cup like it's the NCAA tourney. Shout out to espn3.
@DarielCastro: If you don't get goosebumps watching the USA Women's Soccer team in the World Cup, you're not a true American. -____- #goteamUSA
@Hersheymsm: Dear work, I'm going to be in a little late today. Watching the US Women's World Cup match. Patriotism is a perfect excuse.
@Brandonmiq: Let's go USA Women! You are the heart and soul of American Sports right now, do us proud!
During …
Throughout the match, fans tweeted reactions to the nail-biting match.
@Thegirlatthepub: This is one of the most jittery matches I can remember. You can hear the keys in France's pocket. Last 10 minutes have been pure unlocking.
@HBAYLibrary: Goooooooal! On this date in 1930 the US soccer team played in its 1st ever World Cup match. Check out http://t.co/skqyPRP for more info.
@Karinaleblanc (Canada goalkeeper): And the drama beings… did we think otherwise given the way this #worldcup has been? #nothingsurprisesme.gr8 soccer so as a player I'm happy.
@JeffKassouf: that's the clearest yellow card I have ever seen. What is Thiney doing? [referring to when Gaetane Thiney headed the ball out of Solo's hands]
@MonicaGonzo: that floating cross is like throwing up an alley hoop for Shaq… Abby slammed it home.
@Jenna_awk: So beautiful and patient and composed from Alex Morgan. Cashing in on all that promise.
@RAChristopher: there should be a warning label that comes with watching the #USWNT especially for those with heart conditions.
@Malibu502: OWNS! It doesn't matter if you're a soccer fan or not, you can't help but be proud of this team!
And after …
@Jenna_Awk: Wow, just wow. Fitness and willpower prevails again. Much love for France though. Hard not to admire their football.
@MelSeiser2: I LOVE that my twitter feed is filled with people celebrating the #USWNT win. Love love love.
@CandysseM: Oh Yeah, Ladies! - Let's hear it for USA Women's Soccer, which just defeated France in the World Cup semis,… http://tumblr.com/xny3hctyhy
@Bigdaddymerinar: What a great game… even sitting through a meeting while it was on TV couldn't deter my obvious enjoyment #uswnt
@DaRealKingHerod: Proud to be an American! Congrats to Team USA for advancing to the World Cup #salute
@Umarket: Berlin bar playing God Bless America to celebrate US women's world cup game. Go team USA! We're in the finals! Woohoo!!
Athletes, celebs react to the U.S. victory
Big-name athletes from all sports, excited writers and bold-faced names from all corners of the celebrity world emphatically support Team USA in its quest for a third Women's World Cup final.
Dirk Nowitzki (@swish41): Wow. Great game by the US ladies. They r on to the final. #wwc
Aaron Rodgers (@AaronRodgers12): That was definitely worth waking up for! Awesome job US Women, finish it off Sunday now #champs #belt
Sacha Kljestan (@SachaKljestan): USA USA USA!!! Good luck in the finals ladies
Steven Jackson (@sj39): Congrads to the USA women's team. Looking forward to the finals Saturday. Maybe I can focus now in the meeting. #USAtakeover
C.J. Spiller (@CJSPILLER): Congrads to the USA women's soccer team for making the finals USA USA USA
Ndamukong Suh (@ndamukong_suh): It's impressive how #USWomens soccer team continues to get better each game and advancing to #WorldCupFinals! Congrats!
Matt Barkley (@MattBarkley): victory is sweet.
Chris Harris (@ChrisHarrisNFL): Congrats to Team Womens Soccer. Time to party like is 1999……Literally
Terrell Davis (@Terrell_Davis): Congrats to our women's soccer team. Dominated the French. Job well done!!
Todd Herremans (@toddherremans): Congrats to the US womens team! Go get that cup!!!
LPGA (@lpga): Congrats to the US Women's Soccer Team! #GoTeamUSA !#TheseGirlsRock!
Aaron Williams (@ajwilliams04): Congratulations #USAWOMENSSOCCERTEAM #womensworldcup #shoutout to Abby #TeamWambach and @alexmorgan13 and the other girl who scored first
Jamar Chaney (@Jamar51Chaney): GAMEOVER! GREAT win by the #USA 3-1 victory on France. We're heading to the World Cup Finals.
CONCACAF (@CONCACAF): Congratulations to USA Women's National Team…onto the World Cup final!
Robin Roberts (@RobinRoberts): USA USA USA on to the finals!!!!!!!!!!!!!!!!!!! #goteamusa
Sarah Spain (@SarahSpain): Americaaaaaaaaaaaa **** yeah! Coming again, to save the ******** day, yeah!! World Cup Finals, here we come!! #wwc2011
Chris Bosh @chrisbosh): GO USA!!!!!!! #WWC
Michael Phelps (@MichaelPhelps): @ussoccer_wnt nice win today usa!!! Woke up in aussie to see the highlights of the goals and the win….keep it up!!
Roddy White (@roddywhiteTV): US Women are hungry
Maurice Edu @MauriceEdu): Congrats to the women's team! Ballinggg!!! @alexmorgan13 goal was dirty …Good luck in the final! #USA #USA #USA
Spencer Hawes @spencerhawes00): USA women's soccer team we salute u!!! http://twitpic.com/5pmd1s
So happy together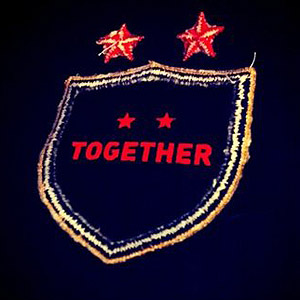 Ever wonder what's Behind the Crest? Stitched on the inside of the U.S. Soccer crest and close to their hearts, "TOGETHER" highlights the team mentality of playing as one and for all, and the stars commemorate the 1991 and 1999 Women's World Cup wins and their legacy to women's soccer history. The message is a reminder of past achievements and future accolades.
Dead Poets' Society
Give these fans some snaps for their clever haikus about the USA semi:
Haiku Time: Again we score first/ Hopefully we can hold out/ My heart can't take it
Bob: Early goal for us/ France storms for equalizer/ Solo blocks all shots
Elle: Early goal helps out/ Women can't get complacent/ Hope U.S. holds on
Bill S.: Early goal joy/ Yankees defense ploy/ Heroes in a half shell
Philip: Blessed wood saves us/ We cannot stop French shooters/ You are our best Hope
Santa Barbara: Shot hits crossbar/ Cardiac arrest/ Game goes on
Ryan: French shots are too many/ US shots are too few/ Thanks for the crossbar
Stats College Graduate: In Morgan Freeman's voice May be a pain to players/ But to fans I'm the savior/ I am the Cross Bar
Drumroll, please
What you've all been waiting for, the official FIFA Women's World Cup song.
Tip of the hat
Back in the day, when a player made an appearance for her country, she would receive an actual velvet cap. Now, figurative caps represent the games played throughout a career. And Wednesday was Hope Solo's 100th career cap. Ordinarily, the U.S. would have the honoree represent as team captain, but that rule does not apply in tournaments. Solo instead will don the captain's armband in the first friendly after the tournament. Quickly becoming a fan favorite, Solo has received many a proposal from fans.
Also memorable, midfielder Shannon Boxx recorded her 150th cap for the United States while playing in her third Women's World Cup, and defender Becky Sauerbrunn made her Women's World Cup debut against the French.
Fans in the stands
American fans from across the country recorded their reactions to Sunday's victory over Brazil -- laughing, crying, cheering, even jumping in pools. A compilation video displays just how nuts America went after the late equalizer and final converted penalty kick.
Young soccer players excitedly watch as women's soccer history unfolds.
Ecstatic viewers root for the U-S-A in an epic moment in USWNT play.
A military base in Stuttgart cheers on the USA with flags, posters and passion.
Singer and winger
Blessed not only with athletic ability but also with musical talent, U.S. midfielder Megan Rapinoe mesmerizes her teammates with her guitar skills and chill voice during the team's free time. After Pinoe's eye-catching "Born in the USA" goal celebration and memorable cross to Abby Wambach's head for an equalizer against Brazil, a fan wrote her a song.
Blast from the past
Rapinoe is not the only American to have a song written to her. The U.S. squad serenaded teammates (current ESPN analyst) Kate Markgraf, formerly Sobrero, and Wambach during the filming of "Welcome to Our World," a team-made DVD that gives fans an inside view of the 2003 edition of the Women's World Cup in the United States. Recognize any of those other faces on the bus? Hint: They are commentators or players in this Women's World Cup.
The classics
Speaking of talent off the field, some of you might remember the awesome commercials that aired for the 1999 Women's World Cup. In honor of its 12th anniversary, we bring back the retro videos to remind you of the good old days when Mia Hamm, Julie Foudy and Brandi Chastain were players, not analysts.
You can see UNC in Germany
The University of North Carolina has a long tradition of developing women's soccer players, especially ones who make an immense impact on the national team, such as Mia Hamm, Kristine Lilly, ESPN analyst Cat Whitehill, former USWNT coach April Heinrichs and Lindsay Tarpley (who made this year's WWC squad but was replaced after an ACL tear just weeks before the tournament). The 20-time national champions supported two fellow Tar Heels -- midfielders Heather O'Reilly and Tobin Heath -- and the rest of the U.S. women's national team throughout group play during the Heels' Germany training tour.
Ali Krieger spricht Deutsch
Although not a Tar Heel, Ali Krieger and the Penn State Nittany Lions did win four consecutive Big Ten championships. After graduation, Krieger moved to Germany to play in the Frauen Bundesliga with FFC Frankfurt, where she has been the past four years. Not speaking a word of German, Krieger completely immersed herself in the culture, and she quickly became fluent with the assistance of her teammates. Beloved by American fans and by the German media, the bilingual defender considers Frankfurt her second home. Now that the U.S. will be playing the final in Frankfurt, she'll be back in her adopted hometown. Once she returns to the U.S., Krieger is up for grabs as a free agent. She should be a top pick, especially after her spectacular WWC performances.