Body suits to bikinis: A history of women in action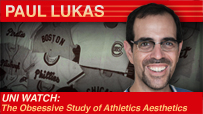 Just as women's sports don't get the same amount of attention as men's sports, women's uniforms also tend to get unfairly overlooked. While it's true that there is no women's equivalent to the Yankees' pinstripes or the Raiders' silver and black (yet), female athletes have charted their own stylistic path.
With ESPN celebrating the 40th anniversary of Title IX, Uni Watch takes a look at 10 milestones in women's uniform history.
1. Rockford Peaches' skirts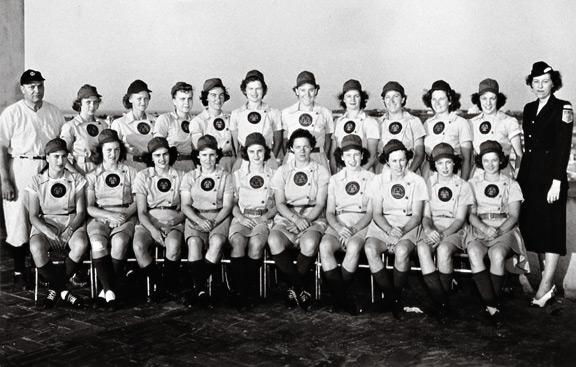 Getty Images
Today, the Peaches are best known as the team featured in the 1992 film "A League of Their Own." But from 1943 through 1954, they were a mainstay of the All-American Girls Professional Baseball League. Like many female athletes from that era, the Peaches had to wear uniforms that were intended more for girlish eye appeal than functionality. (Ever try to slide in a skirt?) Practical or not, that look has achieved immortality: A Peaches uni is enshrined at the Hall of Fame in Cooperstown.
2. All American Red Heads' satin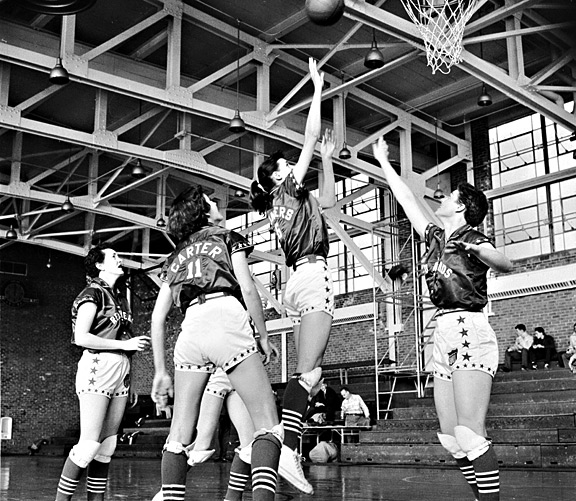 Getty Images
An early barnstorming team, the Red Heads were one of the first professional women's basketball squads. They were formed in 1936 and traveled around the country for the next 50 years, competing exclusively against men's teams. Their uniforms, often rendered in satin, went through many changes over the years, but they were always a mix of flashy and classy -- sort of women's versions of the Harlem Globetrotters' design. Although the Red Heads disbanded in 1986, former players continue to hold reunions and get-togethers.
3. Australian women's basketball unitards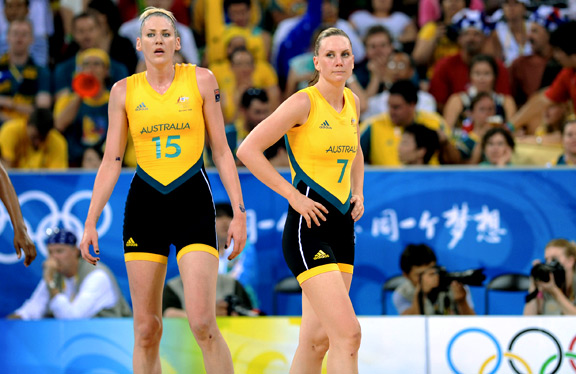 Jesse D. Garrabrant/NBAE/Getty Images
It has become a kind of ritual: Every four years at the Summer Olympics, everyone makes a fuss over the Aussies' unusual single-piece getup. The unitard, designed by the Australian swimwear company Soft Edges, debuted at the 1994 world championships and quickly became the team's standard look. It's hard to argue with the results -- the Aussies have won three Olympic silvers and a bronze since the unitards were introduced -- but the ritual will end this year in London when the squad switches to a conventional shorts-and-tank-top uniform for the Summer Olympics.
4. Anne White's bodysuit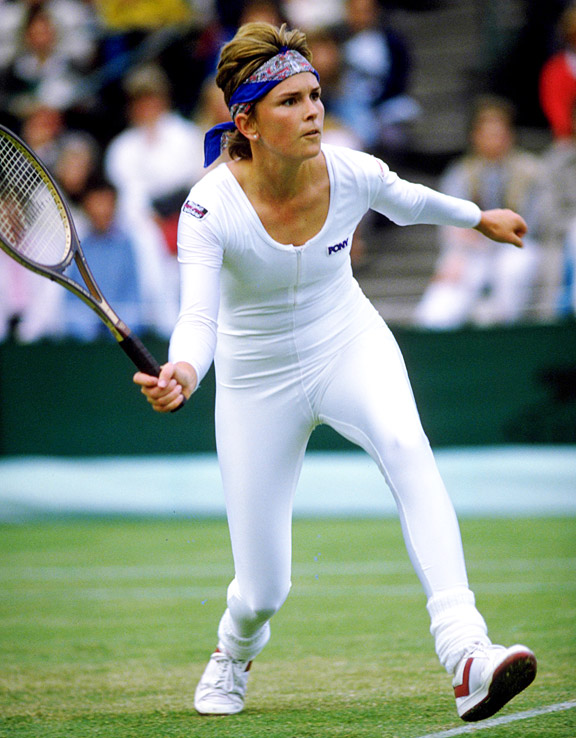 Getty Images
Wimbledon famously requires tennis players to wear white, and Anne White took that rule (or maybe just her name) to its logical extreme in 1985 when she wore a white Lycra bodysuit for her first-round match against Pam Shriver. As British tennis fans choked on their tea and crumpets, White and Shriver split the first two sets before the match was halted due to darkness. When play resumed the next day, White was wearing more conventional attire, at the behest of Wimbledon officials. She also lost. But by that point her place in tennis history was already assured. "I had no idea it would be so controversial," she later said. Yeah, right.
5. Serena Williams' catsuit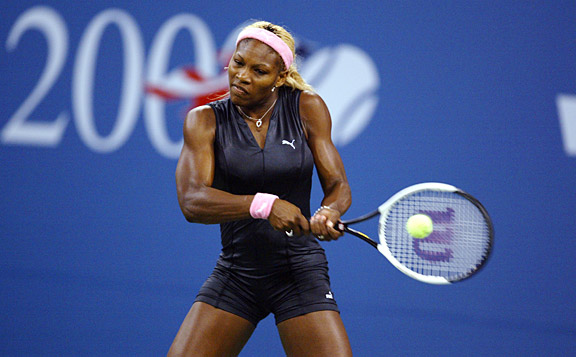 Al Bello/Getty Images
Williams has done so much to push the boundaries of tennis style over the years that we could do an entire list based just on her outfits. Where to begin? The denim skirt with the knee-high boots? The neon-orange top with the neon-pink tights? The shout-out to the Cameroon soccer team? While all of those were memorable, nothing tops the skin-tight catsuit that Williams wore in the first round of the 2002 U.S. Open, which seemed to defy several laws of physics. "If you don't have a decent shape," Serena quipped, "this isn't the best outfit to have." Um, well said.
6. Zola Budd's bare feet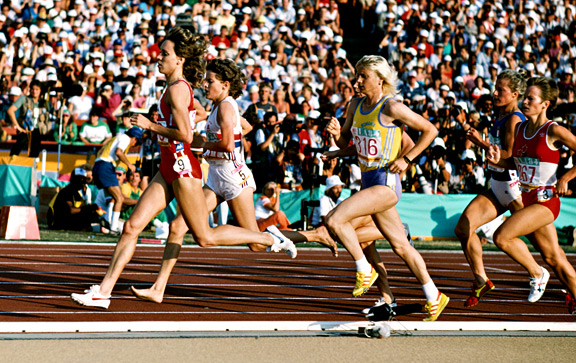 Tony Duffy/Getty Images
The South African sprinter found a simple way to stand out from the track and field pack: She ran barefoot, saying it was more comfortable. (So much for that sneaker contract.) Budd was already a controversial figure when she arrived at the 1984 Summer Olympics in Los Angeles; she had circumvented the anti-apartheid boycott of South African athletes by claiming British citizenship shortly before the games. But her notoriety skyrocketed when she collided with Mary Decker during the 3,000 meters, knocking the American out of the race and bringing down a cascade of boos. The video of that incident is still shown today, letting new generations see Budd's signature barefoot style.
7. Cathy Freeman's Swift Suit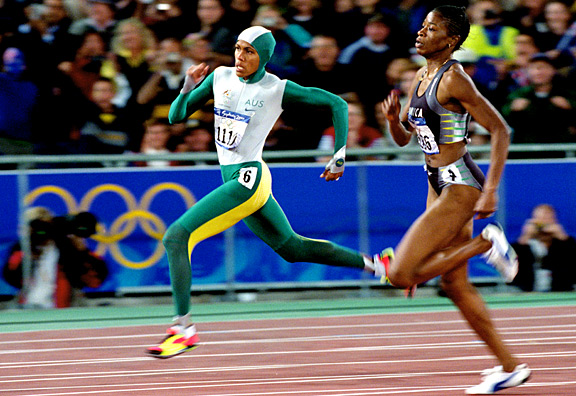 Getty Images
It seems counterintuitive that a runner could go faster by wearing more fabric, but that's the approach Freeman took at the 2000 Summer Olympics in Sydney. The Australian was the first athlete to wear the Nike Swift Suit, a full-body garment designed for peak aerodynamic performance. As it turned out, more was less: Freeman won gold in the 400 meters.
8. Phoenix Mercury's LifeLock sponsorship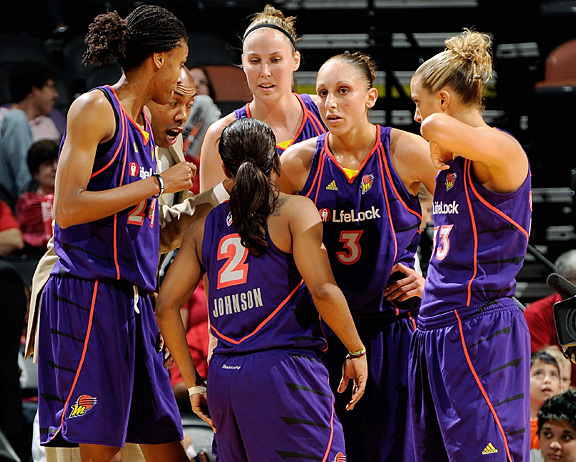 D. Clarke Evans/NBAE/Getty Images
American sports have largely resisted the uniform sponsorships that are common in European soccer and most other international team sports. That changed in 2009 when the Mercury struck a pioneering deal with the identity security company LifeLock, whose logo began appearing on the club's jerseys. Other WNBA teams have since followed suit, and now the NBA and other men's sports leagues are considering similar sponsorships. Whether you think that's a good thing or a sign of the apocalypse, there's no denying that women have led the way on this one.
9. Ruqaya Al Ghasara's Nike-branded hijab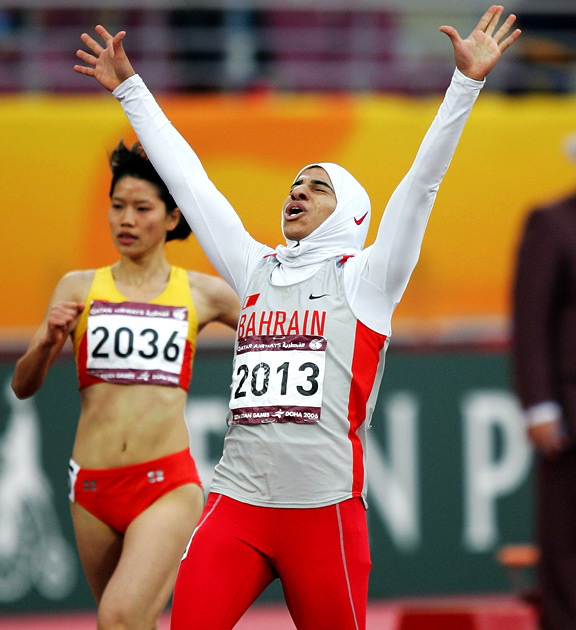 Francois-Xavier Marit/AFP/Getty Images
Female Muslim athletes must often compete in modest attire -- long sleeves, long pants and a hijab (the Muslim head scarf). But when Al Ghasara, a runner from Bahrain, competed in the 2006 Asian Games, her hijab had something special: a Nike logo. The idea was less about the company's swoosh-saturation approach to branding and more about helping Al Ghasara to feel like she belonged. Her hijab made her a hero among Muslim athletes, all the more so when she took gold in the 200 meters and bronze in the 100.
10. Beach volleyball bikinis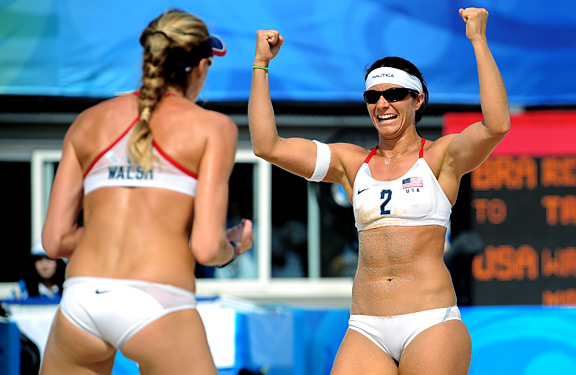 Mark J. Rebilas/US Presswire
If you're on the beach, it makes sense to wear a bikini, right? Well, maybe. The use of bikinis in beach volleyball has been controversial for more than a decade now, as critics have said the skimpy outfits are a blatant attempt to sexualize the participants and pander to male viewers. The International Volleyball Federation fueled the flak in 2000, prior to the Summer Olympics, by mandating that female players wear bikinis that are no more than six centimeters wide at the hip. This summer in London, the women will have options: The IVF recently ruled that shorts and sleeved tops can now be worn.
Paul Lukas, an ESPN.com columnist since 2004, is sports' only full-time uniform reporter. You can find his work on Page 2 and at uni-watch.com.