BlizzCon 2017 is behind us, and the annual celebration of all things Blizzard featured several world championships capping long seasons in the developer's biggest games. Overall, the South Koreans represented well as expected in StarCraft II and Heroes of the Storm, while a European World of Warcraft team upset the North American favorites. Here's how SCII, Heroes and Warcraft went down this weekend. See here for more detail on South Korea's Overwatch World Cup repeat.
StarCraft II: Season favorite Rogue claims his crown
Lee "Rogue" Byung Ryul fought off a valiant effort from Eo "soO" Yun Su to win the Starcraft II World Championship Series Global Finals in Anaheim, California, walking away with $280,000 after an epic six-game Zerg vs. Zerg matchup.
Rogue was the favorite heading into the tournament with two championship wins earlier this year, so it was no surprise he was in the final in the best-of-seven format. SoO came out hot, jumping out to a 2-1 lead, but after that Rogue would not give up a map, winning the championship 4-2.
The road to the final was rife with storylines from its earliest stages. The North American favorite Alex "Neeb" Sunderhaft failed to make it out of his group, after losing to the event's finalists, soO and Rogue in the first stage. Other disappointments included last year's second-place finisher, Park "Dark" Ryung Woo who failed to make it out of his group, after surprisingly losing a win-and-you're-in series versus Mikołaj "Elazer" Ogonowski. But none of that compared to perhaps the most consistent Protoss player of the past two years, Kim "Stats" Dae Yeob, who couldn't advance from a group that many experts pegged as his to lose.
During the knockout stage, the two remaining non-South Koreans squared off as Juan Carlos "SpeCial" Tena Lopez displayed excellent Terran vs. Zerg mechanics, defeating the up-and-coming Elazer. However, in the semifinals, the hopes of Mexico's national champion were squashed by soO as he deflected SpeCial's mech strategies with ease in a 3-0 sweep.
Rogue's knockout stage journey began strong, defeating Protoss legend Kim "herO" Joon Ho in a definitive 3-1 series. The next stop on his path to the championship was a Zerg vs. Terran matchup in the semifinals and another legend, Jun "TY" Tae Yang -- the highest earning Starcraft II pro this year. In what turned into an incredible showdown, Rogue would dispatch TY in a well-fought five games, setting up a collision course with soO and both players on a roll.
In the final, soO employed a wide range of strategies over six games, yet Rogue adapted. soO's extending of the series to five games was no small feat -- taking a map from Rogue is an accomplishment in itself -- and a few great decisions kept this from a Rogue sweep.
Rogue's victory is best exemplified by the variety of top players he had to overcome. There were no asterisks in this title run.
-- Britton Hess
---
Heroes of the Storm: MVP Black adds to South Korean legacy
It took the better of a year for 2017 Heroes of the Storm Global Circuit World Championships to whittle down to 16 teams, but it took just one week for those 16 teams to crown a champion.
While familiar names such as Ballistix, Fnatic and Team Dignitas made their usual appearances at this prestigious event, some newer names such as Team Freedom and Roll20 did manage to make a splash on the global stage, as well. In the end, MVP Black would fend off 2016 BlizzCon champions, Ballistix, as well as its grand finals opponent, Fnatic, for the title and $500,000.
For the most part, the group stage went as many experts predicted. While two teams from each group would advance into the playoffs, most groups had clear winners. MVP Black dismantled its competition in Group A, and Fnatic stymied its competition in Group B to reach the quarterfinals with relative ease. Those two teams were joined by Tempo Storm and Team Freedom from Group A and B, respectively.
The action got interesting in Group C, with Team Dignitas surviving an amazing series against Tempest to earn the No. 1 seed from the group, with Roll20 settling for second. That was followed by an extraordinary performance from the members of Group D, with no team really pulling away until the final matches. In the end, it was Ballistix that would move onto the playoffs, although the team certainly wasn't as dominant as last season; in which many of its 2016 games were complete stomps that ended before 10 minutes were up. Team Expert would be the final team to qualify for the quarterfinals with a second-place finish in Group D.
In easily one of the most entertaining series of the quarterfinals, Ballistix survived a three-game bout against Roll20, a top-ranked North American team with high expectations for this year's world championships. The first match of the series saw Roll20 string together a solid draft strategy to surprise the 2016 champions, but a failed double mage pick in Game 2 came back to bite Roll20, tilting the North American squad right out of the playoffs after a disappointing performance in Game 3, thanks in part to a gimmicky Lost Vikings pick.
That wasn't the only crazy quarterfinals match. Team Expert pulled off by far the biggest upset of the tournament and beat Team Dignitas in a surprising 2-0 sweep. Team Expert certainly didn't seem on the same level as Dignitas all throughout pool play, but thanks to the teams' regional familiarities (both compete in Europe), Team Expert came prepared with direct counters to the Dignitas Kharazim strategy. Team Expert countered Kharazim in Game 1 with a Muradin that effectively cut his attacks per second in half and also provided a huge meat shield in the front line to soak damage. Game 2 featured a Varian/Leoric counter that turned any engage into a risky endeavor.
While Team Expert certainly outplayed Team Dignitas, it was completely unprepared to face MVP Black in the semifinals. The same could be said for last year's world champions, Ballistix, who were utterly trounced 3-0 by Fnatic in the other semifinal matchup.
In what was billed as a battle of two of the smartest teams in Heroes of the Storm, MVP Black appeared to boast far superior intellect throughout the four-game series. While Fnatic would manage to win one match thanks in part to some excellent drafting decisions and an even more intelligent game plan, MVP Black was simply on another level. In what wound up being the final game of the series, Fnatic opted for a Medivh/Stitches gimmick that MVP Black was too smart to fall for, and that all but annihilated any chance Fnatic had at extending the series.
In the end, MVP Black was able to break free and earn another title for the South Koreans.
-- Tyson Tavolazzi
---
World of Warcraft: Europeans hold off North America once again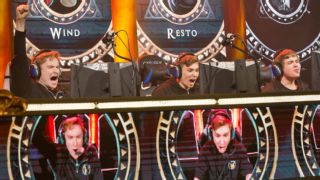 One of the few esports where North American teams have historically found success is World of Warcraft, but recently European squads have stolen NA's thunder and this year was no different. Last year, European organization Splyce became the first back-to-back WoW Arena champions after unseating North American team Method NA in a thrilling seven-game match in the finals. This year was similar, although not as close. European Team ABC swept North American squad Panda Global in the finals for a share of $120,000, and NA is a bridesmaid once again.
-- ESPN staff