Eric LeGrand receives Jimmy V Award
Updated:
May 28, 2014, 6:47 PM ET
ESPN.com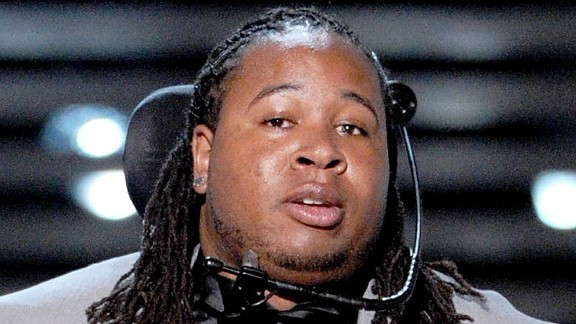 Eric LeGrand suffered a spinal cord injury in a game against Army in 2010. Initially told he would be a quadriplegic and would remain on a ventilator, the defensive tackle is now breathing on his own and can stand upright with the aid of a metal frame.

"I can relate to that because I am never giving up in my situation," LeGrand said in a telephone interview with The Associated Press. "I am never giving up in my situation. I know I will fight through it. Now getting this, this is a dream come true, especially on the 20th anniversary of the ESPYS. I was even thinking about it last year, thinking that could be me." Since suffering the injury, LeGrand has remained remarkably positive. He has been aggressive with his rehabilitation and works as an analyst on the pregame, halftime and postgame radio broadcasts of Rutgers games. He also will have a weekly show on Wednesday during the season with new Scarlet Knights coach Kyle Flood. LeGrand has vowed to walk again.
V Foundation Established 1993 - DONATE NOW
The V Foundation for Cancer Research was founded in 1993 by ESPN and the late Jim Valvano, legendary North Carolina State basketball coach and ESPN commentator. Since 1993, The Foundation has raised more than $100 million to fund cancer research grants nationwide. It awards 100 percent of all direct cash donations and net proceeds of events directly to cancer research and related programs. Administrative and fundraising expenses are paid by the Foundation's endowment. The Foundation awards grants through a competitive awards process strictly supervised by a scientific advisory board. For more information on The V Foundation or to make a donation, please visit www.jimmyv.org or call 1-800-4JimmyV.
Jimmy V Perseverance Award
The Jimmy V Perseverance Award was named after and inspired by the late Jimmy Valvano who became the award's raison d'être at the 1993 ESPYS. While battling cancer, Jim Valvano gave an emotional acceptance speech which included his famous words "Don't Give Up . . . Don't Ever Give Up!"®. This was Jimmy V's advice to anyone anywhere facing adversity. Valvano passed away less than 2 months later, but his words were never forgotten. The Jimmy V Award is given to a deserving member of the sporting world who has overcome great obstacles through physical perseverance and determination. In 2007, Women's College basketball coach Kay Yow became the very first recipient of the Jimmy V award.