Jackson, Lawal to settle 'beef' in the cage
Through the magic of the Internet, each and every one of us can witness the birth of the rivalry between Quinton Jackson and Muhammed Lawal.
If you prefer CliffsNotes, basically the two were filmed riding in a van together in 2009. Some (relatively) heated words were exchanged. Jackson, aka "Rampage," attacked Lawal's resume at the time. Lawal called Jackson "Bumpage."
"That's where this whole thing started was that video in the van," Jackson said.
Nearly five years later, the two will meet in a light heavyweight fight at Saturday's Bellator 120 -- the promotion's first pay-per-view. The event takes place at Landers Center in Southaven, Mississippi, just outside of Jackson's hometown of Memphis.
The rivalry (depending on what you believe) exploded in February, when Jackson screamed at Lawal when he entered the cage immediately after Jackson knocked out Christian M'Pumbu at Bellator 110. The animosity has continued to build since.
[+] Enlarge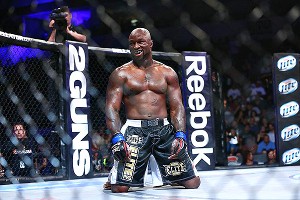 Wilson Fox/SherdogMuhammed "King Mo" Lawal will look to take his fight with Quinton "Rampage" Jackson to the ground at Bellator 120.
How much of all this is real? Is the rivalry really so bad the two need to be held back from each other at all times? Here's another question: Who cares?
The real intrigue surrounding this fight has nothing to do with trash talk.
For Jackson (34-11), a win Saturday won't elevate him to the top of the division -- something he has admitted several times is likely behind him now. It would, however, count as a legitimate win against an opponent fans know.
Jackson's last two opponents, Joey Beltran and M'Pumbu (he knocked out both), were far less talented than what he has typically faced. He knows that.
"To be honest, I should knock out guys at that level," Jackson said. "I want to say this in the right way. I don't want to disrespect them. Anybody who steps in that cage is tough -- but I should be knocking guys out like that."
It's also a chance for Jackson to show up in front of his hometown. He was supposed to fight UFC rival Rashad Evans in Memphis in 2009, but those plans collapsed when Hollywood offered him a role on "The A-Team" movie remake.
"There will be people there I went to elementary school with," Jackson said. "I'll have 40 to 60 family members there. It's very motivating for me."
And for Lawal (12-3), it's a chance to prove his once promising career hasn't tanked completely. It's ironic if you watch the "van video" because Lawal was the new guy, claiming he can take the veteran's spot in line. Today, his career is characterized similarly to Jackson's. The best part might be over.
By all means, feel free to enjoy the last minute of yelling and trash-talking between these two. No shame in that. But if you find yourself asking whether or not it's real, here's a reminder that there are other reasons to watch.
---
MAIN EVENT: LIGHT HEAVYWEIGHTS
Breakdown: With 68 years and a handful of knee surgeries between them, nobody is disputing the fact that Jackson and Lawal aren't quite the athletes they used to be.
If there is one aspect of this fight that has been affected by that more than others, it's the offensive wrestling of Lawal. He just doesn't drive through opponents like he did earlier in his career, and it's altered his entire game.
Lawal has never been an outstanding striker, but he's certainly not a bad one. His defensive skills have always appeared to come naturally, especially head movement. In recent years, he's really fallen in love with the jab from the orthodox stance.
That lack of explosiveness in his takedown game is a problem, though. Lawal tends to shoot on a single leg not unlike the one used by UFC light heavyweight (and Lawal teammate) Glover Teixeira. His first and second efforts are not as strong, though.
If Jackson defends those takedowns (better than when he fought Teixeira last year), he should get the type of fight he wants. He has lost some hand speed, but he'll counter off of Lawal's jab. Any prolonged exchange heavily favors Jackson.
Prediction: For all of the trash talk between the two, this fight could see its share of cat-and-mouse moments. It would be surprising if Lawal invites an action fight. Set the magic number at four. If Lawal earns four takedowns, he wins a decision. I'll take the under. JACKSON BY DECISION.
---
CO-MAIN EVENT: LIGHT HEAVYWEIGHTS
Breakdown: Time flies, doesn't it? It has been nearly two years since Ortiz "retired" from the sport, following a close fight (and awkward interview) with Forrest Griffin.
Well, he's back this weekend, and few would have guessed he'd be facing the 185-pound Shlemenko. Stylistically, though, it's not the worst fight for Ortiz.
The size difference between these two will be fairly startling. Ortiz is going to look huge. On the flip side of that, Shlemenko should be much, much quicker. Will he take full advantage of that speed differential, though?
Shlemenko doesn't fight small. He's not known to flutter around the cage. Chances are he'll stand in front of Ortiz in this fight. His body work is definitely something to watch, as Ortiz has an unpleasant history with body shots.
The kicking repertoire and spinning risk-taking of Shlemenko might play into Ortiz's strengths. Ortiz will have opportunities to put this fight on the ground. His double leg isn't very explosive anymore, but maybe he wades through Shlemenko's offense to a body lock and puts him down. If he gets in top position -- all 220 pounds of him -- that's trouble.
There's no question a Shlemenko knockout is possible, if not likely. Although, Ortiz blocks punches well (especially to the head) and his counter right hand figures to be a potential factor against an aggressive southpaw.
Prediction: Here's the thing: Shlemenko is on a high right now. How could he not be? Thirteen consecutive wins, including six knockouts. I know Ortiz is 1-7-1 in his last nine fights. I really do know that. So does Shlemenko. He's thinking knockout all the way. You come in with that mindset against a bigger guy with a lot of experience ... I think it could spell trouble. Can't believe I'm saying this: ORTIZ BY DECISION.
ESPN Staff Writer
MMA columnist for ESPN.com
Analyst for "MMA Live"
Covered MMA for Las Vegas Sun
Brett's Picks
FIGHT OF THE NIGHT
Michael Page vs. Ricky Rainey. Page only has five pro fights, so the jury is still out on just how good he is. But he's fun to watch. Out of all the things you'll see on Saturday, Page's fight has a chance to be the most unforgettable.
KNOCKOUT OF THE NIGHT
Alexander Shlemenko vs. Tito Ortiz. Shlemenko is always a knockout threat and to see him put Ortiz down would be something (regardless of how long it's been since Ortiz has fought). Shlemenko also tends to get hit a lot himself ...
BIGGEST STORYLINE
Shlemenko vs. Ortiz. Even Bellator CEO Bjorn Rebney has called it a "freak show" kind of fight. What will that do to Shlemenko's appeal if he loses? And if Ortiz loses, what becomes of him?
BIGGEST QUESTION
Who will tune in? The PPV business can be a tough one to win, especially when your main event falls through seven days before the card. Will be interesting to see what numbers Bellator can pull in its first attempt.
ON THE HOT SEAT
Michael Chandler. You could easily make a case for one of the aging fighters on the card, but Chandler suddenly has a lot to lose in this fight, including a trilogy fight with Eddie Alvarez and a potential claim of world's best lightweight.
ONE TO WATCH
Michael Page. The carefree, hands down, rave-dancing style of Page is must-see. Pure entertainment.