It all adds up for statistically dominant Fitch
By Brett Okamoto
ESPN.com
If you go by the numbers, Jon Fitch is about as dominant as it gets.
In the past decade, Fitch (23-3) has statistically annihilated opponents more than just about anyone in the UFC. His 1,742 strikes landed since 2000 are second only to Georges St. Pierre. Fitch's 48 takedowns are fifth.
He remains one of just a handful of fighters with multiple five-fight win streaks in the UFC, and his .929 win percentage ranks second-best in company history among fighters with at least 10 bouts.
He is also the all-time leader in decision wins (with nine).
UFC 127: Penn vs. Fitch

Get ESPN.com's full coverage of Saturday's UFC 127 event.
Topic page
Depending on who you ask, the last number can be either a happy or a concerning one. Fitch chooses to go with the former.
"The No. 1 rule everyone needs to remember is that everyone loves a winner," said Fitch during UFC 127's final news conference from Sydney on Wednesday (Tuesday ET). "It doesn't matter what kind of style you have. If you lose, you're out.
"No one's going to know who you are if you lose."
Winning has never been a problem for the 32-year-old Fitch. If he defeats B.J. Penn (16-7-1) on Saturday at UFC 127 in Sydney, Australia, Fitch will have won more fights than any other fighter in the company since he joined the roster in 2005.
As effective as Fitch has been, however, his methods don't always bring a crowd to its feet.
[+] Enlarge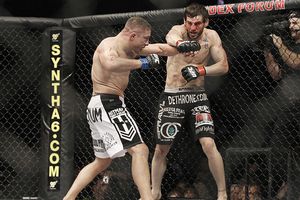 Ed Mulholland for ESPN.com There's no such thing as an easy night in the cage when you're sharing it with Jon Fitch, right.
While Fitch is one of the more dominant wrestlers in the 170-pound division, his MO is to control rather than neutralize an opponent. Smothering, grinding, wearing down -- these are words associated with a Jon Fitch fight.
It's gotten Fitch in position to likely compete for the welterweight title in 2011. It's also got him in a position where he has to answer questions about whether fans like him or not.
"It's more of a slow process, but it's definite that I gain a number of fans with every win," Fitch said. "I'm giving 100 percent in every fight. I'm doing everything I can do to finish fights. Whether it happens or not has not been within my grasp the last two years, but I plan on changing those things."
Follow us on Twitter
Don't miss a moment of the latest MMA coverage from around the world. Follow us on Twitter and stay informed. Join »
If Fitch is able to stop Penn, it would be Fitch's first stoppage win since he submitted Roan Carneiro on a UFC Fight Night card in June 2007.
According to Fitch, a stoppage is on his mind, but not any more than any other fight he's gone into. A win, decision or other, is enough when you're fighting Penn.
"It's kind of like, if I kill him, I get his power -- I play a lot of video games and there are plenty that relate to this," Fitch said. "If I can destroy the legend, then I'm going to take all his wins and put them in my back pocket. I take that legacy and start building my own."
Banter between Bisping, Rivera boils over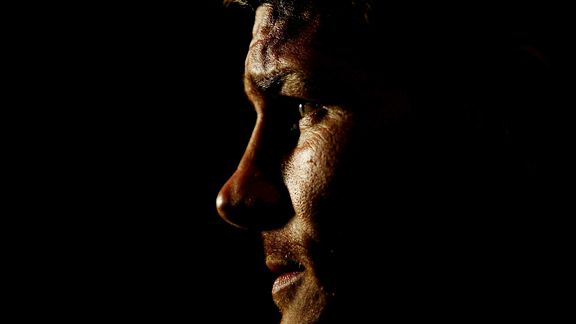 Mark Nolan/Getty ImagesThe fight before the fight: Michael Bisping has shown his darker side ahead of UFC 127.
The trash talk and mind games between Jorge Rivera and Michael Bisping boiled over during the UFC 127 prefight news conference.
Bisping (20-3) had a few choice words about his upcoming opponent regarding the now fairly infamous Internet videos that Rivera posted which mocked Bisping.
The videos feature Rivera's boxing coach, Matt Phinney, impersonating the British accent of Bisping and poking fun at his fighting style and persona, among other things.
Bisping's emotions during the Wednesday morning news conference in Australia have some wondering how much Rivera has gotten under his skin and whether it might even affect the fight.
"I'm talking now, but I want to do most of my talking on the night [of the fight]," Bisping said. "I'll do my talking with punches, kicks, knees, elbows, jiu-jitsu, wrestling. Half of that stuff, he doesn't know what it is. Jorge is a relic. He's a throwback to the beginning of mixed martial arts. I am a complete mixed martial artist."
When asked his thoughts on the videos, Rivera simply said, "You see how he reacts and what's going on. I'm cool with it."
Australia getting TUF?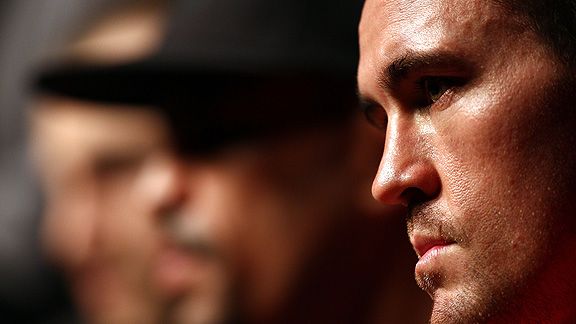 Ryan Pierse/Getty Images"Ultimate Fighter" alum Kyle Noke might have helped open the door to bringing TUF Down Under.
At a recent news conference, UFC president Dana White mentioned the Philippines, Canada and the United Kingdom as potential areas of interest to install the reality series "The Ultimate Fighter." You can add Australia to the list.
UFC U.K. president Marshall Zelaznik said that deals are in place to televise the 13th season of the U.S. version of the show in Australia and that plans to stage an international version are currently being developed.
"We're pretty far along," Zelaznik said. "We're not in position to announce anything but we're getting close. We're getting close to announcing the 'Ultimate Fighter 13' will be widely distributed here. Once that deal gets secured, that would be the first step [in bringing it to Australia]. There's a lot of interest for it here and I think it would be a massive hit.

No way, Jorge!

UFC 127 By The Numbers
Largest UFC Attendance Numbers
UFC
Attendance
Location
124
23,152
Montreal
97
21,451
Montreal
83
21,390
Montreal
68
19,049
Columbus, Ohio
115
17,669
Vancouver,
British Columbia
113
17,647
Montreal
110
17,431
Sydney
120
17,133
London
105
16,693
Manchester, England
75
16,235
London
Most Bouts in UFC History
Most UFC Wins By Decision
| Fighter | Dec. Wins |
| --- | --- |
| Jon Fitch | 9 |
| Georges St. Pierre | 8 |
| Gray Maynard | 7 |
Most UFC Wins By TUF Fighters
Multiple Win Streaks
| Fighter | Streaks |
| --- | --- |
| Chuck Liddell | 7, 7 |
| Matt Hughes | 6,6 |
| Jon Fitch | 8, 5 |
| Georges St. Pierre | 8, 5 |
| Tito Ortiz | 6, 5 |
Best Win Percentage
| UFC fighter | % (W-L) |
| --- | --- |
| Anderson Silva | 1.000 (13-0) |
| Jon Fitch | .929 (13-1) |
| Don Frye | .900 (9-1) |
| Georges St. Pierre | .882 (15-2) |
Most Strikes Landed (Since 2000)
| UFC Fighter | Landed |
| --- | --- |
| Georges St. Pierre | 1,924 |
| Jon Fitch | 1,742 |
| Chris Leben | 1,477 |
| B.J. Penn | 1,468 |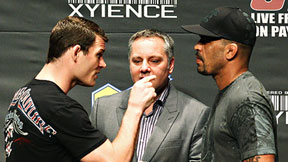 Ryan Pierse/Getty Images
Michael Bisping promises to block out the crowd and Jorge Rivera's prefight barbs when they finally step into the Octagon on Saturday. Story »
Over staph » Ready, Rivera? » More UK dates »
'Pressing' the issue » Pears-ing through »

Quotables
Noke
"I think Australia has a wealth of talent and I think if the UFC decided to do [the show] here they'd see some great young athletes come out of it. I think we can compete with everyone else in the world. -- Kyle Noke, on Australia hosting "The Ultimate Fighter" and the growth of MMA in his home country
Penn
"I'll probably be around 165 pounds [on the night of the fight] and drink four pounds of water to make Fitch think I'm bigger than I am." -- B.J. Penn, on his weight when he climbs into the Octagon and what he'll have to do to size up with Fitch
Fitch
"Thing is, I'm used to not having holidays because of wrestling season. I've been accustomed to not having Thanksgiving, Christmas, birthday and New Year's for the better part of my life." -- birthday boy Jon Fitch, on having to fight so closely to his birthday (Feb. 24)