1. First Toronto, then the world for White & Co.
By Brett Okamoto
ESPN.com
All records are meant to be broken. Or, in some cases, shattered.
UFC president Dana White announced Tuesday that UFC 129, set to take place April 30 at the Rogers Centre in Toronto, has generated $11 million in gate revenue. The promotion's previous record was $5.4 million, set in December 2006.
"As many of you know, we're doing our first-ever stadium, the Rogers Centre," White said. "It's the fastest sellout, a North American record, and the biggest record in the history of the Rogers Centre as far as gate goes. The last gate that had the record here that I'm aware of was the NFL, with $8 million."
UFC 127: Penn vs. Fitch

Get ESPN.com's full coverage of Saturday's UFC 127 event.
Topic page
With approximately 55,000 tickets sold, the sold-out UFC 129 card also will break the promotion's record in attendance. The current top-attended card in UFC history is UFC 124, which drew 23,152 in December in Montreal.
The event originally was scaled for 42,000 tickets but was reconfigured to seat 55,000 after the initial block of tickets sold out on the first day of sales.
It's not the first time the UFC has enjoyed success outside the U.S. Since 2009, the UFC has held 12 international shows -- many of which recorded quick sellouts.
"What's been truly phenomenal is our success in selling tickets," White said. "[In London,] we did a gate of $2.2 million. Our Australia gate is going to be $3.5 million. We did $4.5 million in Montreal. In Ireland, we did $1.6 million. Last time we were in Vancouver, we did $4.2 million.
"To be pulling those numbers worldwide is incredible."
The international success has increased the promotion's interest in installing its reality television series, "The Ultimate Fighter," in foreign markets.
According to White, the UFC has plans to air a show in the United Kingdom, in Canada and in the Philippines, possibly as early as this year.
"What we're working on with 'The Ultimate Fighter' is it's going to start airing in every country," White said. "We're going to be doing it everywhere so we're always cultivating new talent.
Follow us on Twitter
Don't miss a moment of the latest MMA coverage from around the world. Follow us on Twitter and stay informed. Join »
"[It could happen] this year. I'm pretty sure the first one will probably be the Philippines."
[+] Enlarge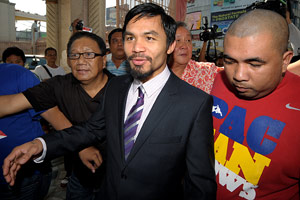 Noel Celis/AFP/Getty ImagesThe home of Manny Pacquiao might play host to "The Ultimate Fighter" in the near future.
One thing White said will not happen because of the promotion exploring new areas is a reduction in U.S. shows, particularly Las Vegas, which hosted six shows in 2010 and is the home of the UFC offices.
White expects that more shows will be added to the UFC calendar, even to the point that multiple events would take place simultaneously.
"We want to keep adding shows," White said. "We're working on things right now we'll have done in the next couple months where we're taking it to the next level.
"There might be a day, and I can't believe I'm going to say this, where we'll put on a show in Las Vegas and there will be a fight happening in Australia at the same time. That's where we're headed."
New York still on White's hot list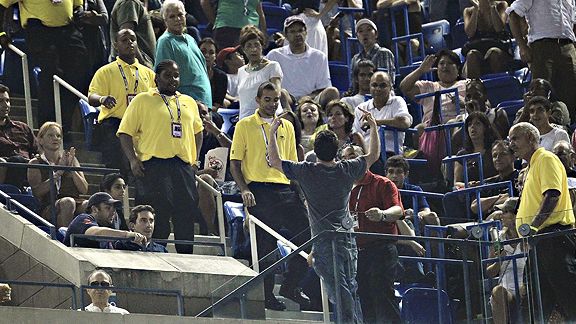 Chris McGrath/Getty ImagesIf Dana White has his way, the USTA Tennis Center won't be the only stadium to host fights in N.Y.
New York remains a big target in the UFC's crosshairs, as the state's legislation has yet to sanction MMA events.
As he has done in the past, White pointed to the financial impact UFC 129 is expected to have on Toronto and questioned why anyone in New York would want to turn that away.
"One of the great things about what happened in Toronto is people in New York have to be looking. New York is in trouble. They need money. They could bring in this sporting event and sell out [Madison Square Garden.] We did $11 million up there with 55,000 people. We figured out, and this is being very conservative, it will have a $40 million impact on Toronto. Just ticket tax alone will be $1.5 million."
Penn not keen on cutting to 155 again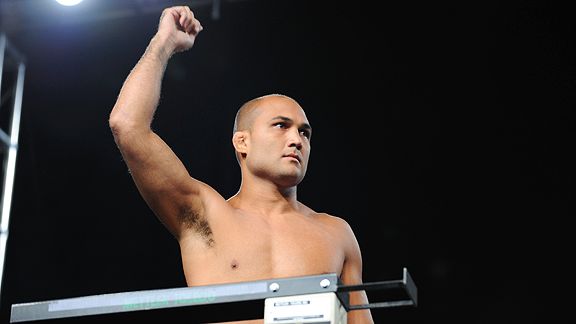 Martin McNeil for ESPN.comB.J. Penn's days of cutting to 155 are over -- if he has anything to say about it.
B.J. Penn wouldn't go so far as to say his latest move back to the welterweight division is permanent -- "I don't think Dana would let that happen" -- but it appears that's where the 32-year-old prefers to be at this point in his career.
Penn, who fights Jon Fitch at UFC 127 in Sydney later this month, said he enjoys the healthy, strong feeling he has at 170 over the advantage of coming in big at 155.
"When it comes to 155 pounds, I don't even like cutting the weight to make that," Penn said. "You have to cut food and water down, and I don't know if that's a healthy thing. I feel that I'm a happy person right now. When we get to Australia, we fight less than 24 hours after the weigh-in. When I'm standing in the ring, I'm going to be happy I was drinking water and eating food the whole time I was getting ready for this fight."
Sotiropoulos in mix for title shot
Australian lightweight George Sotiropoulos (14-2) is a perfect 7-0 since joining the UFC in 2007, but he still finds himself more or less overlooked in the title picture.
Sotiropoulos, 33, is scheduled to face Dennis Siver (17-7) at UFC 127 in his home country. It's unclear where a win would place him in the stacked 155-pound division, but White said he's not at all forgotten.
"If he can win, he's in line for a title shot," White said. "No doubt about it. This kid has been on a tear, and he's so exciting to watch. If he wins, he's on his way."
2. Fitch's March Toward Title Shot
3. UFC 127 By The Numbers
What Are The Chances?
| Fighter | Opponent |
| --- | --- |
| B.J. Penn +175 | Jon Fitch -210 |
| Jorge Rivera +275 | Michael Bisping -345 |
| Dennis Siver +255 | George Sotiropoulos -315 |
Largest UFC Attendance Numbers
UFC
Attendance
Location
124
23,152
Montreal
97
21,451
Montreal
83
21,390
Montreal
68
19,049
Columbus, Ohio
115
17,669
Vancouver,
British Columbia
113
17,647
Montreal
110
17,431
Sydney
120
17,133
London
105
16,693
Manchester, England
75
16,235
London
Most Wins At 170
| Fighter | Wins |
| --- | --- |
| Matt Hughes | 17 |
| Georges St. Pierre | 15 |
| Josh Koscheck | 12 |
| Jon Fitch | 11 |
Multiple Win Streaks
| Fighter | Streaks |
| --- | --- |
| Chuck Liddell | 7, 7 |
| Matt Hughes | 6,6 |
| Jon Fitch | 8, 5 |
| Georges St. Pierre | 8, 5 |
| Tito Ortiz | 6, 5 |
Best Win Percentage
| UFC fighter | % (W-L) |
| --- | --- |
| Anderson Silva | 1.000 (13-0) |
| Jon Fitch | .929 (13-1) |
| Don Frye | .900 (9-1) |
| Georges St. Pierre | .882 (15-2) |
Most Strikes Landed (Since 2000)
| UFC Fighter | Landed |
| --- | --- |
| Georges St. Pierre | 1,924 |
| Jon Fitch | 1,742 |
| Chris Leben | 1,477 |
| B.J. Penn | 1,468 |
-->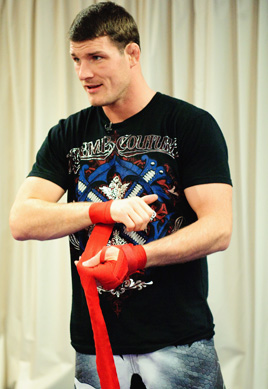 Martin McNeil for ESPN.com
Cheer him or jeer him, two things are for sure: Michael Bisping is bound to elicit a reaction from MMA fans -- and it isn't going to bother him in the least. Story » Over staph » Ready, Rivera? »
5. Quotables
Fitch
"[Getting up for] fighting B.J. Penn? Hell no. The things he's done and the person he is? That's all the motivation I need." -- perennial contender Jon Fitch, on where he has found motivation to train for Penn ahead of UFC 127
Penn
"I think it's going to be hard to compete if you chop off your right leg to make 145. No, I think Kenny is a competitive person. That would be amazing to see Kenny go down there and go up against someone like Jose Aldo, maybe even beat him. I would shake his hand and congratulate him on that." -- Penn, on Kenny Florian announcing he's moving to 145

White
"The problem with Dallas, I've been hearing, is the rooms down there. It's a big stadium, but there is not a lot of rooms. One of the things about our sport is it's like the Super Bowl. People will travel." -- Dana White, on the logistical problems behind bringing a UFC event to Cowboys Stadium

White
"It was a big move to put 42,000 tickets on sale. When we put 42,000 tickets on sale, I'll admit, I was a little nervous. The question is, we sold out 23,000 tickets [in Montreal], how many more people were really looking to buy tickets? Now, I'm sitting here with 55,000 sold and still thinking the same thing, how many more could we have done? It's crazy." -- White, on his emotions about hosting the first UFC stadium show