Jones confident he can exploit crack in Rua aura
By Franklin McNeil
ESPN.com
NEW YORK -- Jon Jones might have the physical edge over light heavyweight champion Mauricio Rua, but that isn't the sole reason Jones is extremely confident about winning the title on Saturday night in Newark, N.J.
UFC 128: Rua vs. Jones

Get ESPN.com's full coverage of Saturday's UFC 128 event.
Topic page
Jones respects Rua's technical skills but isn't impressed with his mental makeup. If pressured, Jones believes, Rua will crack.
"Everyone blames Shogun's early UFC [struggles] on his knee," Jones said Wednesday after the UFC 128 press conference at Radio City Music Hall in New York City. "They said his cardio wasn't there because he had knee surgery and he wasn't ready.
"People who get in his face, take him down and make him earn his way back to his feet, the people who ground-and-pound him hard, who strike him back and stand toe-to-toe with him, those are the people who get him tired.
[+] Enlarge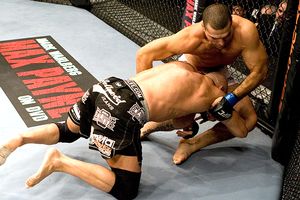 Josh Hedges/Zuffa LLC/Getty ImagesMark Coleman's durability and wrestling acumen presented all sorts of problems for Mauricio Rua.
"Mark Coleman didn't really know any better when he fought Shogun; he kept getting punched in the face and kept coming forward. That tired Shogun out.
"He can be broken mentally and physically, mainly mentally. That's part of what I am going to do to him. I'm going to show that the Mark Coleman fight wasn't a fluke, that the Forrest Griffin fight wasn't a fluke, that he didn't come unprepared."
If Jones is getting inspiration from the champ's previous UFC bouts, so be it. Rua promises he will look nothing like the fighter who struggled during his early days in the Octagon.
He expects to perform much better than during his first-round KO title win over Lyoto Machida in May 2010.
"I always work hard and try my best to keep evolving and progressing and getting better," Rua said. "I worked hard with my team to get in the best physical shape and conditioning. I'm in the best shape and form, not only of my career, but of my life."
Injured Evans harbors no ill will toward Jones
More than a month has passed since a knee injury -- suffered while training -- forced Rashad Evans to withdraw from his title fight against Rua, but not fighting for the belt remains fresh in the former 205-pound champ's mind.
"This whole situation has been very hard to deal with, especially since I decided to wait for my opportunity to fight for the belt," Evans said. "I took a lot of flak for that, and a lot of people had a lot of [negative] things to say.
Follow us on Twitter
Don't miss a moment of the latest MMA coverage from around the world. Follow us on Twitter and stay informed. Join »
"Everything was coming together until I got injured. To be injured the way I was injured, it's a bitter pill to swallow."
Not all is bad for Evans these days: The knee has healed enough that he has begun light training sessions. Now that he is back in the gym, Evans has turned his attention again to pursuing the title.
Evans is confident another light heavyweight title belt is in his future and hopes to get a shot in the not-too-distant future. But his personal agenda won't prevent him from supporting his teammate Jon Jones on Saturday night.
"As a teammate, I have a relationship with Jon," Evans said. "I will be rooting for him.
"I'm not throwing in the towel or saying I'm done or will no longer continue to be of a champion's mindset. But I'm not the kind of person who would wish something bad on somebody else in order to help myself."
Schaub set to engage Cro Cop standing
No fighter on the UFC 128 card seems more eager to get in the cage than rising heavyweight Brendan Schaub.
Listen to the ESPN UFC Podcast
He will face Mirko "Cro Cop" Filipovic in a contest that is expected to be settled on the feet. And when it comes to stand-up affairs, Schaub is confident that he has a huge advantage.
Schaub is among the most technically sound punchers in the heavyweight division. But his stand-up has improved in other areas.
"I'm a technique guy, so working with boxing trainers like Mark Henry and Trevor Wittman, especially Mark Henry," Schuab said. "He wore me out doing the Frankie Edgar footwork stuff."
"Cro Cop is a stationary fighter; I'm known for my footwork. That will be the difference."
Franklin McNeil covers mixed martial arts and boxing for ESPN.com. Follow him on Twitter at www.twitter.com/Franklin_McNeil.
Faber And KenFlo on GPB

UFC 128 By The Numbers

Business, man!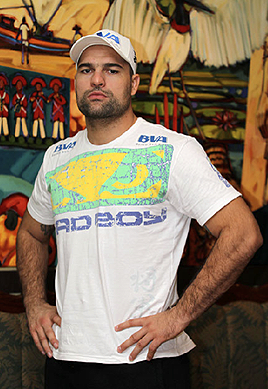 Ed Mulholland for ESPN.com
Only Wanderlei Silva is off limits for Rua when it comes to opponents in the Octagon. Blog »

Quotables
Jones
"I have a jiu-jitsu coach now. Jiu-jitsu can play a major role in this fight. Shogun's a black belt and I'm a white belt. I have strong faith in myself and my grappling. I'm not intimidated by his black belt. Don't be surprised if you see a black belt get tapped out by a white belt." -- Jones, on his confidence in his abilities on the ground against Rua
White
"Some guys are special, and Jon Jones is special. The way he broke into the top five, by basically annihilating [Ryan] Bader, he belongs there. He's a top-five light heavyweight. Is he No. 1? We will find out on Saturday" -- UFC president Dana White, on Jones' position as challenger

Catone
"The [year-long] layoff will be a benefit. The later I get in my career, the more time I need for recovery. I was banged up for a while. I had a couple of herniated disks. I had surgery on my right shoulder and was getting cortisone shots for 16-17 months." -- UFC middleweight Nick Catone, on the benefits of a long layoff