Sanchez, Kampmann fight for place in welter line
By Franklin McNeil
ESPN.com
LOUISVILLE, Ky. -- There is no promise of a title for the Martin Kampmann-Diego Sanchez winner Thursday night (VERSUS, 9 ET), forcing each man to up the ante.
Winning won't be enough to get Kampmann and Sanchez where they want to be as the top welterweight contender. Each wants a title shot sooner rather than later, and the best way of getting it is to win impressively. Kampmann and Sanchez will step into the Octagon with extra motivation to knock the other out.
"I plan on making a statement," Sanchez told ESPN.com. "I plan on showing [UFC president] Dana [White], showing the fans and showing [UFC CEO] Lorenzo [Fertitta] that I want to finish this fight.
"I want to earn my top spot in UFC. I want them to know that when they are watching that fight [April 30 in Toronto] between Jake Shields and Georges St. Pierre that there is another guy out there who beat Martin Kampmann worse."
Sanchez knows that his best chance of accomplishing this goal is getting Kampmann off his feet.
Follow us on Twitter
Don't miss a moment of the latest MMA coverage from around the world. Follow us on Twitter and stay informed. Join »
"I will always be prepared for the ground," Sanchez said. "That's my home, that's where my success started. That's always going to be my biggest strength.
"But all fights start on the feet; I'm prepared to slug on the feet."
Kampmann hopes Sanchez will stay true to his word if the action remains standing. He is eager for a toe-to-toe exchange.
If Sanchez does get him down, Kampmann is confident he can weather the storm and finish the fight there. What's most important is finishing Sanchez in impressive fashion.
"It's about time [for Sanchez to be KO'd]," Kampmann said. "I feel confident in my standup and on the ground too. I feel I am better than him in every aspect of the game, but the place where I have the biggest advantage is in the standup.
"You always have to have a dominant performance if you want to step up the ladder."
Competition within the competition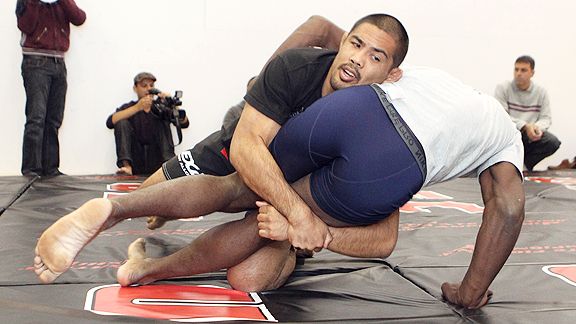 Josh Hedges/Zuffa LLC/Getty ImagesMark Munoz might be a classy wrestler, but he's not too shabby with his punches either.
When two high-level wrestlers enter the cage, it's not unreasonable to expect a lot of ground action. But don't tell that to middleweights Mark Munoz and CB Dollaway.
Both expect this fight to be won by the man who possesses superior striking skills. And Munoz is confident that man is him.
"Since my first fight in UFC, I've changed dramatically," Munoz said. "And I've changed dramatically since my last fight, so be on the lookout for some new stuff.
"My striking has improved, by far. Hopefully, I can do something new rather than a TKO on the ground; hopefully a knockout or submission."
Dollaway welcomes a standup battle. He believes Munoz is a tad overconfident in his striking skills.
"This is a guy I can go out and stand up with," Dollaway said. "He doesn't have that strong striking background. It's a guy I can go out and test my skills against and get that experience."
Turning the page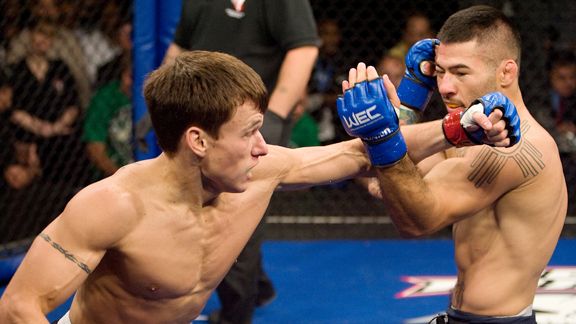 Josh Hedges/Zuffa LLC/Zuffa LLC/Getty ImagesAnother fight, same result? Damacio Page, right, certainly hopes not.
Nearly 2½ years have passed since Brian Bowles applied a guillotine that finished Damacio Page in one round. That hasn't been enough time for Page to get it out of his mind. Page expects to return on Thursday when the two square off at KFC Yum! Center. He won't be satisfied with anything less than a knockout.
"I don't like to lose, and I don't like to lose to someone twice," said Page, who was submitted by Bowles on Aug. 3, 2008. "I don't plan on doing it.
"I'm in better shape. I'm stronger, I'm faster and I've been working on my striking. My overall game is a lot better than it was in the last fight with Brian.
"Both of us have great power for our weight class. It's just a matter of who has the better chin in this fight. I have an awesome chin."
Franklin McNeil covers mixed martial arts and boxing for ESPN.com. He also appears regularly on "MMA Live," which airs on ESPN2. Follow him on Twitter at www.twitter.com/Franklin_McNeil.

Hit the road, Frank!

UFC Live 3 By The Numbers
Diego Sanchez Since Winning TUF 1
| Stats | Lightweight | Welterweight |
| --- | --- | --- |
| Win % | .667 | .727 |
| KO/Sub W/L | 0-1 | 4-0 |
| Dec. W-L | 2-0 | 4-3 |
Most UFC Wins by TUF Fighters
Most UFC Wins By TUF Fighters

Choke's On You!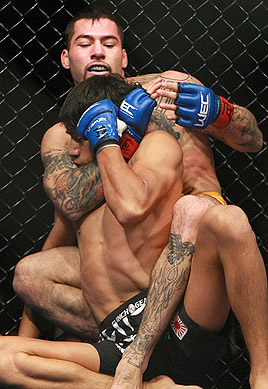 Dave Mandel/Sherdog.com
It's choke and don't be choked this time around for Damacio Page, who was submitted inside the first round when he met Brian Bowles at WEC 35 two years ago. Story »

Quotables

Bowles
"I train in the gym every day, so going out there, going full speed isn't going to be new to me. Having a little layoff hasn't bothered me before, so it's not something I ever have to really worry about." -- Former WEC bantamweight champion Brian Bowles on returning to action for the first time since losing his title to Dominick Cruz on March 6, 2010

Munoz
"With the popularity of mixed martial arts now, people [in Louisville] come up to me and say 'Oh! You do that UFC thing.' They are educated about the sport." -- UFC middleweight Mark Munoz offers his observation of Louisville fight fans

Ellenberger
"I'm just waiting to hear when I will fight again. Hopefully in about two months; eight to about 12 weeks. I'm about 190 [pounds]. I've been training quite a bit, so my weight's been staying low. Usually I get up to about 200." -- UFC welterweight Jake Ellenberger, who's in Louisville to support his friend Mark Munoz