Jackson one win away from title shot?
By Brett Okamoto
ESPN.com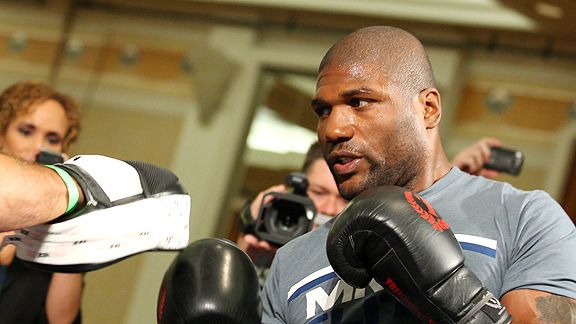 Ed Mulholland for ESPN.comLabor of glove: It's been a long road back to the title for Quinton Jackson.
LAS VEGAS -- The UFC has not officially come out and said Quinton Jackson will earn the next shot at light heavyweight champion Jon Jones with a win at UFC 130 this weekend -- but the writing is definitely on the wall.
Jones had been expected to face former teammate Rashad Evans in a title defense this August. The champ was forced to back out of that fight, however, citing that he needed surgery on his injured hand. Evans was then paired with Phil Davis, only to have Jones say shortly after he had ultimately decided against surgery.
Listen to the ESPN UFC podcast
It's now expected Jones will be back in action as soon as September, making a fight with Evans highly improbable. If Jackson defeats Matt Hamill this weekend, all roads point to him taking the fight with Jones.
"We'll probably make a decision [on Jones' next opponent] after this weekend," said UFC president Dana White. "Let's say Rashad wins that fight [with Davis] in 30 seconds; we will have already shot commercials three months out. It'd be impossible to do."
The other option the UFC has is former champion Lyoto Machida. While that fight is intriguing, White says Jackson is still a far more desirable opponent, and basically admitted the promotion is looking at that fight.
"If Rampage wins, you have to be more interested in him," White said. "Machida is coming off a win over [Randy] Couture, but I think Machida needs another fight.
"But with the way my luck has gone lately, who knows?"
White: CSAC came down too hard on Sonnen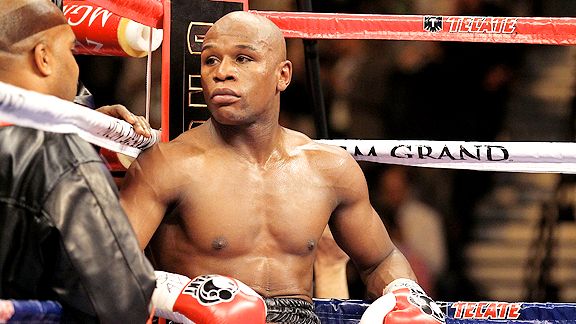 Jed Jacobsohn/Getty ImagesWould the CSAC have been as severe to Floyd Mayweather Jr.?
Earlier this month, the California State Athletic Commission voted 4-1 to uphold an indefinite suspension of UFC middleweight Chael Sonnen.
The two issues considered were the commission's belief Sonnen lied during an appeal hearing in December regarding his suspension for elevated testosterone levels in a previous fight and his recent guilty plea to federal money laundering charges in Oregon.
Follow us on Twitter
Don't miss a moment of the latest MMA coverage from around the world. Follow us on Twitter and stay informed. Join »
White, who pointed out the fact Sonnen already served a year-long sentence from the CSAC, felt the ruling was "incredibly, amazingly unfair" and did not correspond with similar situations in the sport of boxing.
"I think what happened to Chael Sonnen was above and beyond what would normally happen with boxing," White said. "[Sonnen] did some dumb stuff, manned up, was punished and he took it on the chin. Once that sentence is over, it's over man."
Highlighting examples in boxing, White said there have been situations where "fighters have put weapons inside their hands and fought another human being."
Last year, former boxing world champion Antonio Margarito, who was caught using illegal hand wraps in a fight against Shane Mosley in 2009, was licensed by the Texas Department of Licensing and Regulation to compete in a multimillion dollar fight with Manny Pacquiao in November.
White also named Floyd Mayweather Jr. as an example, saying Mayweather would have no problem getting licensed, despite currently facing several felony charges.
"Floyd Mayweather's been running around town punching everybody in the face and threatening people," White said. "How fast would Floyd Mayweather get licensed?"
St. Pierre-Diaz far from signed and sealed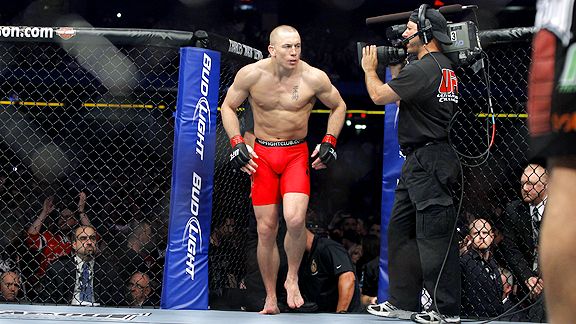 Ric Fogel for ESPN.comFight fans are no closer to knowing where and against whom they'll see GSP fight.
When news broke earlier this week that Strikeforce welterweight champion Nick Diaz would not participate in a professional boxing match later this year, rumor spread it was because he was being offered a fight against Georges St. Pierre.
Rather than confirming that news as some expected, White was adamant that a fight between the two champions is nowhere near being finished.
"I wouldn't say Diaz is out of the picture [as St. Pierre's next opponent]; we just don't know yet," White said. "You guys are playing the whole GSP, Diaz thing way too much."
Additionally, White said it's not even likely that St. Pierre will make an appearance at a proposed December event in Montreal.
"December in Montreal? No," White said. "GSP is not fighting in December in Montreal."

Missing Something?

UFC 130 By The Numbers
Tale of the Tape
How they match up
| Stats | Jackson | Hamill |
| --- | --- | --- |
| W-L | 31-8 | 10-2 |
| Age | 32 | 34 |
| Height | 6'1" | 6'1" |
| Reach | 73" | 76" |
| Strength | Wrestling | Wrestling |
Most Wins At 205 Pounds In UFC
Most UFC Wins at 205 Since TUF 3
Most Wins as Heavyweight In UFC History
Most UFC Wins By Submission

Stann And Deliver

Quotables
Torres
"It's like you have an old muscle car that has a lot of horsepower and runs well, but every now and then you have to give it a complete overhaul. That's what Firas is doing with me." -- Miguel Torres, on working with Firas Zahabi