Dos Santos prepared for ground battle
By Brett Okamoto
ESPN.com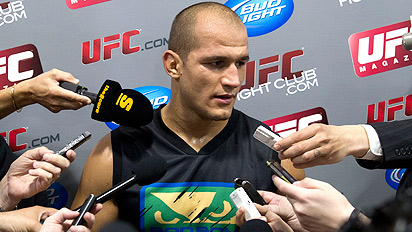 Rich Lam/Zuffa LLC/Getty ImagesThe tough question: We'll know Saturday how Junior dos Santos handles a bona fide wrestler.
LAS VEGAS -- One of the most interesting aspects of the buildup to any fight is the game plan each fighter has in store for the other.
Follow us on Twitter
Don't miss a moment of the latest MMA coverage from around the world. Follow us on Twitter and stay informed. Join »
It's especially interesting headed into UFC 131, with striking specialist Junior dos Santos taking on a wrestler-turned-KO-artist in Shane Carwin.
Dos Santos (12-1) has yet to fight a UFC opponent with anything close to an elite wrestling background. That's about to change this weekend with Carwin (12-1), a two-time Division-II NCAA wrestling champion.
It would appear that dos Santos' takedown defense will finally be tested, except for one thing -- Carwin doesn't fight like a wrestler. In fact, according to FightMetric, Carwin has landed more significant strikes than any fighter in the UFC since 2000.
"This is a fight for the fans," Carwin said. "When you look at Junior and what he believes in and you look at me and what I believe in, somebody's going to go down."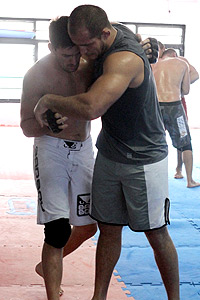 Marcelo Alonso/Sherdog.comJunior Dos Santos, right, has enlisted the help of some friends to bring his grappling up to speed.
Despite those comments, dos Santos doesn't believe Carwin has any intention of allowing the fight to stand. The Brazilian fighter focused heavily on wrestling during his recent camp, enlisting the help of Mark Munoz and Phil Davis.
He did not, however, add extra weight to conceivably make takedowns more difficult. At 240 pounds, dos Santos is one of the smaller fighters in the division, but feels that's to his advantage.
"I feel really great with my weight," dos Santos said. "I feel strong and fast. My speed is very good. I didn't change anything because of this fight."
If Carwin's telling the truth, dos Santos won't need to utilize what he learned from those training partners this weekend. But it wouldn't be the first time a fighter was less than honest about a game plan.
"I'm very passionate with boxing," Carwin said. "I love to stand and bang. That's the part that gets me excited."
It's touch and go for KenFlo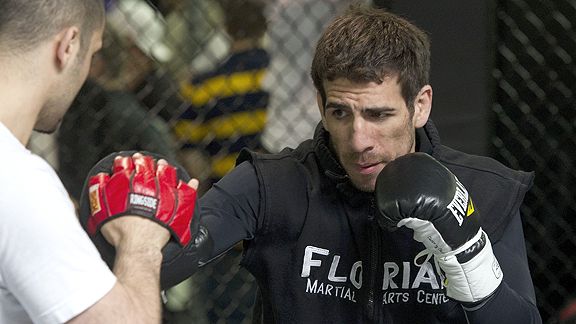 Rich Lam/Zuffa LLC/Getty ImagesEven Kenny Florian isn't quite sure how his drop to featherweight will play out.
Basically three days from the official weigh-in for his 145-pound debut, former lightweight contender Kenny Florian is confident that everything is as it should be.
But, honestly, he won't know for sure until it happens.
Listen to the ESPN UFC podcast
Choosing to forgo the strain of a practice cut, Florian's drop to the 146-pound featherweight limit Friday will be his first attempt to do so. During Tuesday's open workouts, Florian said he feels good but admitted it's been a challenge.
"It's been a tough test of discipline," Florian said.
Under the guidance of nutritionist George Lockhart, Florian (13-5) says he's followed a strict diet which, if all goes well, will allow him to actually cut less water weight Friday than he normally did as a lightweight.
He's expecting a noticeable advantage in size and strength over his UFC 131 opponent, Diego Nunes (16-1), despite having to eliminate his strength programs during the final weeks of camp to stay at his target weight.
"I had to get away from weights the last few weeks," he said. "I still feel fine and I think I'll have a pretty good size advantage. I don't think I had to lose much muscle, but there was definitely some management with that."
Because he decided against a practice cut, Florian is also unsure how much weight he'll put back on in time for the fight, although he guessed it would be in the ballpark of 15 pounds.
Regardless of the outcome at featherweight, Florian -- who will be the first fighter to compete in four UFC weight classes -- says this is it as far as dropping down.
"[UFC bantamweight champion] Dominick Cruz at 135, that I can say for sure I'll never do," Florian said.
Stout's return a long time coming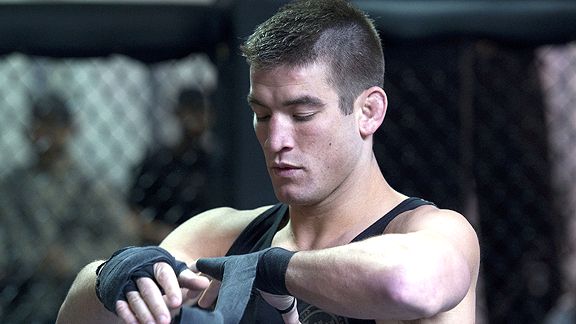 Rich Lam/Zuffa LLC/Getty ImagesFinishing touch: Sam Stout is gunning for the KO against Yves Edwards.
Lightweight Sam Stout is looking forward to his return to the Octagon after an eight-month layoff due to a partial tear on his right triceps tendon.
The injury occurred during his last fight, a split-decision win over Paul Taylor, at UFC 121 in October. Stout was initially diagnosed with an elbow infection, but had to pull out of a scheduled fight at UFC 126 when his condition worsened.
"I got an infection and had to be hospitalized," Stout said. "I got on antibiotics but once the infection was gone, it was still bothering me. I tried training with an elbow pad but eventually said 'This isn't getting any better.'
"An MRI showed I had a partial tear."
Stout (16-6-1) was forced to stay away from contact training for six to eight weeks, but avoided surgery. Now fully recovered, the Canadian fighter is looking hard for his first-ever finish in the UFC against Yves Edwards (40-16-1).
Although he consistently turns in exciting performances, resulting in five career "Fight of the night" bonuses, the finish has eluded Stout thus far in the UFC.
"A reason I don't get mentioned for title contention is I haven't been finishing any fights in the UFC," Stout said. "My goal is to try and do that. I'm not going to force anything or take any unnecessary risks, but a decisive win against Yves Edwards would put me in the right direction."

High Noon For Cerrone

UFC 131 By The Numbers
Tale of the Tape
| Fighter | dos Santos | Carwin |
| --- | --- | --- |
| W-L | 12-1 | 12-1 |
| Age | 26 | 36 |
| Height | 6'4" | 6'2" |
| Reach | 77" | 80" |
| Strength | Boxing | Wrestling |
MMA Career Comparison
Fighter
dos Santos
Carwin
Wins
12
12
1st-rd finishes
10
12
Finish pct
84.6
92.3
Avg fight time*
5:52
2:54
*In UFC
Longest UFC Heavyweight Winning Streaks
Shortest Avg Fight in UFC Since 2000
Most Strikes Landed Per Minute In UFC Since 2000
| Fighter | Strikes/Minute |
| --- | --- |
| Shane Carwin | 7.7 |
| Cain Velasquez | 7.5 |
| Junior dos Santos | 7.2 |
| Luiz Cane | 5.4 |
Kenny Florian Since TUF 1 Finale
Contender Bouts
All Other Bouts
W-L
0-3
11-0
KO/Sub W-L
0-1
10-0
Dec W-L
0-2
1-0
Most UFC Wins by Submission

State Of The Heavyweights

Quotables
Florian
"The skinny jeans I was wearing before are now big on me, so I need a new wardrobe." -- Florian, on the need to shop for new clothes since moving down to the featherweight division
Maia
"I enjoy striking, but I think it's dangerous. I enjoy training it more than [using it] in a fight." -- Maia, on "playing" it safe and relying on jiu-jitsu in the Octagon
Carwin
"I can honestly say I left it all in there. If it had been gladiator days, he would have stabbed me and that would have been the end of it." -- Carwin, on his loss to Lesnar in UFC 116
Munoz
"I'm not here to just score points. I'm here to prove a point. If the point is to submit an awesome jiu-jitsu black belt in the UFC, I'm gonna do it. What if? The 'what if' can happen." -- Munoz, on possibly submitting Maia