Silva wants to fight five more years, but can he?
By Brett Okamoto
ESPN.com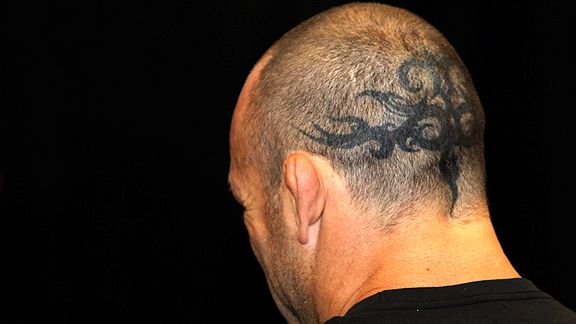 Josh Hedges/Zuffa LLC/Getty ImagesBack of his mind: The last thing Wanderlei Silva is thinking about is life after glove.
LAS VEGAS -- Following more than a year layoff due to knee surgery, Wanderlei Silva returns to the Octagon this weekend at UFC 132 and says he doesn't consider himself even close to the end of his career.
In his mind, retirement lies far off in the distance -- somewhere around 2016.
Follow us on Twitter
Don't miss a moment of the latest MMA coverage from around the world. Follow us on Twitter and stay informed. Join »
"It was a tough year of recovery for me," Silva said. "I'm so excited. I feel the same thing now [that] I felt for my first fight.
"My plans are to fight for the next five years. I want 10 more fights. That's my plan."
While there's little question Silva's passion for the sport will hold up that long, there are concerns regarding his health. In addition to the knee, Silva has suffered three knockout losses in the past four years and underwent facial surgery to dull feature structure in 2009.
He'd likely be able to last longer in the sport if he fought a more conservative style, a fact he openly admitted this week. When asked if he'd last another five years using the aggressive style that's come to define him, Silva answered, "Good question."
"Sometimes, people say, 'You need to fight smart,'" Silva said. "After a fight gets started I don't know what happens with me. I feel crazy. A lot of times my coach says, 'Calm down. Calm.'"
Even if the plan is to fight smart this weekend, that will be a hard rule to follow considering Silva (33-10-1) fights a notorious brawler in Chris Leben.
Leben (25-7) has reached a point in his career where he doesn't even hide the fact he's looking for a back-and-forth fight rather than a smart, conservative win.
"I want to see guys fight to win and not fight not to lose," Leben said. "I'd rather have five great fights than have the title for five fights that sucked."
Mended Ortiz means serious business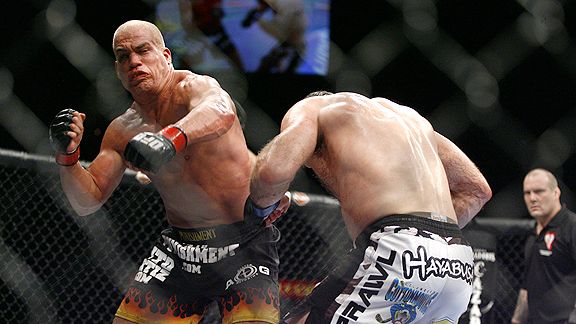 Ric Fogel for ESPN.comHealthy and aggressive is not what you want to be facing in Tito Ortiz.
Tito Ortiz doesn't mind he's been all but counted out in his light heavyweight fight against Ryan Bader this weekend.
By his account, people have been counting him out his entire life.
UFC 132

Get ESPN.com's full coverage of Saturday's UFC 132 event.
Topic page
"The negative stuff is something that's been drawn to me my whole life," Ortiz said. "You've got to understand, I came from the streets where people told me I'd be a piece of s--- my whole life.
"All the naysayers aren't the guys in the gym, pushing themselves for five fives [five five-minute rounds]. Let the critics be the critics. They don't get in the cage and they don't fight."
Ortiz (15-8-1) says he's "very confident" headed into the fight with Bader (12-1) despite the fact he's listed as a 5-to-1 underdog and hasn't claimed a victory since October 2006.
Listen to the ESPN UFC podcast
The former UFC champion says his health has been partially to blame for the skid. He also points to the level of competition he's fought -- four of his past five opponents have won a UFC title.
"I'm still fighting the top competitors in the world," Ortiz said. "I fought Rashad Evans to a draw. [Lyoto] Machida got the better of me but in the last 30 seconds I almost had him. Forrest Griffin -- I fought right after back surgery and I thought I beat him. I didn't respect [Matt Hamill's] takedowns and he beat me by takedown.
"Once again, I'm fighting Bader who is top-5 in the world."
Now that he says he's back to 100 percent, Ortiz is confident he can start winning these fights instead of simply making them competitive. Against Bader, he says he's planning to revert to his old aggressive ways -- something the 28-year-old expects.
"You used to see him take people down more often," Bader said. "His last couple fights, I think he tried one takedown. Whether that's him not thinking he can and not spending the energy wrestling, I don't know.
"Maybe that's from being older but I'm expecting him to come out aggressive this fight."
Faber: 'Cruz is more predictable than you think'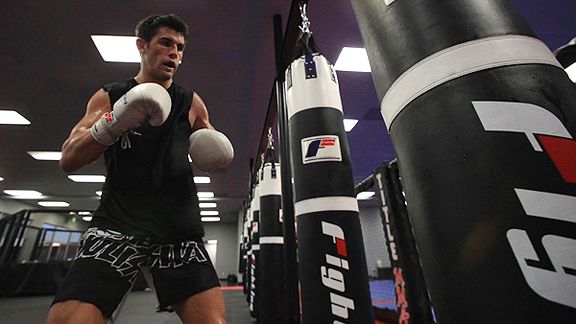 Dave Mandel for Sherdog.com After two knee operations, Dominick Cruz has been cleared by doctors to do some training.
One of the perceived reasons behind Dominick Cruz's overwhelming success is his tendency to not have any tendencies.
In other words, Cruz is about as unorthodox as they come. He's at his best when he's in motion -- and he's always in motion. His style is so unique it appears to have no repetitions to pick up on. But Urijah Faber says he's found a few.
"I don't care how much he moves around, there is some consistency to what he does," Faber said. "It looks like he's all over the place but it's a lot of the same motions with different moves on the action.
"I'm the same type of fighter where I fight off reaction. So, it's going to be action, reaction. It's going to be exciting and I'm going to solve the problem."
Faber (25-4) holds a mental advantage in knowing he's solved the Cruz (17-1) riddle before. His first-round submission win in 2007 remains the only blemish on Cruz's record.
According to Faber, the mental advantage doesn't necessarily stop there. There's been no lack of attention placed on the animosity between the two, something Cruz said the media has "blown up."
Faber also somewhat downplayed the rivalry but said the psychological relationship the two have built is a unique one.
"In the real world, yes, I feel like if we ever can be cordial there's a lot I could teach him," Faber said. "I think he knows that although he dislikes me there's some admiration there he's not letting on and that irks him.
"Bottom line, I don't care about anything outside of the cage. I care about that belt."

Dos Of Your Own Medicine

UFC 132 By The Numbers
Tale of the Tape
| Stats | Cruz | Faber |
| --- | --- | --- |
| W-L | 17-1 | 25-4 |
| Age | 25 | 32 |
| Height | 5'8" | 5'6" |
| Reach | 68" | 69" |
| Strength | Boxing | Wrestling |
Since 2007 Meeting
| Stats | Cruz | Faber |
| --- | --- | --- |
| W-L | 8-0 | 7-3 |
| Title bouts | 3-0 | 3-3 |
| TKO/Sub | 2-0 | 5-1 |
| Dec | 6-0 | 2-2 |
Longest Bantam Defense Streak (WEC/UFC)
| Fighter | Defenses | Years |
| --- | --- | --- |
| Miguel Torres | 3 | 2008-09 |
| Dominick Cruz | 2 | 2010-pres |
| Chase Beebe | 1 | 2007 |
Most Wins at 185 Pounds in UFC History
Most Strikes Landed in UFC Since 2000
Wanderlei Silva's Longest Layoffs
| Years | Days | Result |
| --- | --- | --- |
| 2010-11 | 497 | ?, Chris Leben |
| 1997-98 | 342 | W, Mike Van Arsdale |
| 2007 | 308 | L, Chuck Liddell |
| 2002-03 | 259 | W, Kazushi Sakuraba |
| 2009-10 | 252 | W, Michael Bisping |
Best Significant Strike Defense In UFC Since 2000
Fighter
Strike Percentage Defense
Jon Madsen
81.4
Ryan Bader
76.1
Georges St. Pierre
75.6
Frankie Edgar
73.8
*Min. 5 fights & 350 strikes
Most Losses in UFC History
| Fighter | Losses |
| --- | --- |
| Tank Abbott | 10 |
| Chris Lytle | 10 |
| Tito Ortiz | 8 |
| Randy Couture | 8 |

Condit Steps It Up

Quotables
Kim
"Style-wise in the UFC, I'm probably the best matchup for [Georges St. Pierre]. I'm going to have to prove that by winning this fight." -- Dong Hyun Kim, on promoting himself as the fighter to derail Georges St. Pierre
Cruz
"Ever since I won the [bantamweight] title it's been, 'When are you going to fight Urijah?' That's all anybody's asked. I'm tired of hearing it. Here it is. Let's do it." -- Dominick Cruz, on his long-awaited rematch with Urijah Faber
Faber
"I didn't think much about him. I don't dream for other people. He was thinking about me. A lot. Almost kind of weird but what are you gonna do?"-- Faber, on Cruz's obsession with his conqueror
Leben
"That's all we hear about is guys saying, 'I want that belt. I want that strap.' Don't get me wrong, I want it but on any given Sunday there's someone not in the UFC who can beat me. I just want to have epic fights." -- Chris Leben, on his motivation for fighting