Barao looks to extend streak against Dillashaw
There is no elephant in the room when it comes to T.J. Dillashaw this week. No need to be awkward about it. He knows no one expects him to win this fight.
Dillashaw (9-2) has fully embraced his role as an underdog ahead of Saturday's bantamweight title fight against Renan Barao at UFC 173 in Las Vegas. He kind of had to.
Oddsmakers have pegged Barao (32-1) an 8-to-1 betting favorite in the fight. UFC president Dana White has spent basically all of 2014 singing the Brazilian's praises. Even the UFC 173 fight poster sort of makes Dillashaw look like a human sacrifice.
It's cool, though. Dillashaw gets it. In a weird way, he even agrees with it. Barao has won 32 consecutive fights dating back to 2005 -- he should be the favorite.
"I have to embrace it," Dillashaw told ESPN.com. "It's all over the place. Not only is he the champion, he has the longest win streak in history. I see him as the pound-for-pound best because of that winning streak.
[+] Enlarge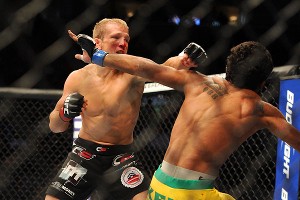 Rod Mar for ESPNBantamweight contender T.J. Dillashaw has accepted and embraced the underdog role against champion Renan Barao at UFC 173.
"Everybody has a day when they're going to lose, though. Renan Barao has one."
One advantage Dillashaw might have in the matchup is that not only has he seen a lot of Barao on a personal level, he has even had to imitate him at practice.
Dillashaw was Urijah Faber's primary training partner the first time "The California Kid" fought Barao at UFC 149 in July 2012. Dillashaw was responsible for imitating Barao during sparring sessions to help Faber prepare.
That could be a good thing and a bad thing, Dillashaw admits. He's extremely familiar with Barao, which theoretically should be an advantage. At the same time, Dillashaw says he doesn't want to be thinking and predicting during the fight. He wants to react.
"There is definitely positives and negatives to it," Dillashaw said. "I've studied this opponent more than any other I've had because Urijah fought him. I don't want to get too much into thinking, though. I want to have a reaction when I'm out there.
"When I'm not thinking, I'm a faster athlete. If you start trying to think about what he's going to do, it slows you down. I just want to have fun once I step in there and prove everyone wrong."
---
MAIN EVENT: BANTAMWEIGHT CHAMPIONSHIP
Breakdown: Before Dillashaw can even think about knocking Barao out, he has to focus on touching him first. Crawl before you walk sort of thing. Baby steps, T.J.
He has to commit to a long-term relationship here. Welcome a finish, but don't look for one. As a naturally aggressive fighter, Dillashaw can have trouble with that. If he head hunts even a little bit in this fight, he's all done.
Defensively, Barao is nothing short of a wizard. He's patient, man. Everything is on his terms. He blocks punches remarkably well and always knows where he is in the cage. His defense is actually capable of setting up offensive opportunities. Guys start thinking, swinging, reaching and forget to defend themselves.
The amount of time Dillashaw has devoted to improving his standup is obvious, and he'll need to utilize every tiny thing he has learned to stand a chance. It sounds weird, but he almost needs to expect failure in this fight. Expect to miss, accept it and keep going. He also needs to keep his right hand, which he'll drop from time to time, up.
As good a wrestler as Dillashaw is -- outstanding scrambling ability, a lynchpin of all Team Alpha Male members -- it's hard to envision him taking Barao down. If he does, it will be because he managed to walk him to the fence and bring his hands up. Any takedown attempt out in the open, you know Barao is defending that.
Prediction: Dillashaw is a very good bantamweight, but Barao has made a habit of making very good bantamweights look bad. Dillashaw is versatile enough to force a fight, but I don't think he's fluid enough to win one. BARAO BY SECOND-ROUND TKO.
---
CO-MAIN EVENT: LIGHT HEAVYWEIGHTS
Breakdown: Before you feel a real sense of doom and gloom for Henderson, spend the next 10 minutes searching for video of his career highlights. Go on, I'll wait.
See? It's not as if an unarmed man is being led to his slaughter here. It has been less than 65 days since he demolished Mauricio Rua's nose with one short right hand. It doesn't matter what number Henderson's age is up to. He's still dangerous.
Now having said that, this is a pretty wicked matchup for him. He has always relied on the right hand, but recently, it's nearly all he has got. He might shoot if he's in trouble, but other than that, he wants the overhand right or the uppercut inside.
Cormier has proven to be a pro's pro through 14 fights. Luck has had nothing to do with his success. He comes prepared and fights smart. You know he has read the book on Henderson inside and out, especially the chapter on the right hand.
Right now, Cormier's hand speed is superior to that of Henderson. So is his movement and, quite possibly at this weight, his cardio. He's not immune to big moments -- he looked hesitant against Frank Mir and Roy Nelson -- but quite frankly, if he has to, he can probably take the much smaller Henderson down and keep him on his back.
Prediction: Cormier comes out hard. Why not? You don't show an old warhorse like Henderson respect once the fight starts. Put him on his heels and run him out of the cage as soon as possible. CORMIER BY FIRST-ROUND TKO.
ESPN Staff Writer
MMA columnist for ESPN.com
Analyst for "MMA Live"
Covered MMA for Las Vegas Sun
Brett's Picks
FIGHT OF THE NIGHT
Robbie Lawler vs. Jake Ellenberger: Self explanatory. Lawler has arguably been the most entertaining fighter in the sport since he rejoined the UFC roster last year. This fight should be terrific for as long as it lasts.
KNOCKOUT OF THE NIGHT
Daniel Cormier vs. Dan Henderson: If an H-bomb goes off, UFC 173 goes nutso. Cormier has a good opportunity to do some damage, as well. Chances of a knockout are not too shabby in this fight.
BIGGEST STORYLINE
Henderson: It's a rare set of circumstances that surround the 43-year-old Henderson. On one hand, he has his back against the wall when it comes to retirement talk. At the same time, he's one win away from a UFC title shot.
BIGGEST QUESTION
Renan Barao: Is he the No. 1 fighter in the world? UFC president Dana White sure seems to think so. Pound-for-pound rankings are sort of a "to each his own" thing, but if Barao starches Dillashaw early, will more jump on his No. 1 campaign?
ON THE HOT SEAT
Jamie Varner: The former WEC lightweight champion is far better than his recent 1-3 record suggests, but he has battled inconsistency in the UFC. Quite frankly, he needs a win badly.
ONE TO WATCH
Tony Ferguson: Injuries have cooled down Ferguson since a breakout 3-0 run in 2011. The TUF 13 winner is a proven finisher and a dark horse at 155. He faces an unorthodox veteran in Katsunori Kikuno.
By The Numbers
0
Renan Barao has yet to allow a takedown in 7 UFC fights after having stopped all 17 attempts.
1
Barao has just one blemish on his ledger -- a unanimous-decision loss in his pro debut against Joao Paulo Rodrigues de Souza in 2005.
4.8
T.J. Dillashaw's 4.8 strikes landed per minute is the most in UFC bantamweight history.
33
Barao has not tasted defeat in 33 consecutive fights and enters UFC 173 on a 22-fight win streak.