Howard hopes win helps land fight with 'Rumble'
By Franklin McNeil
ESPN.com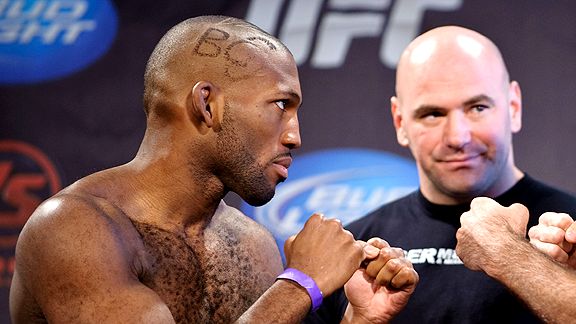 Martin McNeil for ESPN.comJohn Howard is ready to 'Rumble' but he'll have to get past Matt Brown first.
PITTSBURGH -- Putting an end to his two-fight skid is high on John Howard's to-do list. He gets a chance to snap it tonight against fellow welterweight Matt Brown at UFC on Versus 4. But handing Brown his fourth loss in a row isn't what motivates Howard. Howard is eager to fight; he has a bone to pick, but it ain't with Brown.
The man Howard wants to get his hands on is Anthony Johnson. And the sooner he gets Johnson, the better. A victory over Brown will go a long way toward helping Howard land a fight with Johnson -- and that's all the motivation Howard needs.
Follow us on Twitter
Don't miss a moment of the latest MMA coverage from around the world. Follow us on Twitter and stay informed. Join »
"I don't like that kid [Johnson] and he doesn't like me," Howard told ESPN.com. "It's hard to be in the same room with him. Me and that kid have some serious problems.
"Hopefully, we can fight in the UFC, but if it doesn't happen in UFC, it's going to be a street fight because me and that kid have some personal issues. I hope it happens in UFC."
According to Howard, the problem stems from a name-calling incident several months ago -- an incident in which Howard feels Johnson went too far.
"He called me a cotton-picker. I took that real personal," Howard said. "That's something you don't say to me. Me being African-American [Johnson is as well], you don't go that far. This will get settled."
Despite the war of words, Howard won't allow it to interfere with his plans for Brown. There is too much riding on a victory.
"I have to get through Matt Brown," Howard said. "If everything works well my way, then I will fight Anthony Johnson next.
"I'm a professional at the end of the day. I have to look past that, knowing I will get to deal with [him] at a later date. He's going to get dealt with, either way."
Morecraft moves past Struve debacle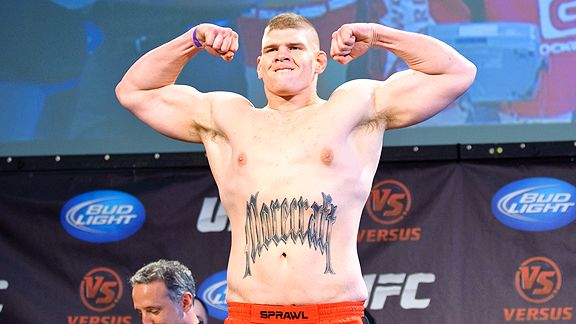 Martin McNeil for ESPN.comBouncing back: Christian Morecraft wants to put his loss to Stefan Struve behind him for good.
The UFC 117 loss to Stefan Struve still tugs at Christian Morecraft, despite his bounce-back win over Sean McCorkle in March.
Listen to the ESPN UFC podcast
But he might finally be able to put that setback behind him, if all goes according to plan.
Morecraft faces undefeated heavyweight Matt Mitrione, but he will be a more refined fighter than the one Struve defeated.
"It's very important [to hand Mitrione his first loss]," Morecraft said. "It's important to me and my team, how hard we've worked. I was dominating my fight with Stefan Struve. But my stand-up wasn't close to what it is now.
"I've filled that divot in my game, and can't wait to unleash it on somebody."
Franklin McNeil covers MMA and boxing for ESPN.com. He also appears regularly on "MMA Live," which airs on ESPN2. Follow him on Twitter at http://twitter.com/Franklin_McNeil.

Griffin's Featherweight Flight

Story's Time At Welterweight

Meat Your Match!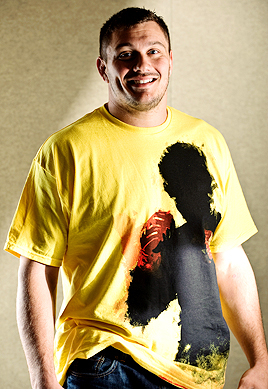 Martin McNeil for ESPN.com
Matt "Meathead" Mitrione can move a step closer to the heavyweight title picture with a win over Christian Morecraft. Rumor Central


Quotables

Johnson
"This fight is going to give everyone a chance to see how I've grown and changed as a fighter. It will show how good I can be and will be in the future. I will meet and surpass everybody's expectations on Sunday." -- UFC lightweight prospect Michael Johnson, on the importance of his fight with Edward Faaloloto

Barry
"He was known as one of the most deadly heavyweight strikers in UFC. I never brag and I don't have the most killer ego, but that's just something I couldn't handle hearing." -- Heavyweight Pay Barry, on why he wanted to fight Cheick Kongo