Hardy lives up to "Outlaw" moniker once again
By Chuck Mindenhall
ESPN.com
Dan Hardy came into Sunday's fight with a pretty good idea of the stakes. Lose and be cut. Win and stick around. Win via knockout and make history against Chris Lytle, who never gets knocked out -- especially in swan song fights. There was a lot going on for a modest main event. Yet, the "Outlaw" turned the trick of living up to his original persona in the end -- he fought valiantly and lost defiantly.
Hardy stood in the pocket and absorbed combinations from the gut to the thorax to the chin. He ate jabs, looping rights and uppercuts. He timed out his fair share of retaliatory fire, too. He countered; he initiated. The heads were whipping, and each man was intimately familiar with the other's wheelhouse. In other words, he and Lytle lived up to billing. Then, for the second time in the fight, he shot for a takedown -- a rickety shot, and a declaratory shot -- and in the process hung his head. He was choked and forced to tap.
The tapping? That was the hard swallow, something Hardy swore he'd never do. Remember Georges St. Pierre's pack of Kimuras?
It was a cruel set of sequences for Hardy, a golden sayonara for Lytle. Yet it ended up being at bittersweet moment for Hardy, too. Before the suspense of his release could get started, he was assured his roster spot was safe by Lorenzo Fertitta via Twitter. He'll take some time off, but Hardy's next fight will be in the UFC. This goes against all odds for a traditional anti-wrestler who would rather stand and trade and leave somebody definitively whooped. But, hey, the "Outlaw" has made a career on this kind of defiance.
Five new storylines
By Chuck Mindenhall
ESPN.com
Chris Lytle leaves his mark in the cage.
He will ride off into the sunset on his new Harley-Davidson with a little over $500K in end-of-the-night bonuses spilling out from his sock drawer. Lytle fought 20 times in the UFC and was consistent -- he was a completely non-mediocre 10-10 -- and he fought the bulk of his bouts with the idea of getting you to the edge of your seat (usually succeeding). Not bad.
---
Duane Ludwig (re)emerges.
It's not like
Duane Ludwig
hasn't been around. He has. Ludwig has fought over 30 times, trading wins and losses over his last 15 fights (8-7). But when he engages in a kickboxing battle with
Amir Sadollah
and each man's face ends up the color of marbled meat, that'll do something to man and viewer alike.
---

Ed Herman makes most of time away.
He is called "Short Fuse" because he's the most temperamental kind of fighter, but that was the old
Ed Herman
. The new one methodically goes about setting up inverted heel hooks that wreck guys on five-fight winning streaks -- guys like
Kyle Noke
. It was Herman's first submission win since UFC 72, when he forced
Scott Smith
to tap out via rear-naked choke.
---
Slimmer Hamman equals better Hamman.
He may look pedestrian, but
Jared Hamman
usually brings it, as his last two performances (each good for Fight of the Night honors) proved. Yet he went down to middleweight for the old-fashioned reason that he could, and overcame CB Dollaway's early pressure to TKO him in the second round. Where he was 1-2 at 205 pounds, he's now a far more memorable 1-0 at 185.
---

Introducing Ronny Markes.
Sometimes Vegas odds are rolled out as the most naked reflection of popularity. Hardly anybody knew who Brazilian
Ronny Markes
was heading into his fight against heavy favorite
Karlos Vemola
, yet for three rounds he introduced himself as a rude guest by taking things to the ground and demonstrating Rio Grande do Norte's version of hell. A Brazilian with wrestling? Look out, helter-skelter.
Five new questions
By Chuck Mindenhall
ESPN.com
Q: Where does Sunday's win put Ben Henderson?
A: Ben Henderson did more than throw his sombrero toward the short list of contenders; he whipped a guy in Jim Miller who isn't accustomed to that sort of treatment. For three rounds. Dynamically. So where does this get Bendo in the deep 155-pound scheme of things? Closer, but not quite next for a title shot. He should have to beat either Clay Guida (four straight wins and available) or Melvin Guillard (fighting Oct. 8 against Joe Lauzon) to get a crack at the belt.
Q: What's next for Jim Miller?
A: That's a tough paddle to the penultimate spot in the UFC's most competitive division, then to leave his bid at the altar of Bendo. Now Miller is forced to start paddling again. Who is next for him? Maybe Anthony Pettis, whose path to the title took a similar veering trajectory when he lost a "stay-busy" fight with Guida.
Q: Is Cowboy Cerrone top-10 material?
A: It's getting to the point Cerrone's performances come with a guarantee of detonation. If you saw how good Charles Oliveira looked against Nik Lentz, you know for Cerrone to plow through him is no joke. He has two Achilles' heels -- Henderson and fighting for the belt. If he keeps winning, re-encounters with these sorts of things could become inevitable.
Q: Is bantamweight a fighter purgatory for Joseph Benavidez?
A: His win against Eddie Wineland was impressive and established Benavidez as the division's asterisked No. 1 contender. The problem is Joe B-Wan Kenobi has already fought (and lost to) champ Dominick Cruz twice. So what to do? Where to go? Well, maybe a potboiler fight before the UFC introduces the flyweight division in early 2012. He and Ian McCall would leave scorch marks across the cage.
Q: Did we vastly overestimate Dan Hardy?
A: It's easy to pile on when a guy drops his fourth fight in a row, but Hardy earned his title shot against Georges St. Pierre last year. In retrospect, it was a mismatch of leviathan proportions, given GSP's wrestling and Hardy's lack thereof, but the UFC is never opposed to highly visible, well-spoken and completely unflinching fighters. Now it's left to Hardy to catch up his game to his soaring cult status among fans (many of which are fighters and Zuffa higher-ups).
The winners and losers of UFC 133
By Chad Dundas
ESPN.com
Here's a look at whose performances were worthy of the medal stand on Sunday night, for better and for worse ...

(Tie) Ben Henderson and Chris Lytle.
Henderson made himself an instant contender in the lightweight division by stealing Jim Miller's thunder (and snapping his seven fight win streak) with a unanimous decision win. For Lytle, you couldn't have scripted the final fight of his 12-plus-year career any better as he engaged in a three-round slugfest against Dan Hardy, only to choke the Brit unconscious with a guillotine choke during the final minute. Oh, and he also made six figures by netting two of the UFC's incentive-based bonuses.
---

Jim Miller.
Miller's two-year march toward a title fight ended on a sour note Sunday, as he fell just one win short. Previous to this, his two career losses had come to the two guys who will rematch for the title at UFC 136 -- Frankie Edgar and Gray Maynard. He'll likely spend the next few days wondering what went wrong against Henderson. Hopefully, it doesn't take him another two years to get back into contention.
---

Cole Miller's one-arm guillotine on TJ O'Brien during the preliminary card.
If Lytle hadn't snapped up nearly every postfight bonus -- and a brand new Harley-Davidson motorcycle -- during his UFC swan song, Miller certainly would have been a shoo-in for the Submission of the Night cash with the slick tap out he elicited from O'Brien. After dropping his foe with a punch just over two minutes into the second round, Miller went to top position and didn't even bother with the other arm as he slipped the choke around O'Brien's neck. From here, Miller will likely either drop to featherweight or take on longtime rival Donald Cerrone at 155 pounds. Either way, his job is secure for the time being.
---

"Man, that bum is so far out of my radar. I don't care who I fight next but, yeah, I'll whip is ass anytime."
-- Cerrone, on Cole Miller
---

As mild-mannered as he claims to be, Henderson admitted after the fight he was a little bit perturbed by past comments Miller had made about WEC fighters' absorption into the UFC ranks and how it had been "tough to swallow" for Miller that fighters such as Henderson and Anthony Pettis were jockeyed to the front of the lightweight line. When asked about it at the postfight media conference, Henderson and Cerrone exchanged knowing grins. "We're not the little brothers, right?" Cerrone said. "Not so much," Henderson replied. "I think the little brother just beat up the big brother," Cerrone said. "I'll just say this," Henderson said, then stopped, looked at the room full of reporters and smiled from ear to ear.
Who's trending after UFC Live 5?
The MMA stock ticker is always running. Here's a rundown of whose career is on the verge of boom times and who might be slipping into a recession ...
Trending up: Edwin Figueroa, Jim Hettes, and Jared Hamman.
Prelim fighters score big here: Figueroa absolutely dominated Jason Reinhardt before stopping him with punches 50 seconds into the first round, upping his record to 8-1. Hettes accepted his UFC debut against Alex Caceres on short notice, only to score his ninth consecutive submission win. Hamman finished his first foray to middleweight in style, rebounding from a tough first round to notch a TKO victory over CB Dollaway. Consider all three guys on the rise.
---
Trending down: CB Dollaway, Amir Sadollah.
The two finalists from "The Ultimate Fighter" Season 7 had their moments at UFC Live, before each fell in defeat. Dollaway seemed to have Hamman on the ropes for a time in the first but succumbed to strikes in second. Meanwhile, Sadollah wasn't totally outclassed by Duane Ludwig but effectively got beaten at his game when he lost a decision in their glorified kickboxing bout. What a shame if both TUF 7 winner and runner-up find themselves unemployed soon.
---
Holding Steady: Alex Caceres.
The fighter known as "Bruce Leroy" may have ultimately lost his prelim fight against newcomer Hettes, but given the wild back-and-forth nature of their eight-minute affair, it's hard to dock him too many points. Heck, on a less extraordinary night of fights, Caceres versus Hettes might've earned both guys Fight of the Night honors.
---
Free falling: Charles Oliveira.
It'd be hard to imagine a 21-year-old fighter being any more hyped than Oliveira was after he capped a three-fight win-streak in the UFC by choking out former TUF winner Efrain Escudero in September 2010. Since then, he's gone 0-2-1, including losses to Miller at UFC 124 and Cerrone on Sunday. He's always exciting and always game, but Oliveira needs to right the ship in a hurry if he hopes to remain relevant in the crowded 155-pound division.
---

Lytle On Life After MMA

UFC Live 5 By The Numbers
Lytle-Hardy By The Numbers
| Stats | Lytle | Hardy |
| --- | --- | --- |
| Knockdowns | 0 | 0 |
| Sig. Strikes | 127 of 271 | 61 of 238 |
| Str. Accuracy | 47% | 26% |
| Total Str. | 134 of 278 | 63 of 240 |
| Takedowns | 0 of 0 | 1 of 2 |
| TD Accuracy | 0% | 50% |
| Submission Att. | 1 | 0 |
| Passes | 1 | 0 |
| Reversals | 1 | 0 |
Henderson-Miller By The Numbers
| Stats | Henderson | Miller |
| --- | --- | --- |
| Knockdowns | 0 | 0 |
| Sig. Strikes | 65 of 132 | 14 of 44 |
| Str. Accuracy | 49% | 32% |
| Total Str. | 119 of 195 | 24 of 55 |
| Takedowns | 7 of 7 | 0 of 0 |
| TD Accuracy | 100% | 0% |
| Submission Att. | 2 | 6 |
| Passes | 6 | 0 |
| Reversals | 0 | 0 |
Cerrone-Oliveira By The Numbers
| Stats | Cerrone | Oliveira |
| --- | --- | --- |
| Knockdowns | 0 | 0 |
| Sig. Strikes | 30 of 60 | 10 of 29 |
| Str. Accuracy | 50% | 34% |
| Total Str. | 32 of 63 | 10 of 29 |
| Takedowns | 0 of 0 | 0 of 0 |
| TD Accuracy | 0% | 0% |
| Submission Att. | 0 | 0 |
| Passes | 0 | 0 |
| Reversals | 0 | 0 |

Bendo Handles His Business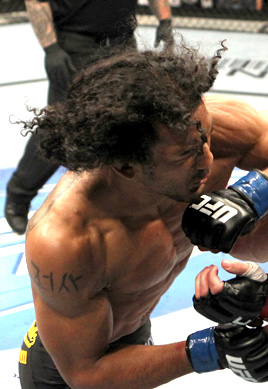 Ric Fogel for ESPN.com
Benson Henderson stated his case for a title shot by manhandling Jim Miller Gallery


Quotables
Henderson
"I had a minor hiccup. [Actually], not a minor hiccup, I had a highlight reel against my face. That was a little bit more than a minor hiccup, but I got over that and every fight since then has been a bigger stage with more on the line. This was the biggest fight of my career so far and I think I did a good job."-- Henderson, on bouncing back from a loss to Anthony Pettis
Cerrone
"I had a long talk with myself in the mirror before I came out like, 'Man. I don't care if you get knocked out. Let 'em go." This fight was about me and I'm happy with it." -- Donald Cerrone, on his one-sided assault of Charles Oliveira
Hardy
"I think I had the quickest rise and quickest fall the UFC has ever seen. Four fights up and four fights down. There are improvements I need to make. & I think I need to dedicate the time to it and either come back in a blaze of glory and on a road to the belt or do something else. I'm not sure yet. There are things I want to do outside of the sport. I'll see where my life takes me after a couple days. " -- Dan Hardy, on where he's been and where he's going as a professional fighter
Lytle
"I was expecting a fight like that. Knock-down, drag-out, three-round fight. That's why I was so excited for the fight. He's one of the toughest guys I've been in there with. I landed a lot of good punches in there and it didn't seem to faze him at all. I was really impressed with him. I wish nothing but good things for him. You put him in there with the right people he's going to put on some of the best fights you guys are going to see." -- Chris Lytle, on being honored to fight Hardy